Pelham Grenville Wodehouse 1881 - 1975
July 20, 2008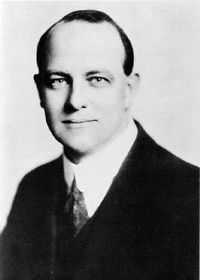 Pelham Grenville Wodehouse KBE 1881 – 1975 was an English comic novelist, who enjoyed enormous popular success during a career of more than seventy years and continues to be widely read.
Despite the political and social upheavals that occurred during his life, much of which was spent in France and the United States, Wodehouse's main canvas remained that of prewar English upper class society, reflecting his birth, education, and youthful writing career.
Pelham Grenville Wodehouse wrote Homeopathic Treatment for the Boy Scout Magazine Boy's Life in 1931, volume 21, number 4, with illustrations by Enos B Comstock.
Frederick Hervey Foster Quin, George Atkin, John Chapman and Robert Ellis Dudgeon, John Rutherford Russell, James W Metcalf and an anonymous 'friend' put together a Directory of British and Foreign Homeopaths and their supporters to counter the suppression of all mention of homeopaths and their supporters by the editors of the London and Provincial Medical Directory in 1853.
This directory mentions Wodehouse's father Henry Ernest Wodehouse 1845–1929 who was a British judge in Hong Kong, listing him as Lord Wodehouse, Under Secretary of State for Foreign Affairs. This Directory listed this particular Government list as it was so well represented with homeopathic supporters, including William Gladstone, Henry Palmerston, and mention is also made here of Prince Albert.
Despite the political and social upheavals that occurred during his life, much of which was spent in France and the United States, Pelham Grenville Wodehouse's main canvas remained that of prewar English upper-class society, reflecting his birth, education, and youthful writing career.
An acknowledged master of English prose, Pelham Grenville Wodehouse has been admired both by contemporaries such as Hilaire Belloc, Evelyn Waugh and Rudyard Kipling and by modern writers such as Douglas Adams, Salman Rushdie and Terry Pratchett. Sean O'Casey famously called him "English literature's performing flea", a description that Wodehouse used as the title of a collection of his letters to a friend, Bill Townend.
Best known today for the Jeeves and Blandings Castle novels and short stories, Pelham Grenville Wodehouse was also a talented playwright and lyricist who was part author and writer of fifteen plays and of 250 lyrics for some thirty musical comedies.
He worked with Cole Porter on the musical Anything Goes (1934) and frequently collaborated with Jerome Kern and Guy Bolton. He wrote the lyrics for the hit song "Bill" in Kern's Show Boat (1927), wrote the lyrics for the Gershwin - Romberg musical Rosalie (1928), and collaborated with Rudolf Friml on a musical version of The Three Musketeers (1928)…
Wodehouse, called "Plum" by most family and friends, was born prematurely to Eleanor Wodehouse (née Deane) whilst she was visiting Guildford. His father Henry Ernest Wodehouse was a British judge in Hong Kong.
The Wodehouse family had been settled in Norfolk for many centuries. Pelham Grenville Wodehouse's great-grandfather Reverend Philip Wodehouse was the second son of Sir Armine Wodehouse, 5th Baronet, whose eldest son John Wodehouse, 1st Baron Wodehouse, was the ancestor of the Earls of Kimberley. His godfather was Pelham von Donop after whom he was named.
When he was just 3 years old, Pelham Grenville Wodehouse was brought back to England and placed in the care of a nanny. He attended various boarding schools and, between the ages of three and 15 years, saw his parents for barely 6 months in total. Pelham Grenville Wodehouse grew very close to his brother, who shared his love for art. Pelham Grenville Wodehouse filled the voids in his life by writing relentlessly.
He spent quite a few of his school holidays with one aunt or another; it has been speculated that this gave him a healthy horror of the "gaggle of aunts", reflected in Bertie Wooster's formidable aunts Agatha and Dahlia, as well as Lady Constance Keeble's tyranny over her many nieces and nephews in the Blandings Castle series.
Pelham Grenville Wodehouse was educated at Dulwich College, where the library is now named after him, but his anticipated progression to Oxford University was stymied by family financial problems. He joined the Hong Kong and Shanghai Bank (now known as HSBC) for two years training in London, after which he would have been despatched to an overseas branch.
However, Pelham Grenville Wodehouse was never interested in banking as a career and "never learned a thing about banking". He wrote part-time while working in the bank, and in 1902 became a journalist with The Globe (a defunct English newspaper), taking over the comic column from a friend who had resigned.
He contributing regularly to Punch, and wrote stories for schoolboy's magazines (The Captain and Public School Magazine) which were collected together to form his first published novels. During his 1909 stay in Greenwich Village he "sold two short stories to Cosmopolitan and Collier's for a total of $500 - much more than I had ever earned before."
He resigned from the Globe and stayed in New York, working for a time as theatre critic of The New Yorker and contributing articles to Vanity Fair. However "the wolf was always at the door", and it was not until The Saturday Evening Post serialised Something New in 1915 that he had his "first break."
Around this time he began collaborating with Guy Bolton and Jerome Kern on (eventually eighteen) musical comedies. In the 1930s, he had two brief stints as a screenwriter in Hollywood, where he claimed he was greatly over-paid.
Many of his novels were also serialised in magazines such as The Saturday Evening Post and The Strand, which also paid well.
Pelham Grenville Wodehouse married Ethel Wayman in 1914, gaining a stepdaughter, Leonora. He had no biological children, perhaps owing to having contracted mumps as a young man.
Though Wodehouse upset many people during the war by making broadcasts from Berlin during the war, he was eventually forgiven… He was made a Knight Commander of the Order of the British Empire (KBE) shortly before his death at the age of 93. It is widely believed that the honour was not given earlier because of lingering resentment about the German broadcasts.
Of interest:
Edmond Robert Wodehouse 1835 - 1914 and his wife were advocates of homeopathy,
---