Benjamin Disraeli 1st Earl of Beaconsfield 1804 - 1881
July 17, 2008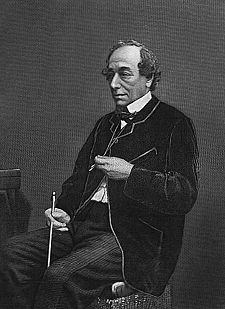 Benjamin Disraeli 1st Earl of Beaconsfield, KG, PC, FRS (born Benjamin D'Israeli) 1804 – 1881 was a British Conservative statesman and literary figure. He served in government for three decades, twice as Prime Minister - the first and thus far only person of Jewish parentage to do so (although Disraeli was baptised in the Anglican Church at 13).
Disraeli's greatest lasting achievement was the creation of the modern Conservative Party after the Corn Laws schism of 1846.
Benjamin Disraeli was a great advocate of homeopathy and he consulted homeopaths Joseph Kidd and James Manby Gully. Disraeli also had a love affair with Clara Bolton, the wife of his orthodox physician who also favoured homeopathic remedies.
Disraeli knew many homeopaths and homeopathic supporters, including William Francis Cowper Temple 1st Baron Mount Temple (1811-1888),
Francis Treuherz has written a history of Joseph Kidd.
Benjamin Disraeli actually met Samuel Hahnemann in Paris, when he noted how hale and active he was aged 88 (Letter to Sarah Disraeli dated 4.2.1843 (Benjamin Disraeli (Earl of Beaconsfield), John Alexander Wilson Gunn, Melvin George Wiebe (Eds.), Benjamin Disraeli Letters: 1842-1847, (University of Toronto Press, 1989)).
In 1879, Joseph Kidd continued to treat Benjamin Disraeli's bronchitis: _'… 10 Downing Street, January 24th, 1879 '… It is difficult to write; even the Faery is forgotten. But Cabinets and long ones every day and interviews un-ceasing afterwards, exhaust and at last almost confuse me. I came up with great care; in an express train and in a small saloon carriage, which had been warming for me at Wycombe for a week; and I have never left this house for a minute and yet the enemy has caught me. Dr. Kidd comes to me to-morrow morning and I hope we may arrest it; but I have no great hopes till this savage weather changes…' '… To-morrow I go to town to remain and begin Cabinets on Thursday. I hope Bradford is better. I had Kidd down here, who gave me an inhaling spray which did me a great deal of good; but what it consists of I don't know… ' (_Benjamin Disraeli, Anne Elizabeth Forester Stanhope, Countess of Chesterfield, Selina Louisa Forester Bridgeman, Countess of Bradford, The Letters of Disraeli to Lady Bradford and Lady Chesterfield: 1876 to 1881, (Benn, 1929) . Pages 265 and 339).
In April 1881, during the final days of Benjamin Disraeli's life, Queen Victoria asked Benjamin Disraeli to see Richard Quain (1816-1898), a conventional physician. Normally, the harsh and intolerant attitudes of the orthodox medical organisations of that time did not even allow conventional physicians to treat homeopathic patients, but Disraeli was a rare exception. However, Richard Quain and Joseph Kidd were old friends, both had been originally apprenticed in the same street in Limerick, and together with John Mitchell Bruce (1846-1929) and William Jenner (1815-1898), these three men watched over the failing Benjamin Disraeli in his final hours (Dana Ullman, The Homeopathic Revolution: Why Famous People and Cultural Heroes Choose Homeopathy, (North Atlantic Books, 2007). Page 199-200. See also Wilfrid Meynell, Benjamin Disraeli: An Unconventional Biography, (D. Appleton, 1903). Page 160. See also Sir George Norman Clark, A. M. Cooke, A history of the Royal College of Physicians of London, Volume 3, (Clarendon Press for the Royal College of Physicians, 1972). Page 908. See also Thomas Hay Sweet Escott, Great Victorians: memories and personalities, (C. Scribner's Sons, 1916). Page 292. See also Gov Hutchinson, Robert Chambers's vision of science: the diffusion of scientific ideas to the general reader in early-Victorian Britain, (Temple University, 1980). Page 89. See also_ _Anon, The Medical Times and Gazette, a Journal of Medical Science, (J & A Churchill, 1881). Page 772. See also Nancy LoPatin-Lummis, Michael Partridge, Richard A. Gaunt, Lives of Victorian political figures, Volumes 1-4, (Pickering & Chatto, 30 Apr 2006). Pages 94-110. See also Anon, The Homeopathic Courier: A Monthly Journal Devoted to Homeopathic Medicine and Surgery, Volumes 1-2, (H. L. Verdier., 1881).
Edward Bulwer Lytton's father Lord Lytton was an admirer of Benjamin Disraeli's father Isaac D'Israeli, himself a noted literary figure, and had corresponded with him. Lord Lytton and D'Israeli began corresponding themselves in the late 1820s, and met for the first time in March of 1830, when D'Israeli dined at Lord Lytton's house.
Edward Bulwer Lytton was a friend of Benjamin Disraeli and Archibald Philip Primrose 5th Earl Roseberry:
Primrose's maternal grandfather was Philip Henry Stanhope 4th Earl Stanhope, who had been, with his close friend Edward Bulwer Lytton, a member of the occultic Orphic Circle in the 1830s.
Philip Henry Stanhope 4th Earl Stanhope was a secret agent, an amateur homeopath and a lifelong keen researcher into the occult…
Very close to Edward Bulwer Lytton and Philip Henry Stanhope 4th Earl Stanhope in the 1830s and involved in their seances was the young dandy and aspiring politician Benjamin Disraeli, it was the aristocrat Edward Bulwer Lytton who provided the socially unprivileged Benjamin Disraeli with his entree into "Society".
Benjamin Disraeli wanted to be an literary figure during his early years, and he attempted to set up a newspaper, _The Representative _with his father's friend John Murray, but this came to naught. Undeterred, Disraeli began to write:
Disraeli now turned towards literature, motivated in part by a desperate need for money, and brought out his first novel, Vivian Grey, in 1826. Disraeli's biographers agree that Vivian Grey was a thinly-veiled re-telling of the affair of The Representative, and it proved very popular on its release, although it also caused much offence within the Tory literary world when Disraeli's authorship was discovered.
The book, initially anonymous, was purportedly written by a "man of fashion" – someone who moved in high society. Disraeli, then just twenty-three, did not move in high society, and the numerous solecisms present in _Vivian Grey _made this painfully obvious. Reviewers were sharply critical on these grounds of both the author and the book.
Furthermore, John Murray believed that Disraeli had caricatured him and abused his confidence–an accusation denied at the time, and by the official biography, although subsequent biographers (notably Blake) have sided with John Murray.
After producing a Vindication of the English Constitution, and some political pamphlets, Disraeli followed up Vivian Grey with a series of novels, The Young Duke (1831), Contarini Fleming (1832), Alroy (1833), Venetia and Henrietta Temple (1837).
During the same period he had also written The Revolutionary Epick and three burlesques, Ixion, The Infernal Marriage, and Popanilla. Of these only Henrietta Temple (based on his affair with Henrietta Sykes, wife of Sir Francis William Sykes) was a true success.
During the 1840s Disraeli wrote three political novels collectively known as "the Trilogy"–Sybil, Coningsby, and Tancred.
Disraeli's relationships with other male writers of his period were strained or non-existent. After the disaster of The Representative, John Gibson Lockhart became a bitter enemy and the two never reconciled.
Disraeli's preference for female company prevented the development of contact with those who were otherwise not alienated by his opinions, comportment or background.
One contemporary who tried to bridge the gap, William Makepeace Thackeray, established a tentative cordial relationship in the late 1840s only to see everything collapse when Disraeli took offence at a burlesque of him which William Makepeace Thackeray penned for Punch. Disraeli took revenge in Endymion (published in 1880), when he caricatured William Makepeace Thackeray as "St. Barbe".
Benjamin Disraeli's personal homeopath was a respected Irish physician, Joseph Kidd, who was taught homeopathy by Paul Francois Curie, the French surgeon and physician who was grandfather of the famed Pierre Curie. Disraeli suffered from asthma, bronchitis, and Bright's disease.
On the day of Disraeli's first visit to see Kidd (November 7, 1877), he wrote in his journal (William Flavelle Monypenny, George Earle Buckle, The life of Benjamin Disraeli, Earl of Beaconsfield, Volume 4, (Russell & Russell, 1968). Page 1063): "Today I saw Dr Kidd who cured the Chancellor (William Gladstone). I like him much. he examined me as if I were a recruit – but reports no organic deficiency. My main complaint is bronchial asthma, more distressing than bronchitis, but curable where bronchitis is not, and I am to be cured – and very soon!
"I had made up my mind never to create a word as to my progress or the reverse, until I had given my new man a fair and real trial: I will tell you that I entertain the highest opinion of Joseph Kidd, and that all the medical men I have known, and I have seen the highest, seem much inferior to him, in quickness of observation, and perception, and reasonableness, and at the same time originality, of his measures". (Kidd took Disraeli off Port and told him to drink claret and Disraeli's health rallied).
Dr Kidd normally only saw patients in his home office, but he made a rare exception for Disraeli. In July 1878, Joseph Kidd had to go to Berlin to treat Disraeli's asthma and gout so that the Prime Minister could meet with the German leader, Bismarck.
There is even some mention of which homeopathic medicines Disraeli was given at different times: Ipecacuanha (ipecac root, a leading remedy known to cause nausea and vomiting and yet cure it in homeopathic doses), Arsenicum (arsenic), and Kali bichromicum (potassium bichromate, effective medicine for certain serious respiratory problems).
In 1881, during the final days of Disraeli's life, Queen Victoria asked Disraeli to see Richard Quain, a conventional physician. Normally, the harsh and intolerant attitudes of the orthodox medical organisations of that time did not even allow conventional physicians to treat homeopathic patients, but Disraeli was a rare exception.
Even in Disraeli's last days and nights, Joseph Kidd, Richard Quain, and a third doctor (John Mitchell Bruce) provided him with constant attention without worrying or arguing about homeopathic and orthodox doctors working together.
Kidd was summoned to relieve Disraeli in Hughenden in January 1879 and regularly for the rest of the winter and the winter of 1880 also.
The final episode in Disraeli's life in 1881 is the subject of differing interpretations by different historians. Monypenny and Buckle are unaware of the connection with Richard Quain who was called in by Queen Victoria. Queen Victoria was concerned that Disraeli benefit from the best advice.
The connection was of course that both had been originally apprenticed in the same street in Limerick. But because Joseph Kidd was regarded as a homeopath no doctor would work with him. '…the regular practitioners were bound by their trade union rules…'.
Joseph Kidd readily agreed to working with Richard Quain. But Richard Quain's consent to attend was procured by asking Joseph Kidd to write that he had not treated his patient with homeopathy, and that he would follow Richard Quain's advice. (Nowhere in his posthumous account of Disraeli's illness does Joseph Kidd allude to any controversy).
Another physician, John Mitchell Bruce from the Brompton Hospital was called in to relieve Joseph Kidd of the night duty. (This was surprising in view of the Odium Medicum that ensued a few years later when a doctor from the Brompton was dismissed for consulting with a homeopath. The result was a fierce public controversy erupting especially in the _Times _newspaper, which was subsequently edited into a 126 page book by John Henry Clarke).
Disraeli died with his left hand in Joseph Kidd's saying:
I have suffered much. Had I been a Nihilist, I should have confessed all. I had rather live, but I am not afraid to die.
Joseph Kidd revealed his diagnosis after his illustrious patient had died. He diagnosed Bright's disease in addition to the asthma, which gave him great trouble, as Beaconsfield would take no exercise save a slow saunter.
Joseph Kidd makes much of this refusal to walk at all. Few details are available (see Joseph Kidd's article on Benjamin Disraeli's last illness) but Joseph Kidd prescribed Ipecacuanha, Kali iodatum (and/or Kali bichromicum), Arsenicum_, _and lamp baths at various times. He even suggested Chateau Lafite instead of Port, and generally lighter foods.
Joseph Kidd worked hard at providing a regime which would make Disraeli sweat for he had a dry skin all his life, in order to relieve the kidneys, and he succeeded despite his observation that Disraeli was himself a sharp observer of doctors!
"You have conquered' said Disraeli with a genial smile. The morning depression lifted and the albuminuria lessened and freshness and vigour returned.
Joseph Kidd's obituary, published in The Lancet , was one of the few times in the nineteenth century that this medical journal ever published something positive about a homeopath:

"He always held fast to the opinion that there is a truth contained in the doctrine of homeopathy which supplies a clue to the treatment of obscure cases. …
"From an early period he adopted the practice of prescribing only one drug at a time so as to be better able to study the action of individual remedies. …
"A large part of his success must be attributed to his careful survey of small details.
---