Ethel Lilian Boole Voynich 1864 - 1960
July 09, 2008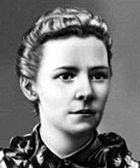 **Ethel Lilian Boole Voynich **1864 – 1960 was a novelist and musician, and a supporter of several revolutionary causes.
Her father was the famous mathematician George Boole. Her mother was Mary Everest Boole, daughter of homeopath Thomas Roupell Everest and niece of George Everest.
Ethel was married to Wilfrid Michael Voynich (1865-1930), revolutionary, antiquarian and bibliophile; who is the eponym of the Voynich manuscript.
Ethel is the author of the novel The Gadfly.
Despite the fact that Mary Everest was seventeen years younger than George Boole, they had a good and happy marriage. Over the next nine years, Mary and George Boole had five daughters called Mary, Margaret, Alice, Lucy Everest Boole and Ethel.
However, this happiness it would soon fade. Tragically, George Boole contracted pneumonia and died in 1864…
leaving Mary with five daughters and very little money… nonetheless, Mary educated her daughters very well in mathematics and geometry, logic and thinking for themselves).
Mary sold the Royal Society's gold medal…. and became friendly with James Hinton who introduced her to The Cranks…
Lucy Everest Booleassisted her nephewGeoffrey Ingram Taylor in his work, and she collaborated with Wyndham Rowland Dunstan. Geoffrey Ingram Taylor reported how much influence his home life had, meaning 'much more to me than anything I did at school', and that Lucy and her four sisters Mary, Margaret, Alicia and Ethel were often in attendance, as was their mother Mary Everest Boole (George Boole had died when the children were quite young), who 'all contributed to the family influences'.
Ethel and her sisters were all home educated by Mary Everest Boolein mathematics and geometry, logic and thinking for themselves. Ethel was also taught by Sergyei "Stepniak" Kravchinsky:
Ethel studied with her (sister Lucy) and both women regarded Stepniak as their guardian…
Ethel is most famous for her novelThe Gadfly, first published in 1897 in the United States (June) and Britain (September), about the struggles of an international revolutionary in Italy. This novel was very popular in the Soviet Union and was the top best seller and compulsory reading there, and was seen as ideologically useful; for similar reasons, the novel has been popular in the People's Republic of China as well.
By the time of Voynich's death The Gadfly had sold an estimated 2,500,000 copies in the Soviet Union.
In 1955, the Soviet director Aleksandr Fajntsimmer adapted the novel into a film of the same title (Russian: Ovod). Composer Dmitri Shostakovich wrote the score (see The Gadfly Suite). The Romance, a segment from this composition, along with some other excerpts, has since become very popular. Dmitri Shostakovich's Gadfly theme was also used in the eighties, in the BBC TV series about Sidney Reilly's life.
According to historian Robin Bruce Lockhart, Sidney Reilly — a Russian-born adventurer and secret agent employed by the BritishSecret Intelligence Service — met Ethel Voynich in London in 1895.
Ethel Voynich was a significant figure not only on the late Victorian literary scene but also in Russian émigré circles. Robin Bruce Lockhart, who was also a British Secret Service agent, claims that Sidney Reilly and Ethel Voynich had a sexual liaison and voyaged to Italy together. During this scenic tarriance, Sidney Reilly apparently "bared his soul to his mistress," and revealed to her the story of his strange youth in Russia.
After their brief affair had concluded, Voynich published in 1897 her critically acclaimed novel, The Gadfly, the central character of which, Arthur Burton, was allegedly based on Sidney Reilly's own early life.
However, Andrew Cook, a noted biographer of Sidney Reilly, disputes Robin Bruce Lockhart's version and counters instead that Sidney Reilly was perhaps informing on Ethel Voynich's radical, pro-émigré activities to William Melville of the Metropolitan Police Special Branch.
Our Friend Ethel Lilian Boole/Voynich, a 2007 English translation by Séamus Ó Coigligh of Evgeniya Taratuta's Russian work of 1957 can be downloaded free from the Catalogue of Cork City Libraries in PDF form.
A minor planet2032 Ethel discovered in 1970 by Soviet astronomer Tamara Mikhailovna Smirnova is named after her.
Film adaptions of The Gadfly:
Micha? Wojnicz was born in Telshi, a town in then Kovno Governorate, which was part of the Russian Empire, now it is Telšiai, a town in Lithuania— into a Polish-Lithuanian noble family, he is a son of a titular counsellor.
In 1885, in Warsaw, Wojnicz joined Ludwik Wary?ski's revolutionary organization, Proletarjat. In 1886, after a failed attempt to free from the Warsaw Citadel fellow-conspirators who had been sentenced to death, he was arrested by Tsarist police and, in 1887, sent to penal servitude at Tunka. In 1890 he escaped from Siberia and arrived in London, adopting as his first name his nom de guerre, Wilfryd.
In 1893 he married a fellow-revolutionary, Ethel Lilian Boole, daughter of the famous British mathematician, George Boole.
After the 1895 death of their associate, Stepniak, the Voyniches (as they had anglicized their surname) ceased revolutionary activity.
In 1898 Voynich opened a bookshop in London, followed by another in 1914 in New York. Voynich died in New York in 1930.
Ethel wrote Chopin's letters with Henryk Opie?ski, An Interrupted Friendship, The Humour of Russia with Paul Frenzeny, Put Off Thy Shoes, Nihilism as it is: Being Stepniak's [pseud.] Pamphlets with Sergyei "Stepniak" and Feliks Volkhovsk??, Olive Latham, Jack Raymond, Vihar Itália felett with Mária Kilényi, Six Lyrics from the Ruthenian of Tarás Shevchénko, Sobranie sochineni? v trekh tomakh, NIU MANG, P?van: roman.
---