Harriet Martineau 1802 - 1876
July 01, 2008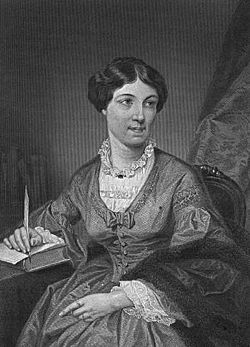 Harriet Martineau 1802 – 1876 was an English writer and philosopher, renowned in her day as a controversial journalist, political economist, abolitionist and life long feminist.
Harriet Martineau was an ardent supporter of homeopathy, and she was also a patient of John Elliotson.
Harriet Martineau's life was changed forever when she received treatment from Mersmerist Spencer Timothy Hall (Harriet Martineau, Elisabeth Sanders Arbuckle (Ed.), Harriet Martineau's letters to Fanny Wedgwood, (Stanford University Press, 1983). Page 78).
Harriet Martineau produced needlework to be sold for the benefit of the Birmingham Homeopathic Hospital, and her brother *Robert was a Patron of the Birmingham Homeopathic Hospital, and his daughter Susan Martineau helped establish the Birmingham Homeopathic Hospital and worked to encourage poor people to save (money)…
Harriet Martineau knew Charlotte Bronte, Florence Nightingale and Mary Fairfax Greig Somerville, and she was part of a social set which included Charles Babbage, Thomas Carlyle, publisher John Chapman, Moncure Daniel Conway, Charles Darwin and his Wedgwood family, especially his brother Erasmus Alvey Darwin, Charles Dickens, John Elliotson, George Everest and his brother, homeopath Thomas Roupell Everest, Robert Everest (?brother of George Everest and Thomas Roupell Everest, a geographer who lived in India), Thomas Henry Huxley, Charles Lyell, and James John Garth Wilkinson.
Harriet Martineau was a fervent supporter of Florence Nightingale and actively supported her friend in her work. Harriet was an enthusiastic advocate of homeopathy, telling Florence Nightingale in 1860:
"I am much further in approbation of homeopathy (than you are), (having watched it for twenty three years) "I am as sure as I can be of anything future that it will supercede any other principle and method yet known."
Harriet also tells Florence Nightingale that the Town Council in Liverpool has voted money for homeopathic dispensaries, which had eased the 'dreadful paucity' of qualified practitioners there.
Harriet Martineau also knew Charlotte Bronte:
In view of the enormous success of Jane Eyre, she was persuaded by her publisher to visit London occasionally, where she revealed her true identity and began to move in a more exalted social circle, becoming friends with Harriet Martineau, Elizabeth Cleghorn Gaskell, William Makepeace Thackeray, George Eliot and George Henry Lewes. Her book had sparked a movement in regards to feminism in literature.
Charlotte Bronte's publisher Smith, Elder & Co. also published Robert Browning, George Eliot, Elizabeth Cleghorn Gaskell, Thomas Hardy, Richard Jefferies, George MacDonald, Charles Reade, John Ruskin, Algernon Charles Swinburne, Alfred Lord Tennyson and George Gissing.
John Chapman acquired the philosophical radical journal the Westminster Review in 1851, and provided a platform for emerging ideas of evolution.
His assistant Mary Anne Evans brought together authors including Francis William Newman, William Rathbone Greg, Harriet Martineau and the young journalist Herbert Spencer, and later John Stuart Mill, William Benjamin Carpenter, Robert Chambers, George Jacob Holyoake and Thomas Henry Huxley.
Harriet Martineau also knew homeopathic supporter Mary Augusta Ward:
I knew Harriet Martineau in my childhood at Fox How. Well I remember going to tea with that tremendous woman when I was eight years old; sitting through a silent meal, in much awe of her cap, her strong face, her ear-trumpet; and then being taken away to a neighboring room by a kind niece, that I might not disturb her further.
Once or twice, during my growing up, I saw her. She lived only a mile from Fox How, and was always on friendly terms with my people. Matthew Arnold had a true admiration for her—sturdy fighter that she was in Liberal causes.
So had William Edward Forster; only he suffered a good deal at her hands, as she disapproved of the Education Bill, and contrived so to manage her trumpet when he came to see her as to take all the argument and give him all the listening!
When my eldest child was born, a cot-blanket arrived, knitted by Miss Martineau's own hands…
In Letters on the Laws of Man's Nature and Development by Henry George Atkinson and Harriet Martineau:
"How marvellous is the influence of a homeopathic infinitesimal substance as an infection through the whole nervous system…"
In The Englishwoman's Domestic Magazine in 1860:
Thus, we believe, Miss Harriet Martineau gives her adhesion to the principles and practice of homoeopathy…
Harriet Martineau was an athiest and she supported phrenology, consulting James Deville, and she was also an adherent of Mesmerism, which cured her when othodox doctors declared this impossible (Harriet Martineau, Linda H. Peterson (Ed.), Autobiography, (Broadview Press, 2007). Pages 463 onwards). Harriet's doctors had told her that her heart was completely deteriorated and to prepare for death (Saul Kussiel Padover, Confessions and self-portraits: 4600 years of autobiography, (Ayer Publishing, 1957). Pages 176 onwards.), and when she recovered her doctors informed her that her illness was all in her mind and that she had never been ill! (Harriet Martineau, Maria Weston Chapman (Ed.), Harriet Martineau's Autobiography, (Cambridge University Press, 18 Nov 2010). Page 466).
Harriet was not pleased when she was censured for not dying when she was told to by the medical profession, and for trying an alternative method of healing. Harriet had no trouble seeking retractions from slanderous doctors by employing a solicitor (the story of her miraculous 'cure' was published by her doctors without her prior knowledge).
Harriet witnessed first hand the threats and intimidation meted out to patients of alternative methods by orthodox doctors.
Harriet thus loved alternative medical treatments, a passion she shared with her friend Edward Bulwer Lytton:
"How we must be hated by the medical profession, getting well without and in spite of them".
Harriet Martineau was a friend of Elizabeth Jesser Reid, Julia Smith (the aunt of Barbara Leigh Smith Bodichon who was herself the aunt of Florence Nightingale and erstwhile lover of publisher John Chapman). Harriet Martineau also shared an 'intimate' friendship with John Chapman.
Harriet Martineau also knew Lucretia Coffin Mott, Elizabeth Palmer Peabody and Harriet was a friend of the homeopathic Channing family for the rest of her life. Harriet Martineau sailed to America in 1834 where she was a supporter of the abolitionist cause.
It is probable that Harriet visited Elizabeth Palmer Peabody's Foreign Library where many of the Boston intelligentsia congregated: Wendell Phillips, Henry Ward Beecher, Susan B Anthony, Julia Ward Howe, Josephine S Griffing, Theodore Dwight Weld and the Grimke Sisters, William Lloyd Garrison, Parker Pillsbury, Theodore Parker, Clemence Lozier, Charlotte Denman Lozier, Gerrit Smith, Wendell Phillips, Frederick Douglass, Julia Ward Howe, William Lloyd Garrison, Hamilton Wilcox, Emily Howard Jennings Stowe, Susan B Anthony, Clara Barton, Phoebe Ann (Coffin) Hanaford, Moncure Daniel Conway, George William Curtis, Sarah Orne Jewett, the Houghtons, George Palmer Putnam, William Cullen Bryant, William Ellery Channing, Ellery Channing, George and Sophia Ripley, Orestes Brownson, James Freeman Clarke, John Sullivan Dwight, Paulina Kellogg Wright Davis, Ednah Dow Cheney, the Bartlett's, the Wesselhoefts, Thomas Wentworth Higginson, Gerrit Smith, Frederick Douglass, Hamilton Wilcox, Emily Howard Jennings Stowe, and many others.
Back in England Harriet Martineau continued her support for equal rights for women.
Harriet Martineau makes the important point that the introduction of the Penny Black stamp did so much to foster the cross fertilisation of ideas around the World at this time.
In 1826 Harriet Martineau's father died, leaving a bare maintenance to his wife and daughters. His death had been preceded by that of his eldest son, and was shortly followed by that of a man to whom Harriet was engaged. Mrs Martineau and her daughters soon after lost all their means by the failure of the house where their money was placed. Harriet had to earn her living, and, being precluded by deafness from teaching, took up authorship in earnest.
Besides reviewing for the Repository she wrote stories (afterwards collected as Traditions of Palestine), gained in one year (1830) three essay-prizes of the Unitarian Association, and eked out her income by needlework.
In 1831 she was seeking a publisher for a series of tales designed as Illustrations of Political Economy. After many failures she accepted disadvantageous terms from Charles Fox, to whom she was introduced by his brother, the editor of the Repository.
The sale of the first of the series was immediate and enormous, the demand increased with each new number, and from that time her literary success was secured…
In 1832 she moved to London, where she numbered among her acquaintances Henry Hallam, Harriet Taylor, Alexander Maconochie, Henry Hart Milman, Thomas Malthus, Richard Monckton Milnes 1st Baron Houghton, Sydney Smith, John Stuart Mill, George Eliot, Edward Bulwer Lytton, Elizabeth Barrett Browning and later Thomas Carlyle. Florence Nightingale and Charlotte Brontë later became her friends.
Until 1834 she continued to be occupied with her political economy series and with a supplemental series of Illustrations of Taxation. Four stories supporting the Whig Poor Law reforms came out about the same time. These tales, direct, lucid, written without any appearance of effort, and yet practically effective, display the characteristics of their author's style. Tory paternalists reacted by calling her a Malthusian "who deprecates charity and provision for the poor", while Radicals were equally opposed to her.
She was fêted by Whig high society. In May 1834 Charles Darwin got a letter from his sisters telling him that Martineau was "a great Lion in London" and recommending Poor Laws and Paupers Illustrated in pamphlet sized parts.
They added that "Erasmus knows her and is a very great admirer and every body reads her little books and if you have a dull hour you can, and then throw them overboard, that they may not take up your precious room."
In 1834, when the series was complete, Harriet Martineau paid a long visit to the United States. Here her open adhesion to the Abolitionist party, then small and very unpopular, gave great offence, which was deepened by the publication, soon after her return, of Theory and Practice of Society in America (1837) and a Retrospect of Western Travel (1838).
An article in the Westminster Review, "The Martyr Age of the United States", introduced English readers to the struggles of the Abolitionists.
After the Voyage of the Beagle Charles Darwin went in October 1836 to stay with his brother Erasmus in London, and found Erasmus spending his days "driving out Miss Martineau". The Darwins shared her Unitarian background and Whig politics, but their father Robert Darwin was concerned that as a potential daughter-in-law, her politics were too extreme.
Robert Darwin was upset by a piece he read in the Westminster Review calling for the radicals to break with the Whigs and give working men the vote "before he knew it was not hers, and wasted a good deal of indignation, and even now can hardly believe it is not hers."
Charles Darwin called on Harriet Martineau and remarked that "she was very agreeable, and managed to talk on a most wonderful number of subjects, considering the limited time", which included the social and natural worlds she was then writing about in her book _ Society in America_, including the "grandeur and beauty" of the "process of world making" she had seen at Niagara Falls.
Charles Darwin added that "I was astonished to find how ugly she is" and "she is overwhelmed with her own projects, her own thoughts and abilities", though "Erasmus palliated all this, by maintaining one ought not to look at her as a woman."
For her part, Martineau described Charles Darwin as "simple, childlike, painstaking, effective". After a later meeting when he was struggling with his own writing and she was starting Deerbrook he expressed astonishment at the ease with which she wrote such fluent prose, and "never has occasion to correct a single word she writes", though she was "not a complete Amazonian, & knows the feeling of exhaustion from thinking too much."…
In 1839, during a visit to Continental Europe, Harriet Martineau's health broke down. Her chronic ill-health was due to an ovarian cyst, and she visited her brother in law, the celebrated Newcastle upon Tyne doctor Thomas Michael Greenhow on several occasions to try to alleviate her symptoms - on the last occasion staying for six months in the family house at 28 Eldon Square.
She then moved downriver to Tynemouth, where she stayed at Mrs Halliday's boarding house, 57 Front Street for nearly five years from 16 March 1840. A plaque marks the house where she produced at least three books, including a novel about the Haitian slave leader Toussaint L'Ouverture, and Life in the Sick Room, describing her life in Tynemouth. She also devotes some hundred pages of her autobiography to this period. Notable visitors included Richard Cobden and Thomas Carlyle and his wife.
Harriet had expected to remain an invalid for the rest of her life… In 1844 Harriet Martineau underwent a course of mesmerism, and in a few months was restored to health. She eventually published an account of her case, which had caused much discussion, in sixteen Letters on Mesmerism.
This led to friction with 'the natural prejudices of a surgeon and a surgeon's wife' and in 1845 she left Tynemouth for Ambleside in the Lake District, where she built herself "The Knoll", the house in which the greater part of her later life was spent…
In 1846 she made a tour with some friends in Egypt, Palestine and Syria…
Harriet Martineu's letters found their way into the Garrison Family archive alongside letters from homeopaths and homeopathic supporters, as did letters from Susan B. Anthony; Alice Stone Blackwell (homeopath and daughter of Lucy Stone); Josephine Elizabeth Butler; Frederick Douglass; Henry George; Thomas Wentworth Higginson; Lucy McKim Garrison, the May and Pankhurst families; William Lloyd Garrison; Theodore Parker; Wendell Phillips; Parker Pillsbury; Joseph Linden Smith (including drawings and sketches); Harriet Tubman; Booker T. Washington; Theodore Dwight Weld; and Marie Zakrzewska.
Harriet Martineau was a prodigious author and ground breaking reformer many years ahead of her time. Known as the Mother of Sociology:
As early as 1831 Martineau began her work under the social science title of "Political Economy". This was nearly a decade before Auguste Comte published "The Positive Philosophy" (translated by Harriet Martineau). While many people do not often recognize her work in the sociolgical category due to the title "_Political Economy_", her foundational ideas were grounded in social life in society.
In 1838 she drafted the first text of sociological research techniques "How to Observe Morals and Manners". Her belief was that the life of any society is influenced by some very general social laws, including the principle of progress, the emergence of science as the most advanced product of human intellectual endeavor, and the significance of population dynamics and the natural physical environment. Auguste Comte was known as the founder of sociology due to the fact that not only was Martineau deaf but she was also a woman and unable to obtain a degree to back her theories.
After the publication of Comte's Cours de Philosophie Positive, Martineau undertook a translation that was published in two volumes in 1853 as The Positive Philosophy of Auguste Comte (freely translated and condensed by Harriet Martineau). It was a remarkable and difficult achievement, but a successful one.
Auguste Comte himself recommended these volumes to his students instead of his own. Some writers regard Martineau herself as "the first woman sociologist". Her introduction of Auguste Comte to the English speaking world and the elements of sociological perspective that may be found in her original writings argue for her recognition as a kindred spirit if not a significant contributor.
Of interest:
Harriet Martineau's maid also received homeopathic treatment for a 'mischief to one eye',
Robert Martineau (1798-1870) (Mayor of Birmingham 1846-7) brother of Harriet Martineau, father of Robert Francis Martineau, and Patron of the Birmingham Homeopathic Hospital and Dispensary (John Ryan (Ed.), The Monthly Homeopathic Review, (1863). Page 758).
Robert Francis Martineau (1831-1909), son of Robert Martineau and nephew of Harriet Martines, was a town councillor in Birmingham, secretary of the Birmingham and Midland Institute, chairman of the Technical School committee, trustee to Mason Science College, and then a member of the council of the University of Birmingham when it evolved from Mason College).
** **
---