The Roosevelt Family and Homeopathy
June 22, 2008

The Roosevelt Family were homeopaths and supporters of homeopathy, and this family also provided two American Presidents.
The Roosevelt surname Roosevelt is an anglicized form of the Dutch surname 'van Rosevelt,' meaning 'field of roses.' One of the wealthiest and oldest families in New York State, the Roosevelts distinguished themselves in areas other than politics.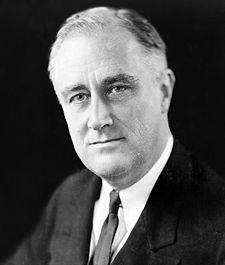 Franklin Delano Roosevelt 1882 - 1945 was heavily influenced by his headmaster Endicott Peabody, a member of the famous Peabody family, the so called Boston Brahmins, which included several influential homeopaths.
Endicott Peabody officiated at Roosevelt's marriage to Eleanor Roosevelt:
Franklin Delano Roosevelt said of Endicott Peabody:
"As long as I live his influence will mean more to me than that of any other people next to my father and mother."
Franklin Delano Roosevelt's family socialised with the famous homeopathic Humphreys family. As the Roosevelt family also had homeopathic members (Giles F. Roosevelt, a graduate of the old Denver Homeopathic College and Cornelius J Roosevelt 1820 - 1880 who graduated in 1847 from the homeopathic New York Medical College and who practiced at Columbus and in Macon), this must have provided a talking point:
One of Macon's physicians, Dr. Roosevelt, was attending to Eliza Cobb who had a … was quickly getting well under Roosevelt's homeopathic treatment. …
Franklin Delano Roosevelt's mistress Lucy Page Mercer was a member of prominent Maryland and Virginia families, and the Mercer family also contained several homeopaths (Edward W Mercer, Robert Pyle Mercer and Warren Charles Mercer).
In 1922 Franklin Delano Roosevelt served as honorary campaign manager for homeopath Royal Samuel Copeland when he was elected to the U.S. Senate. Royal Samuel Copeland was a former professor at the University of Michigan, and was the President of the American Institute of Homeopathy in 1908.
Roosevelt succeeded President William McKinley, having been previously appointed by William McKinley as Assistant Secretary of the Navy in 1897.
In 1921 Franklin Delano Roosevelt contracted a paralysis, thought to be polio. He was treated by Robert W Lovett, Professor of Orthopedic Surgery, Harvard University, who went on to develop Kineisiology and George Draper who 'was interested in 'alternative practices of healing' and who was engaged (briefly) to Roosevelt's niece Corinne Douglas Robinson.
Franklin Delano Roosevelt tried a wide range of therapies, including hydrotherapy, and, in 1926, he purchased a resort at Warm Springs, Georgia, where he founded a hydrotherapy center for the treatment of polio patients (with Basil O'Connor, his former law partner) which still operates as the Roosevelt Warm Springs Institute for Rehabilitation.
The Times Magazine on Monday, Apr. 23, 1934 quipped:
'Franklin D. Roosevelt dosed Congress with some homeopathic medicine, asked authority to devalue the dollar to the 50¢-60¢ level…'
Franklin Delano Roosevelt's daughter Anna obtained some homeopathic remedies for her dying father from Grace Gassette.
Eleanor Roosevelt's uncle, and Franklin Delano Roosevelt's fifth cousin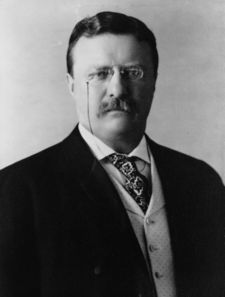 Theodore Roosevelt 1858 - 1919 assisted homeopath Charles Fayette Taylor to found the The New York Orthopaedic Dispensary and Hospital,
---