Alan John Percivale Taylor 1906 – 1990
June 15, 2008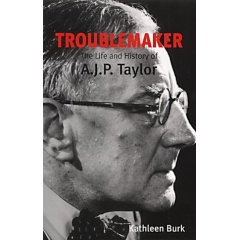 Alan John Percivale Taylor 1906 – 1990 was a renowned English historian of the 20th century. He was perhaps the best known British historian of the century and certainly one of the most controversial.
A J P Taylor's mother Constance Taylor took him to see a homeopath, worried about her frail son after losing her first born daughter Mirian to tubercular meningitis. Constance Taylor's close friend Mary Ann (Mab) (Polly) Blackwell recommended homeopath Charles Edwin Wheeler and the two women believed this allowed Alan to live the life of a normal child.
Taylor was a prolific writer, who wrote dozens of books and hundreds of articles and book reviews. Starting in 1931, he worked as book reviewer for the Manchester Guardian, and from 1957 he was a columnist with the Observer.
From 1963 until the death of his friend and patron Lord Beaverbrook in 1964, he was also a columnist with the Daily Express. He was one of the first television historians.
Born in Birkdale, near Southport of Scottish descent, A J P Taylor was brought up in Lancashire and educated at various Quaker schools and Bootham School in York.
As a student he was said by his headmasters to be brilliant and rebellious. Initially interested in archaeology, as a young man he was an amateur expert in the history and archaeology of churches in northern England. His interest in archaeology led in turn to a strong interest in history. In 1924, he went to Oriel College, Oxford to study modern history.
His wealthy parents held strongly left-wing views, which he inherited. His parents were both pacifists who vocally opposed World War I, and sent their son to Quaker schools as a way of protesting against the war.
In the 1920s, Taylor's mother Constance Taylor was a member of the Comintern and one of his uncles a founding member of the British Communist Party. Taylor's mother Constance Taylor was a suffragette, feminist, and advocate of free love who practised her teachings via a string of extramarital affairs, most notably with Henry Sara, a communist who in many ways became Taylor's surrogate father (his real father was Percy Taylor).
(Immortalised in The Rebel of the Family by anti feminist Eliza Lynn Linton, Bell Blount, the 'Lady President of the West Hill Society for Women's Rights' 'lived with Connie Taylor and referred to her as her 'little wife' and Connie Taylor referred to Bell Blount as her 'husband').
Taylor himself was recruited into the British Communist Party by friend of the family, military historian Tom Wintringham whilst at Oriel College, a member from 1924 to 1926 he broke with the Party over what he considered to be its ineffective stand during the 1926 General Strike.
After leaving the Party, A J P Taylor was an ardent Labour Party supporter for the rest of his life. Despite his break with the Communists, he visited the Soviet Union in 1925 and again in 1934, and was much impressed on both visits.
For a time in the 1930s, he and his wife shared a home with the writer Malcolm Muggeridge and his wife. During this period, Malcolm Muggeridge and Taylor began a life-long disagreement over the Soviet Union, though this dispute did not seriously affect their friendship.
Taylor graduated from Oxford in 1927. After working briefly as a legal clerk, he began his post-graduate work, going to Vienna to study the impact of the Chartist movement on the Revolution of 1848 in Vienna.
When his topic turned out to be unfeasible, he switched to studying the question of Italian unification over a two-year period, which resulted in his first book, The Italian Problem in European Diplomacy, 1847–49 in 1934. His main mentors in this period were the Austrian-born historian Alfred Francis Pribram and the Polish born historian Lewis Bernstein Namier (Julia de Beausobre, Lady Namier consulted homeopath Marjorie Blackie).
The opposing influences of Alfred Francis Pribram and Lewis Bernstein Namier can be seen in Taylor's writings on Austria-Hungary until the publication of his 1941 book The Habsburg Monarchy 1809–1918, which was published in a revised edition in 1948.
Taylor's earlier writings reflected Alfred Francis Pribram's favourable opinion of the Habsburgs; his later writings show the influence of Lewis Bernstein Namier's unfavourable views. In The Habsburg Monarchy 1809–1918,, Taylor stated that the Habsburgs saw their realms entirely as a tool for foreign policy and thus could never build a genuine nation-state. In order to hold their realm together, they resorted to playing one ethnic group off against another and promoted German and Magyar hegemony over the other ethnic groups in Austria-Hungary.
Taylor went on to lecture in history at the University of Manchester before becoming a Fellow of Magdalen College, Oxford in 1938, a post he held until 1964. After 1964, when Oxford refused to renew his term, he was a lecturer at the Institute of Historical Research in London, University College London, and the Polytechnic College of North London.
At Oxford he was an extraordinarily popular speaker: he had to give his lectures at 8:30 a.m. to avoid the room becoming over-crowded.
In the early 1930s, Taylor was in a left-wing pacifist group called the Manchester Peace Council, for which he frequently spoke in public. Until 1936 he was an opponent of British rearmament, as he felt that a re-armed Britain would ally itself with Germany against the Soviet Union.
After 1936 he fervently criticised appeasement, a stance he would disavow in 1961. Also after 1936 he resigned from the Manchester Peace Council, urged British rearmament in the face of what Taylor considered to be the Nazi menace, and advocated an Anglo-Soviet alliance to contain Germany.
In 1938 he denounced the Munich Agreement at several rallies and may have written several leaders in the Manchester Guardian criticising the Munich Agreement; later he would compare the relatively smaller number of Czechoslovak dead with the number of Polish dead.
In October 1938, Taylor attracted controversy by a speech he gave at a dinner held every October to commemorate a protest by a group of Oxford dons against James II in 1688, an event that was an important prelude to the Glorious Revolution. He denounced the Munich Agreement and those who supported it warning the assembled dons that if action was not taken immediately to resist Nazi Germany, then they might all soon be living under the rule of a much greater tyrant than James II.
Taylor's speech was highly contentious in part because in October 1938 the Munich Agreement was popular with the public, though subsequently it was to be reviled, along with the policy of appeasement. Further controversy arose because he used an occasion when it was normal to deliver non-partisan and non-political historical speeches to make a highly partisan, politically charged attack on government policy.
Fellow of Magdalen College in Oxford, may not have shared the religion of his co- Fellow, *C. S. Lewis, but he turned into a similar lamp-post of unyielding virtue. For Taylor, a Labour Party supporter and vigorous supporter of "preparedness" and opposition to Third Reich aggression, his moment of conversion came as he rummaged through the files of the captured Reichstag, trusted by the new Atlee government to come to the correct conclusions concerning responsibility for the largest orgy of death and destruction in mankind's history, known as World War II.
Taylor found that nearly everything that had been told to him up through 1939 by the English Establishment was a lie. He said so, and published the exhaustive analysis of British and German diplomacy leading up to the conflagration in The Origins of The Second World War in 1961.
Diehard Isolationists and revisionist historians, such as Harry Elmer Barnes, were thunderstruck that such a work could come from the highest court of the Court Historians. Taylor himself was uneasy with the embrace of these unpleasant "American" revisionists, but stuck to his guns and fearlessly used his cachets in Polite society to defend his thesis in academe and even on the BBC.
His well-established dislike of Germany made his heresy toward casting sole blame on it for World War II impossible to dismiss.
Amazingly, he survived and continued to publish one of the longest lists of historical works — and one of the broadest, ranging throughout British history (Beaverbrook, Lloyd George, Essays in English History) to Russian, German, Italian and Austrian histories.
Taylor seemed a paradox (he loved and used paradox stylistically as much as C S Lewis and G. K. Chesterton), but the solution was to realize he was a classical liberal who had survived into an age where the few remaining political Liberals could not make up their minds whether to emulate Conservatives or Socialists.
The Economist portrayed him, in their obituary, as a useful gadfly or "troublemaker." It dismissed his devastating critique of the Western responsibility for World War II with "A bad-tempered controversy over the origins of the second world war did not seriously dent his reputation."
It does note his support for "radical causes, notably the Campaign for Nuclear Disarmament," but mentions nothing about his on-the-money analysis in the Guardian … of the Irish Question, concluding that the British go home and leave the Northern Irish to resolve their own political fate.
Taylor won no favor with Establishment Left or Right Oxford refused to promote him to a professorship and terminated his special lectureship in international history. When asked if history is cyclical (Oswald Spengler's view), Taylor replied that it was not history which repeats itself but historians who repeat each other.
It is highly doubtful as to whether History will repeat itself with anyone else like A J P Taylor, who gave up the struggle with Parkinson's disease on September 7, but never gave up the struggle for historical accuracy and truth.
---