Charles Neidhard 1809 - 1895
June 10, 2008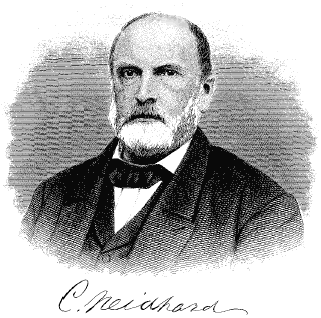 Charles Neidhard 1809 - 1895 was one of the first students of homeopathy in America, graduating from the Allentown Academy and he was on the Faculty of the Homœopathic Medical College of Pennsylvania as Chair of Clinical Medicine.
Charles Neidhard travelled to Vienna to study with Philipp Anton Watzke and Franz Wurmb.
In 1869, Charles Neidhard left America for a tour of Europe, and he met James John Garth Wilkinson in his rooms at 76 Wimpole Street:
'… One day I went to see Dr. James Garth Wilkinson, who lives in a large house in Wimpole Street, with a very fine reception room for patient. He received me very kindly. He has a very open, pleasant countenance, and offered to to anything for me in bis power, during my sojourn in England. He has a large practice, and therefore not time to attend the homeopathic hospital. In practice, he is a liberal, using high dilutions as well as low. As an instance of his opinions, he has showed me a bottle of sulphite of soda on his desk, which he said he used frequently in appropriate cases. He said he would not like to be a physician without it. From what I could gather, the exclusive high dilutionists are not many in London…' (Robert J McClathchey (Ed.), The Hahnemannian Monthly, Volume 5, Charles Neidhard Homeopathy in France, Germany, and England (1869),  (LaBarre Printing Co., 1869). Pages 385-392).
Charles Neidhard of Philadelphia, Pa., was born in Bremen, Germany, in 1809, and he is a step-son of the eminent political economist and refugee, Professor Daniel Friedrich List, whom he accompanied in his exile to Switzerland and this country.
The Professor's emigration was at the instance of his friend, General Lafayette: and followed Dr. Neidhard's admission to the higher gymnasium at Stuttgart.
Commencing the study of medicine with Isaac Heister, M. D., of Reading, in this State, and continuing it for three and a half courses at the University of Pennsylvania, two sessions of the Philadelphia Medical Institute, and the clinical lectures of the Pennsylvania Hospital for two years, Dr. Neidhard was seriously ill from over-application, after his graduation.
He consulted Dr. William Wesselhœft, of Bath, Pa., a personal friend who had adopted homœopathy. His own recovery and his physician's arguments led him in the same course.
As Professor Daniel Friedrich List had been made United States Consul to Leipzig, Saxony, Dr. Neidhard followed him, and there thoroughly mastered the study and became a member of the Leipzig Medical Society, in 1835. He afterwards graduated at Jena.
Returning to America, in 1836, Dr. Neidhard commenced the practice of homœopathy in Philadelphia, and, excepting visits to Europe, has remained there permanently since. His European visits were to the great hospitals of the great capitals, to learn every advance. This knowledge he embodied in a course of three lectures, that were published in the style of "Homœopathy in England, France and Germany, with a Glance at Allopathic Men and Things."
In 1837, he graduated at the Allentown Academy Homœopathy Medical College, and received an honorary degree from the Hahnemann College of Chicago.
He was one of the original members of the American Institute of Homœopathy. Appointed Professor of Clinical Medicine in the Homœopathic Medical College of Philadelphia, he lectured regularly for three years.
In addition to these labors he has enriched the medical literature of the country, both as co-editor with Dr. Constantine Hering, of the first Philadelphia Journal of Homœopathy, and as a contributor of much practical matter to Charles Julius Hempel's edition of "Jahr's Manual," and of numerous articles to various journals representing his own school ; the latter noticeable for their practical character and exemption from theorizing.
His treatise on "Diphtheria in the United States" is admirable and exhaustive, and is regarded in England and America as one of the best ever published ; and his essay, entitled, -Where do we stand? How can we best promote the scientific progress of Homœopathy?" was published in the British Journal of Homœopathy, in 1869.
In this essay, he defends with signal ability his opinion that the similarity of the remedy must correspond not only with the symptoms, but with the deeper pathological state, as far as this can be ascertained, and that this is essential to the success of the homœopathic treatment.
These views, based upon a strong common sense, and written from thorough acquaintance with the subject, have produced a deep impression upon the professional and the public mind. Such a career is its own all-sufficient monument.
Charles Neidhard, the first Professor of Clinical Medicine at the Homœopathic Medical College of Pennsylvania, a physician and prover of wide renown, a writer of excellent repute, was born in Bremen, Germany, in 1809, and died in Philadelphia, April 17, 1895…
Dr. Neidhard was a prover of repute, a valuable contributor to the literature of homœopathy as associate editor of the "American Journal of Homœopathia" in 1838, and also of the "North American Journal of Homœopathy" from 1862 to 1868. He was corresponding member of homœopathic societies in Leipsic, Munich, Paris, Brazil, Massachusetts and Rhode Island.
Charles Neidhard was one of the founders of the American Institute of Homœopathy. The convention adjourned to organize the first session of the Institute, which was called by its General Secretary elect on this same evening, April 10, 1844, and thus quickly and decidedly was laid the cornerstone of the "American Institute of Homœopathy."
Dr. Josiah F. Flagg, Boston, had the honor of being chosen unanimously as Chairman for the session, and the Institute started on the work for which it had been organized by appointing a Corresponding Committee to serve until the meeting of the society in 1845.
At this session a Bureau for the Augmentation and Improvement of the Materia Medica, which was named the Central Bureau, consisting of Drs. Constantine Hering, Jacob Jeanes, Charles Neidhard and Walter Williamson, of Philadelphia, and Dr. George, of Yellow Springs, Pa.
Four of these gentlemen served faithfully upon this bureau for several years, Dr. Lingen giving place to Dr. James Kitchen, of Philadelphia, in 1845…
Drs. Charles Neidhard, John Franklin Gray, and Josiah F. Flagg were appointed a committee to ascertain the best manner of making public the doings of the Institute, and the reports of the Central Bureau…
Drs. Jacob Jeanes, Charles Neidhard and Samuel Richard Dubs were appointed a committee to prepare an address to the Homoeopathic physicians throughout the country, which they did, exhorting members to join more earnestly in the work, recommending the formation and support of Local Bureaus, and asking that their reports should be so plainly and elaborately made as to lighten the arduous duties of the Central Bureau as much as possible…
Drs. Constantine Hering, Jacob Jeanes, Charles Neidhard, Walter Williamson and James Kitchen, all of Philadelphia, were appointed to compose the Central Bureau.
Charles Neidhard was one of the homeopaths who responded to the attack on homeopathy by Oliver Wendell Holmes, alongside Robert Wesselhoeft, Abrahan Howard Okie, all of which were published by Otis Clapp.
Charles Neidhard** **wrote Diphtheria, as it Prevailed in the United States from 1860 to 1866, On the Efficacy of Crotalus Horridus in Yellow Fever, Pathogenetic and clinical repertory of the most prominent symptoms of the head, with their concomitants and conditions, On the Universality of the Homœopathic Law of Cure, An answer to the homoeopathic delusions, of Dr. Oliver Wendell Holmes, and Neidhard translated On Homoeopathic Medicine: Illustrating Its Superiority Over the Other … by Simon Felix Camille Croserio from the French in 1837.
---