Jacob Jeanes 1800 - 1877
June 07, 2008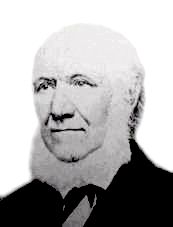 **Jacob Jeanes **1800 - 1877 was one of the founders of the Homeopathic Medical College of Pennsylvania, the first successful center for homeopathic education in the world.
In 1848, three distinguished physicians, Constantine Hering, Jacob Jeanes and Walter Williamson joined together to rent rooms in a building at the rear of a Philadelphia pharmacy at 229 Arch Street (previously a Swedenborgian Church).
All three doctors were proponents of an innovative system of medical treatment called homeopathy, a system of medicine developed by German physician Samuel Hahnemann that attempts to stimulate the body to heal itself.
With fifteen students and eight instructors, they began the Homeopathic Medical College of Pennsylvania. Offering joint M.D. and H.M.D degrees, it was the first successful center for homeopathic education in the world, and the last medical school to offer elective courses in homeopathy.
The First Meeting of the American Institute of Homeopathy (address by Jacob Jeanes to the American Institute of Homeopathy 1848). The convention adjourned to organize the first session of the Institute, which was called by its General Secretary elect on this same evening, April 10, 1844, and thus quickly and decidedly was laid the cornerstone of the "American Institute of Homeopathy."
Dr. J.F. Flagg, Boston, had the honor of being chosen unanimously as Chairman for the session, and the Institute started on the work for which it had been organized by appointing a Corresponding Committee to serve until the meeting of the society in 1845.
At this session a Bureau for the Augmentation and Improvement of the Materia Medica, which was named the Central Bureau, consisting of Drs. Constantine Hering, Jacob Jeanes, Charles Neidhard and Walter Williamson, of Philadelphia, and Dr. George, of Yellow Springs, Pa.
Four of these gentlemen served faithfully upon this bureau for several years, Dr. Lingen giving place to Dr. James Kitchen, of Philadelphia, in 1845. The second session of the Institute met on Wednesday, May 14, 1845, in the city of New York. Dr. Jacob Jeanes, of Philadelphia, was elected President; Dr. Edward Bayard, of New York, General Secretary, and Dr. R.A. Snow, of New York, Provisional Secretary. Dr. S.R. Kirby was re-elected Treasurer.
The meeting had been opened by Dr. John Franklin Gray, General Secretary, who had appointed Drs. Benjamin F. Joslin and Abraham Howard Okie tellers of the election. Dr. John Franklin Gray then read the minutes of the Convention, and also of the first session of the Institute, held in April, in 1844, which were approved…
Drs. Jacob Jeanes, Charles Neidhard and Samuel Richard Dubs were appointed a committee to prepare an address to the Homoeopathic physicians throughout the country, which they did, exhorting members to join more earnestly in the work, recommending the formation and support of Local Bureaus, and asking that their reports should be so plainly and elaborately made as to lighten the arduous duties of the Central Bureau as much as possible.
They spoke very encouragingly of the work of the past, but looked forward to a far greater improvement in the future, praising the interest which very many had taken in the object of the association… Drs. Constantine Hering, Jacob Jeanes, Charles Neidhard, Walter Williamson and James Kitchen, all of Philadelphia, were appointed to compose the Central Bureau.
Jacob Jeanes graduated from the Medical Department of the University of Pennsylvania in 1821. He married Eliza Brown and had one child who died in infancy. Jeanes was also instrumental in the founding of the Homeopathic Medical Society of Philadelphia and he was instrumental in the development of early provings of some of our most useful remedies.
Jacob Jeanes wrote Homoeopathic Practice of Medicine and Dyspepsia.
Of interest:
MAY · 1907 GIVER SHUNS PUBLICITY Miss Anna Thomas Jeanes could not be seen last night at the Germantown Home for Friends, which is located at Washington Lane and Greene Street.
She refused to see reporters or to discuss her latest gift. It was Miss Jeanes' wish, Dr. Washington said, that the affair be given no more publicity than necessary.
Miss Jeanes has endowed a number of institutions (many of them homeopathic, and indeed her whole family were involved in supporting homeopathic colleges, and many of the Jeanes family were Honorary Members of the Hahnemann Medical College), and most of her benefactions have been in the names of her dead brothers and sisters, whose shares of the family fortune she inherited.
She is a daughter of Isaac Jeanes. She had four brothers and one sister. One brother, Dr. Jacob Jeanes, with Dr. Constantine Hering and Dr. Walter Williamson, founded the Hahnemann Medical College in 1848.
The other three brothers—Samuel, Joshua and Joseph— built up a large fortune in the dry goods business in this city a number of years ago.
She has at all times sought to avoid publicity in her gifts, and until a few years ago, lived alone with her servants at No. 229 Arch Street. Her fortune now amounts to nearly $5,ooo,ooo.
TEXT OF DEED OF TRUST The deed of trust which she on Monday signed to make her gift to Negro education imperative reads as follows:
Know all men by these presents: That I, Anna T. Jeanes, of the city of Philadelphia, trusting and believing in the practicable and far-reaching good that may result from the moral and elevating influence of rural schools for Negroes in the Southern States, taught by reputable teachers, do hereby make, constitute and appoint Booker T. Washington, Tuskegee, Ala., and Hollis Burke Frissell, Hampton, Va., and their successors in the trust appointed or created as hereinafter directed, the trustees of an endowment fund in perpetuity of one million dollars, which is hereby created, to be known as ''The Fund for Rudimentary Schools for Southern Negroes,'' the income whereof shall be devoted to the sole purpose of assisting in the Southern United States, community, country and rural schools for the great class of Negroes to whom the small rural and community schools are alone available...
Anna Thomas Jeanes (1822-1907) Anna Thomas Jeanes, a Quaker of Philadelphia, was born in 1822. She survived all other members of her family and inherited the family's wealth.
She was a remarkable woman with a vision for Christian peace which she used her fortune to promote. She constructed and endowed The Friends Boarding House, a home for the aged and the infirmed, in Germantown, Pennsylvania and resided there during the years just before her death in 1907.
In her will, she generously endowed several other non-sectarian efforts. Included among them was what came to be known simply as "The Jeanes Fund," which would support Supervisors of Negro Education until 1968.
Two years before Anna Jeanes died, she was approached by the principal of Hampton Institute in Hampton, Virginia, and Dr. Booker T. Washington, of Tuskegee Institute in Alabama, to see if she would help fund their efforts.
Although she was interested in both institutions, she felt that others had given to the large schools. If she could, she wanted to help "the little country schools." Therefore, in 1907, Jeanes set aside one million dollars to fund a program for the fostering of rudimentary education in small, African-American rural schools.
In her will, Anna T. Jeanes spelled out the goal of the program as being to "encourage moral influence and social refinement which shall promote peace in the land, and goodwill among men."
The fund was formally named the Negro Rural School Fund, Anna T. Jeanes Foundation. It funded salaries for those who simply came to be known as "Jeanes Supervisors."
Anna Thomas Jeanes wrote The Negro Rural School Fund, Inc. (Anna T. Jeanes Foundation) 1907-1933
---