Adelina Patti 1843 - 1919
May 18, 2008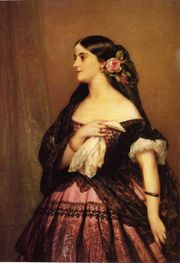 Adelina Patti 1843 - 1919 was one of the most highly regarded opera singers of the 19th century.
Considered, along with fellow contemporaries; Jenny Lind and Christina Nilsson, to be one of the most famous 19th Century sopranos; Giuseppe Verdi was not alone in calling her the greatest singer he ever heard.
Adelina Patti was also an advocate of homeopathy and she consulted homeopath Erastus Edgerton Marcy, and Edward Hamilton.
In her childhood the family moved to New York City: Patti grew up in The Bronx, where her family's home is still standing. Patti sang professionally from childhood, and developed into a coloratura soprano.
It is believed that Patti learned much of her singing technique from her brother in law Maurice Strakosch, although later in life Patti, like many famous singers, claimed that she was entirely self-taught.
Adelina Patti made her operatic début, in the title rôle of Donizetti's Lucia di Lammermoor, at the Academy of Music, New York, at age 16 in 1859. In 1861, at the age of eighteen, she was invited to Covent Garden, to take the soprano rôle of Amina in Bellini's La Sonnambula.
She had such success that she bought a house in Clapham and, using London as a base, went on to conquer the continent, performing Amina in Paris and Vienna in subsequent years with equal éclat.
In 1862 she sang Bishop's Home, Sweet Home at the White House for Abraham Lincoln and his wife Mary, who were mourning for their son Willie, who had died of typhoid. The Lincolns were moved to tears and requested an encore. This song would became associated with Adelina Patti and she performed it many times as an encore by popular request.
Patti's career was success after success. She sang in the United States, all over Europe, including very much Russia and in South America, inspiring popular frenzy and critical raves wherever she went.
Her girlish good looks made her an appealing stage presence. In her prime she reportedly had a beautiful soprano voice of birdlike purity, and she excelled in both soubrette roles like Zerlina in Don Giovanni, Rosina in Barber of Seville and famous coloratura parts like Lucia di Lammermoor and La Sonnambula, as well as lyric roles in Charles Francois Gounod's Faust and Romeo et Juliette…
Patti had no children, but was close to her nieces and nephews. It is noteworthy that her great-grand niece and namesake is the Tony Award-winning Broadway actress and singer Patti LuPone.
In her retirement, Adelina Patti, baroness Cederström, settled in the Swansea valley in south Wales, where she purchased Craig-y-Nos Castle. There she had her own private theatre, with the stage built sloping backwards, so that she would always appear taller than those behind her.
She made some of her recordings at Craig-y-Nos. She also funded the substantial station building at Craig y Nos/Penwyllt on the Neath and Brecon Railway. In 1918, she presented the Winter Garden building from her Craig-y-Nos estate to the city of Swansea. It was re-erected and renamed the Patti Pavilion. She died at Craig-y-Nos and eight months later was buried near her father at the Père Lachaise cemetery in Paris. (near Samuel Hahnemann).
---