The Chase Surname and Homeopathy
May 06, 2008

The Chase surname provided twelve jobbing homeopaths, including two orthodox doctors who converted to homeopathy; the President of the The Homeopathic Hospital in New York; the editor of the New England Medical Gazette_; _a Physician at the New York Homeopathic Medical College; an orthodox doctor who converted to homeopathy to become President of the Wayne County Homeopathic Medical Society; an orthodox doctor who converted to homeopathy to become the President of the Massachusetts Homœopathic Medical Society; an orthodox doctor who converted to homeopathy to become a jobbing homeopath for many years and then the Chair of Surgical and Operative Dentistry at the Missouri Dental College and lecturer on Dental Medicine in the Homœopathic College of St. Louis and Doctor of Dental Surgery at the Ohio Dental College; a Resident Physician to the Ward's Island Homœopathic Hospital; a Chief Justice of the United States who was an advocate of homeopathy;

A C Chase The Homeopathic Hospital in New York was incorporated December 30, 1895, and January 21, 1896, the first officers elected were A. C. Chase, President…
of Amboy, 4 Ills., was born at Livermore, Oxford county, Me., on February 18th, 1817. He lived on a farm and attended school during the winter, until he had reached his eighteenth or nineteenth year. Then he enjoyed the advantages of an academic course.
Subsequently he taught school for five years -three in Massachusetts, and two in Virginia. Concluding to enter the medical profession, he commenced reading under the supervision of W. B. Small, M. D., of East Livermore, and, in 1845, graduated at Bowdoin Medical School. He attended two full courses of lectures in that institution, and one at Harvard Medical School. He spent one year in Boston, visiting the McLean General Hospital daily.
On graduating, he settled in South Abington, Mass., and soon found himself in the possession of a considerable practice. He remained in that sphere of action until 1855. During six years of his residence, he was connected with the schools as one of the superintending committee.
From Massachusetts he removed to Atuboy, where he now lives, and continued to practice allopathy for two years. Then he had a little patient who appeared to he in the last stages of croup. He spoke of the case at home, and remarked that it was useless to afflict the child with any more medicine as it could not live until morning.
It was suggested that some homœopathic medicine should be used as it would not distress the patient, and there was a possibility of benefit. Without a particle of faith in a favorable result he acted upon the suggestion. The effect was marvelous. In a few hours the child was relieved. This and several other somewhat similar experiences induced him to undertake a careful investigation of the whole subject.
The more he probed the matter, the more thoroughly convinced did he become of the truth of the principles of homœopathy. He therefore gradually changed his practice, and finally abandoned allopathy altogether.
His conversion of course earned for him the contempt of some of his previous professional associates, and the persecution of others, although all of them were his juniors in the "old school." Nothing dismayed, however, he persevered in his chosen course, and has reaped, and is reaping, the reward of his conscientiousness and determination to stand by his convictions of right.
He has a large and pleasant practice among the best classes of the community. He is also surgeon to the northern division of the Illinois Central Railroad.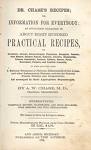 Alvin Wood Chase wrote Dr. Chase's Recipes, Dr. Chase's Family Physician, and Dr. Chase's Third, Last and Complete Receipt Book and Household Physician …

C A Chase editor of the New England Medical Gazette: a Monthly Journal of Homeopathic Medicine, Surgery and the Collateral Sciences.

Charles E Chase graduate of the Homeopathic University of Michigan in 1873. Physician at the New York Homeopathic Medical College, New York, 1873; aged 82; died, October 10, of myocarditis and pleurisy.

Daniel Emery Chase 1898 mentioned in The History of Homoeopathy and Its Institutions in America: Their Founders … in 1905

Durfee Chase was an orthodox doctor who converted to homeopathy and practiced as a homeopath in Palmyra 1907 and President of the Wayne County Homeopathic Medical Society in 1864 and Honorary Member of the Oneida County Homeopathic Medical Society. Durfee wrote about homeopathic remedies for seasickness and he is also mentioned in The History of Homoeopathy and Its Institutions in America: Their Founders … in 1905.

Edgar Ferant Chase 1858 -** **
of Dexter, Michigan, born Monroe, Mich., May 1, 1858 ; literary education, Michigan. State Normal School ; graduated M. D. from Pulte Medical College, Cincinnati, 1879.
Listed in the Directory of Homeopathic Physicians in 1925.

Francis Ellwin Chase 1863 -** **
of Cleveland, Ohio, was born in Newburg, Ohio, March 22, 1863, son of Clarenden and Lucy M. (Bell) Chase, and is of English descent.
He attended the Cleveland public schools and Cleveland Homœopathic Medical College, and began practice in Cleveland, April 1, 1894. He was assistant instructor in the Cleveland Homœopathic Medical College, Department of Nose and Throat, from 1894 until 1899.
He holds membership in the Cleveland Homœopathic Medical Society. He married, in 1893, Miss Mabel A. DuBois.
Francis Ellwin Chase inspired Royal Samuel Copeland to become a homeopath:
Chief among the scientific reformers was Royal Samuel Copeland (1868-1938) [22]. Royal Samuel Copeland made history a lifelong hobby, but he chose medicine as a profession inspired by a youthful preceptorship with Dr. F.E. Chase, a homeopath and family physician in his hometown near Dexter, Michigan.

Hazard De Forest Chase 1833 -** **
of Brownhelm, O., was born in Schoharie county, N. Y., September 13th, 1833. He was educated at Michigan University. He always had a preference for medical studies, but became disgusted with allopathy. In the commencement of the Rebellion, he enlisted in the Union Army, and continued about four years in the service.
After his return, he and his wife commenced the study of homœopathy under the tuition of Dr. Bosler, of Dayton, O. In the fall of 1868, they entered the Cleveland Homœopathic Medical College, and graduated in 1870.
After graduating, he commenced practice in Cleveland, but, on account of his wife's health, he removed to Ziterville, Pa. Here Mrs. Chase broke down entirely, and retirement became a necessity.
He sold his practice, which was very lucrative, and purchased a house in Brownhelm, O., to which he removed, and where he now resides. He is much attached to his profession, is a skilful physician, and a good member of society.

Henry S Chase 1820 -
of St. Louis, Mo., was born at Bellow's Falls, Vt., March 6th. 1820, his father being a distinguished allopathic physician. At the age of fifteen, he entered a commercial house in Boston, Mass., where he remained for three years, his parents having in the meanwhile removed to New Bedford, Mass., where his father still continued the practice of medicine, and was soon rejoined by his son who, after teaching in a public school for a limited period, accepted a responsible position in a mercantile house in Cincinnati, O. ; but the desire of "seeing the world," so natural to youth, induced him to abandon this situation and remove to the new territory of Iowa, then being rapidly filled up, offering many advantages to settlers ; and the now flourishing town of Tipton, Cedar county, owes to his energy the first house that was ever built there.
After spending about a year in the "new country," he rejoined his family at New Bedford, in compliance with their earnest desire, where, feeling a strong and decided vocation for medical pursuits, he placed himself under the tuition of Dr. B. F. Hardy, his father having declined to instruct him, being desirous that his son should embrace some other career ; but being convinced that medical science was his true sphere, finally took him under his special guidance.
After enjoying the advantage of attending lectures in Boston, during 1842, and in Woodstock, Vt., in 1843, he took his degree in the latter place with honor. His marriage with a daughter of N. Haskell, Esq., of Woodstock, decided him to remain there in the practice of dentistry as a specialty, which he did with eminent success, until the year 1857.
At this period of his life a new light dawned upon his mind. He became acquainted with Dr. Sisson, of New Bedford, at that time pursuing a course of lectures at Woodstock, and was induced by that gentleman to study the homœopathic system.
This he did-perhaps unwillingly at first-extending his researches to many and varied experiments, which so convinced him of the truth of the principles enunciated by the illustrious Hahnemann, that he cordially embraced them, and, in spite of his previous allopathic education, and the immediate pecuniary loss it occasioned him, has ever since been an ardent and devoted disciple of his great master, ever seeking by his practice and conversation, and, more notably perhaps, by the numerous productions of his prolific and eloquent pen, to disseminate in all directions the knowledge of the important truths of homœopathy.
After practicing in Woodstock with the best results for fourteen years, he decided to change his mode of life for a season, removing to Independence, Iowa, where he became a successful farmer, cultivating land which his own energy and industry had reclaimed from the wilderness. He was also an extensive stock raiser, and was elected to the presidency of the Bucham County Agricultural Society, which position he held for eight years, till his removal, in 1865, to Iowa city, where he once more resumed the practice of his profession.
But a more extended and congenial sphere of usefulness was before him. His reputation had by this time extended far beyond the limits of the State in which he resided ; and the authorities of the Missouri Dental College offered him the Chair of Surgical and Operative Dentistry. He accepted the offer and removed to St. Louis, in 1867, where he now resides, still brilliantly occupying the chair devoted to the advancement of his favorite pursuit.
Though making dentistry to a certain extent a specialty, he was able in cases requiring medical treatment to apply homœopathic remedies, having since his acquaintance with Dr. Sisson entirely discarded allopathic practice, showing himself to be yet another bright and conscientious convert from the old to the new, weakening the force of what he deemed to be error, and strengthening the cause of what his convictions told him was truth.
Allusion has been made to his literary labors. We regret that space will not permit as to enter into a detailed account of them, but they are so well and widely known amongst scientific men and others that little excuse is necessary on that score, and we must content ourselves with a brief recapitulation of them.
During the last four years, he has been one of the editors of the Missouri Dental Journal, besides contributing several important papers to various homœopathic journals on dental medicine, etc. The American Dental Association is also indebted to his pen for several most valuable contributions. In 1866, he made an exhaustive and scientific report on "Dental Hygiene," which was highly commended, and in the following year another report on "Dental Physiology," at the same time reading one of his most remarkable and well digested papers, entitled, "How are deciduous teeth cast off ?"
In 1868, he was again called on to make a report ; on this occasion it was on "The Saliva of Men and Animals," a subject cognate to his special studies. A small work, which he published about this time under the title, "Familiar Lectures about the Teeth," met with marked and deserved success.
In addition to the above literary and professional labors, he has for several years past delivered a course of lectures on Dental Medicine in the Homœopathic College of St. Louis, Mo.
Finally his contributions to various scientific publications would, if collected, literally fill volumes.
We are happy to say in conclusion that Dr. Chase still occupies his useful position in St. Louis, where he is in the possession of a large and lucrative practice, undoubtedly due to his own exertions and skill. May he long live to enjoy it.
We have omitted to mention that his honorable degree of Doctor of Dental Surgery was conferred on him by the Ohio Dental College, in 1865.

Hiram Luce Chase 1825 -** **
of Cambridge, Mass., was born in Boston, on May 19th, 1825. His father was Captain Constant Chase. His education was obtained in the public schools of Boston, and was of a sufficiently broad and thorough character to form a sure foundation for any subsequent superstructure that circumstances might demand.
On leaving school he entered a mercantile house, where he remained about a year. Then he spent a year abroad enlarging his mind by travel. On his returning home he resolved upon entering the medical profession, commenced reading, became a student in the Medical Department of Harvard University, and received his degree of M. D. there in 1846.
About the time of graduating Dr. Chase had his interest attracted by homœopathy, and after reading by himself for six months, he entered the office of the late Samuel Gregg, M. D., where he prosecuted his studies for some time further, eventually giving in his unreserved adhesion to the doctrines of Hahnemann.
In January, 1847, he was elected Secretary of the Massachusetts Homœopathic Fraternity, of which the Massachusetts Homœopathic Medical Society is but the continuation, and held the office with much acceptability for five years.
In November, 1847, he settled in Cambridge, Mass., where he has resided ever since, and has built up a large practice among the best families in the place.
For many years Dr. Chase has held a very prominent position among the homœopathic physicians of Boston and Massachusetts. In 1866 he was chosen to deliver the annual address before the Massachusetts Homœopathic Medical Society, and in 1867 was elected President of that Society.
On the establishment of the Boston Academy of Homœopathy, he was elected as Secretary, and continued to fill the position with marked ability for several years.
In 1849, Dr. Chase was married to Caroline A. Jones, of Boston, by whom he has one son, who is now studying medicine.
Dr. Chase is a gentleman of large and varied culture, of generous and sympathetic nature, and of singularly winning though unobtrusive manners. He is a physician of unusual professional attainments, and has met with a high degree of success in his practice : He inspires confidence immediately upon entering a sick room, and that confidence is invariably justified.

Irah Eaton Chase 1831 -
of Haverhill, Mass., was born June 1st, 1831, at Newton, Rockingham county, N. H. He was educated at Wesleyan University, Middletown, Conn., graduating in 1850.
The following year he spent in New Bedford, Mass., studying German, French and Italian, and commencing the study of medicine.
In the winter of 1851-'52, he attended lectures in the Homœopathic Medical College of Pennsylvania, and in the following spring a second course (allopathic) at Woodstock, Vt. He then entered the Berkshire Medical College (allopathic), and attended the third course of lectures, and was graduated, becoming a member of the Massachusetts State Medical Society.
He then went to Philadelphia, and resumed hospital practice, attending another course of lectures at the Homœopathic Medical College, and still another (his fifth course) at the Jefferson (allopathic) Medical College.
After graduating at both the latter institutions, with the diplomas of the Hahnemann Medical Institute and the Berkshire Medical Association, and a certificate of a year's attendance upon the clinic of the Pennsylvania Hospital, he settled, in 1853, in Haverhill, Mass.
After an auspicious commencement in business, he was disabled by an accidental wound of the femoral artery, which required ligation ; but in 1855, after untold suffering, he resumed active service. When fully established in practice, however, a second operation became necessary, and was performed by Dr. Valentine Mott, in New York, occupying more than three hours. The femoral artery was ligated in three places, and fifteen other arteries and veins were ligated before the circulation was cut off from the traumatic aneurism resulting from the accident.
Thenceforward he has prospered in business, and has been blessed with domestic felicity, having been married, in 1856, to Miss Josephine Brownell, of New Bedford, Mass. In 1866, he went abroad, and spent between two and three years in travel, visiting every country in Europe save Spain and Portugal ; not omitting Egypt, Syria and Palestine. The excitement of general travel was relieved by restful intervals of quiet residence and study in the hospitals of Paris and Vienna.
His practice since his return is still increasing beyond his ability and time to accept. Basing all preparatory study upon a liberal foundation -accepting the good from every source- he is confirmed in a generous eclecticism, which leads him to ignore all special titles- homœopath" or "allopath" -and accept the unadorned name of "physician."
He also rejoices in according to others, in generous measure, the privilege which he himself claims and delights to exercise, of investigating every phase and theory of medical science, and of applying the results of such investigation for the relief of suffering humanity, as each special case may require.
All avenues of knowledge should be available, in his opinion, in departments so uncertain, and withal so paramount in importance as the healing art.

J Oscoe Chase 1863 -** **
New York city, is a native of Georgia, Vermont, born January 6, 1863, son of Manchester Chase and Hannah M. Godrey, his wife, and is of English and American descent. He was educated in St. Albans Academy and the Franklin county grammar school.
He entered the New York Homœopathic Medical College in 1884, and graduated in 1887. Since graduation he has practiced medicine in New York city, and has taken post-graduate courses in the New York Post-Graduate School of Medicine.
He was Resident Physician to the Ward's Island Homœopathic Hospital in 1887 and 1888 ; Clinical Assistant to the Chair of Pædiatrics in the New York Homœopathic Medical College from 1890 to 1894 ; Assistant Surgeon to the New York Ophthalmic Hospital from 1889 to 1898 ; Visiting Physician to the Children's Hospital and the Five Points House of Industry from 1891 to the present time ; instructor in Gynæcology and Orificial surgery from 1894 to 1896 ; Visiting Physician to St. Thomas' Day Nursery from 1894 to 1899 ; Medical Examiner for the Metropolitan Life Insurance Company since 1894.
He is a member of the American Institute of Homœopathy, of the New York State and County Homœopathic, Medical societies, the Academy of Pathological Science, the New York Materia Medica Society, the National Society of Electro-Therapeutists, and the New York Camera Club. Dr. Chase married, June 23, 1905, Margaret Anne Morison, daughter of Frederick S. Morison of New York city.
J Oscoe Chase was also the Treasurer of a Homeopathic Society in New York. He also wrote articles for the Homeopathic Journal Of Obstetrics in 1892.
M J Chase was a member of the Illinois State Homeopathic Medical Society in 1859.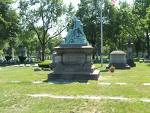 Reuben H Chase graduated from the Detroit Homeopathic Medical College and was a Faculty member in 1873. Mentioned in The History of Homoeopathy and Its Institutions in America: Their Founders … in 1905

S F Chase mentioned in The History of Homoeopathy and Its Institutions in America: Their Founders … in 1905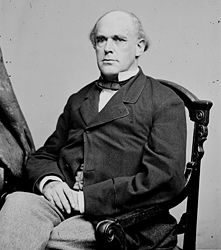 Salmon Portland Chase 1808 – 1873 was an American politician and jurist in the Civil War era who served as U.S. Senator from Ohio and Governor of Ohio; as U.S. Treasury Secretary under President Abraham Lincoln; and as Chief Justice of the United States.
Salmon was very upset about the death of his first wife, convinced that the doctors had killed her. He was also upset at the treatment his daughter Kitty received before her death. He was also falsely reassured by doctors who underestimated the scarlet fever epidemic that killed anther daughter, Catherine Jane. Salmon later received homeopathic treatment from Dr. Williams
Salmon was a correspondent of Theodore Parker.
Chase articulated the "Slave Power conspiracy" thesis well before Lincoln did, and he coined the slogan of the Free Soil Party, "Free Soil, Free Labor, Free Men." He devoted his enormous energies to the destruction of what he considered the Slave Power — the conspiracy of Southern slave owners to seize control of the federal government and block the progress of liberty…
From his defense of escaped slaves seized in Ohio for rendition to slavery (under the Fugitive Slave Law of 1793) he was dubbed the Attorney General for Fugitive Slaves. His argument in the famous Jones v. Van Zandt case testing the constitutionality of fugitive slave laws before the U.S. Supreme Court attracted particular attention (though in this as in other cases of the kind the judgment was against him, and John Van Zandt's conviction upheld).
In brief, he contended that slavery was local, not national, that it could exist only by virtue of positive state law, that the federal government was not empowered by the Constitution to create slavery anywhere, and that when a slave leaves the jurisdiction of a state he ceases to be a slave, because he continues to be a man and leaves behind him the law that made him a slave…
The Appeal of the Independent Democrats in Congress to the People of the United States, written by Chase and Giddings, and published in the New York Times of January 24, 1854, may be regarded as the earliest draft of the Republican party creed.
He was the first Republican governor of Ohio, serving from 1855 to 1859, supporting women's rights, public education, and prison reform.
Salmon's daughter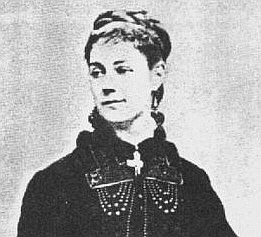 Kate was also a supporter of homeopathy, calling in a homeopathic physician, Dr. Pope, for her son Willie when he was ill with croup
Dr. Ball gave him a little calomel first better, then worse next day. Kate sent for Dr, Pope, a homeopathic physician. He thought, and of course Katie thought, it was the calomel; but I like a poor fish, reserve my opinion. The babe, at any rate, had a hard time, but last night he began to improve, and is still improving. I hope we may now regard him as fairly convalescent.

Sarah Blakesley Chase graduated from the Cleveland Homeopathic College and the Alfred University in Allegany County. Sarah ran a constant battle with Anthony Comstock for selling contraceptive devices, such was the mood of the time. continue reading:

Theodore Livingstone Chase mentioned in the Transactions of the Homoeopathic Medical Society of the State of Pennsylvania 1902 Obstetrician 1902 -4. Also mentioned in The History of Homoeopathy and Its Institutions in America: Their Founders … in 1905
---