James Russell Lowell 1819 - 1891
April 27, 2008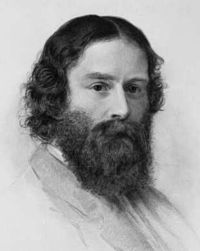 James Russell Lowell 1819 -1891 was an American Romantic poet, critic, satirist, diplomat, and abolitionist.
Lowell was actively involved in publications concerning homeopathy.
Lowell's mother was an active reformer alongside Harriet Beecher Stowe and Catharine Beecher, Ednah Dow Cheney and Henry Wadsworth Longfellow. They all supported homeopathy and stepped forward to assist it where they could.
Lowell knew William Dean Howells, the assistant editor for the Atlantic Monthly, and Lowells was also part of the intelligentsia who gathered around James T Fields, one of America's most famous publisher of American writers, and a partner in Ticknor and Fields, had a bookstore known as Parnassus Corner on Old Corner.
His literary salon was packed with the influential people of the time, including Louisa May Alcott, John Greenleaf Whittier, Thomas Bailey Aldrich, James Russell Lowell, Henry David Thoreau, Nathaniel Hawthorne, Julia Ward Howe, Ralph Waldo Emerson, Mark Twain, Margaret Fuller, William Makepeace Thackeray, Charles Dickens, Matthew Arnold, Robert Browning, Henry Wadsworth Longfellow, Alfred Lord Tennyson, Bret Harte, Bayard Taylor, Harriet Beecher Stowe, Edwin Booth, and Nathaniel Parker Willis, who described Parnassus Corner as 'the hub in which every spoke of the radiating wheel of Boston intellect had a socket.. '
Lowell was also responsible for publish Oliver Wendell Holmes' diatribe against homeopathy, so this eclectic mix at Parnassus Corner was fast and furious, considering how Lowell also published many works by homeopathic supporters, and how much he personally benefited professionally from them.
Lowell was one of the Fireside Poets alongside Henry Wadsworth Longfellow, William Cullen Bryant, John Greenleaf Whittier and Oliver Wendell Holmes, Sr.
Lowell he became engaged to Maria White in the autumn of 1840, and the next twelve years of his life were deeply affected by her influence. White was herself a noted poet.
Her character and beliefs led her to become involved in the movements directed against intemperance and slavery. White was a member of the Boston Female Anti-Slavery Society and convinced Lowell to become an abolitionist.
They had four children, three of whom died in infancy… Frail, delicate, and plagued by ill health throughout her life, Maria White Lowell died at the age of 32…
In 1841, Lowell published A Year's Life, which was dedicated to his future wife, and recorded his new emotions with a backward glance at the preceding period of depression and irresolution.
Lowell was inspired to new efforts towards self-support, and though nominally maintaining his law office, he joined a friend, Robert Carter, in founding a literary journal, The Pioneer. The periodical assisted in initiating a paradigm shift towards new ideals in literature and art.
Lowell's expertise as an editor is indicated by the writers he turned to for assistance -Ralph Waldo Emerson, Nathaniel Hawthorne, Edgar Allan Poe, John Greenleaf Whittier,

none of whom possessed a wide reputation at the time.
Lowell had already turned his studies in dramatic and early poetic literature to account in another magazine, and continued the series in _The Pioneer_, besides contributing poems…
Lowell had a regular engagement as an editorial writer on The Pennsylvania Freeman, a fortnightly journal devoted to the Anti-Slavery cause…
Lowell's mother was in poor mental health, and his wife was physically frail. These troubles combined with a lack of money conspired to make Lowell almost a recluse, but he continued to produce writings which show the interest he took in affairs.
He contributed poems to the daily press, prompted by the slavery question; early in 1846, he was a correspondent of the London Daily News, and in the spring of 1848 he formed a connection with the National Anti-Slavery Standard of New York, agreeing to contribute weekly either a poem or a prose article…
he delivered a course of lectures on English poets at the Lowell Institute in Boston in the winter of 1855. This first formal appearance as a critic and historian of literature at once gave him a new standing in the community, and he was elected to the Smith Professorship of Modern Languages in Harvard College, made vacant by the retirement of Henry Wadsworth Longfellow.
Lowell accepted the appointment, with the proviso that he should have a year of study abroad. He spent it mainly in Germany, visiting Italy, and increasing his acquaintance with the French, German, Italian and Spanish languages.
He returned to America in the summer of 1856, and began his college duties, retaining his position for twenty years…
In the autumn of 1857, The Atlantic Monthly was established, and Lowell was its first editor. He at once gave the magazine the stamp of high literature and of bold speech on public affairs. He held this position only till the spring of 1861, but he continued to make the magazine the vehicle of his poetry and of some prose for the rest of his life; his prose, however, was more abundantly presented in the pages of The North American Review during the years 1862-1872, when he was associated with Charles Eliot Norton, its editor.
This magazine especially gave him the opportunity of expression of political views during the eventful years of the American Civil War. It was in Atlantic Monthly during the same period that he published a second series of The Biglow Papers.
Both his collegiate and editorial duties stimulated his critical powers, and the publication in the two magazines, followed by republication in book form of a series of studies of great authors, gave him an important place as a critic…
In 1877 Lowell, who had mingled so little in party politics that the sole public office he had held was the nominal one of elector in the Presidential election of 1876, was appointed by President Rutherford B. Hayes as the minister to the court of Spain.
He had a good knowledge of Spanish language and literature, and his long-continued studies in history and his quick judgment enabled him speedily to adjust himself to these new relations. Some of his dispatches to the home government were published in a posthumous volume Impressions of Spain.
In 1880 he was transferred to London as American minister, and remained there until the close of President Chester A Arthur's administration in the spring of 1885.
As a man of letters he was already well known in England, and he was in much demand as an orator on public occasions, especially of a literary nature; but he also proved himself a sagacious publicist, and made himself a wise interpreter of each country to the other. During his time in England, he acted as pall-bearer at the funeral of Charles Darwin.
---