William Dean Howells 1837 - 1920
April 13, 2008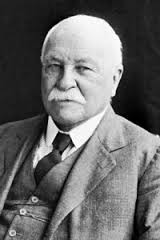 William Dean Howells 1837 - 1920 was an American realist author and literary critic. He was a Swedenborgian (based on the work of Emanuel Swedenborg), and a supporter of homeopathy (Cynthia J. Davis, Bodily and Narrative Forms: The Influence of Medicine on American Literature, 1845-1915, (Stanford University Press, 2000). Page 101).
Howells was a Swedenborgian and he was a friend of Henry James junior, Sarah Orne Jewett, Henry Wadsworth Longfellow and homeopath Harriet Judd Sartain. Howells knew Harriet Beecher Stowe and he noted how she clashed with Oliver Wendell Holmes on the subject of homeopathy. Howells supported and published Elizabeth Stuart Phelps Ward and shared with her a strong belief in homeopathy. Howells family homeopath was William Wesselhoeft, and he treated his daughter Winifred when her allopathic physician failed her (John William Crowley, The Mask of Fiction: Essays on W.D. Howells, (Univ of Massachusetts Press, 1989). Page 88).
Howells wrote Dr. Breen's Practice while he was undergoing homeopathic treatment himself (Cynthia J. Davis, Bodily and Narrative Forms: The Influence of Medicine on American Literature, 1845-1915, (Stanford University Press, 2000). Pages 101-109), where homeopathy compensates his character Grace Breen for the role that 'love once played', weaving a clever counterpoint between profession and love and how the two are not interchangeable. Elizabeth Stuart Phelps Ward countered Howells portrayal of women physicians with her novel Dr. Zay, which Howells published.
Howells and his wife Elinor were 'not opposed to trying new therapies' and they were supporters of the rest cure and the mind cure, which had helped his wife Elinor, and he convinced his life long friend Mark Twain to try it. (Howells was a biographer of Mark Twain). In turn, Mark Twain encouraged Howells to try the Water Cure for Elinor.
As a realist writer, Howells was attempting to heal the society he lived in, riven by the aftermath of Civil War and industrialisation, and also to heal the individual within it, at a time of great personal distress.
Howell bemoans that:
From Cynthia J. Davis, Bodily and Narrative Forms: The Influence of Medicine on American Literature, 1845-1915, (Stanford University Press, 2000). Page 101. "... we see nothing as whole, neither art nor life. We are so made, in soul and in sense, that we can only deal with parts, with points, with degrees, and the endeavour to emcompass any entirety must involve a discomfort and a danger very threatening to our intellectual integrity..."
Howells realism is an acknowedgement of his cognizance of disorder and his attempt to balance to correct this imbalance in psychic and social instability and to:
And that an evolving Society:
"… requires of a novelist whom they respect unquestionable proof of his seriousness, if he proposes to deal with certain phases of life; they require a sort of scientific decorum.
"He can no longer expect to be received on the grounds of entertainment only; he assumes a higher function, something like that of a physician or a priest, and they expect him to be bound by laws as sacred as those of such professions".
"… and as far as morality goes I believe that when an artist tries to create an ideal he mixes some truth up with a vast amount of sentimentality and produces something… extremely noxious as well as nauseous… "
Howells lectured alongside Elizabeth Cady Stanton, Susan B Anthony, Frances Willard, Bronson Alcott, Clara Barton and others at the Dansville Water Cure in New York.
In 1860, he visited Boston and met with American writers J. T. Fields, James Russell Lowell, Oliver Wendell Holmes, Nathaniel Hawthorne, Henry David Thoreau and Ralph Waldo Emerson… he wrote for various magazines, including Atlantic Monthly and Harper's Magazine.
From 1866, he became an assistant editor for the Atlantic Monthly and was made editor in 1871, remaining in the position until 1881.
In 1869, he first met Mark Twain, which sparked a longtime friendship although the friendship went sour over a disagreement about Mark Twain's incessant cigar smoking.
Howells was strongly against the use of tobacco and even appeared before Congress in 1883 to urge that its use be outlawed…
He also wrote critically in support of American writers Hamlin Garland, Stephen Crane, Emily Dickinson, Mary E. Wilkins Freeman, Paul Laurence Dunbar, Sarah Orne Jewett, Charles W. Chesnutt, Abraham Cahan, and Frank Norris.
It is perhaps in this role that he had his greatest influence. In his "Editor's Study" column at the Atlantic Monthly and, later, at Harper's Magazine, he formulated and disseminated his theories of "realism" in literature.
In 1871 he succeeded Fields in the editorship of the Atlantic Monthly__… _In 1881 Thomas Bailey Aldrich succeeded Howells in the editorship of the the _Atlantic Monthly.
Howells was also part of the intelligentsia who gathered around James T Fields, one of America's most famous publisher of American writers, and a partner in Ticknor and Fields, had a bookstore known as Parnassus Corner on Old Corner.
His literary salon was packed with the influential people of the time, including Louisa May Alcott, John Greenleaf Whittier, Thomas Bailey Aldrich, James Russell Lowell, Henry David Thoreau, Nathaniel Hawthorne, Julia Ward Howe, Ralph Waldo Emerson, Mark Twain, Margaret Fuller, William Makepeace Thackeray, Charles Dickens, Matthew Arnold, Robert Browning, Henry Wadsworth Longfellow, Alfred Lord Tennyson, Bret Harte, Bayard Taylor, Harriet Beecher Stowe, Edwin Booth, and Nathaniel Parker Willis, who described Parnassus Corner as 'the hub in which every spoke of the radiating wheel of Boston intellect had a socket.. '
Appeal to Reason, [a socialist weekly published out of Girard, Kansas, between 1895 and

At its peak in 1912, the paper had 761,000 subscribers—including 38,000 in Okla- homa](http://64.233.183.104/search?q=cache:gXjKTaifUAUJ:www.inthesetimes.com/pdf/InTheseTimes31-02.pdf+William+Dean+Howells+homeopath&hl=en&ct=clnk&cd=70&gl=us&client=firefox-a).
When the Post Office banned its special issues, which had print runs in the millions, subscribers around the country, "the Appeal army," circulated it by hand. __
_Appeal to Reason_ was founded at a time when American society confronted both the effects of the industrial revolution and the emergence of corporations as domi- nant players in national politics.
In American cities the majority of citizens had little control over their own lives. The places they lived were unsanitary, the food they ate unsafe, the conditions of their work horrendous and their pay meager. Children were exploited for their labor. Women lacked the right to vote. Blacks, Chinese Americans and Indians suffered institutionalized racism and discrimination.
Ida Tarbell, Upton Sinclair, Helen Hunt Jackson, Lincoln Steffans, Abraham Cahan, George Seldes and many others witnessed this injustice and decided to do something about it.
In newspapers and magazines, they chronicled the misery in their midst. In league with the writers, social reformers and political activists of the day—people like Henry Demarest Lloyd, William Dean Howells, Ida B. Wells, Frank Norris, Jane Addams, Eugene V. Debs, Victor Berger and Florence Kelley—these journalists became the backbone of the social movement that ushered in the eight-hour work day, child labor laws, public health departments, and food and safety regulations.
---