George William Curtis 1824 - 1892
April 12, 2008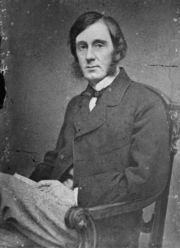 George William Curtis 1824
1892 was an American writer and public speaker, born in Providence, Rhode Island, of old New England stock. Curtis was a member of the Transcendental movement and became a boarder at the community of Brook Farm.
Curtis was was George Palmer Putnam's associate editor.
Through Brook Farm and his friendship with Ralph Waldo Emerson, and through his association with George Palmer Putnam (the father of homeopath Mary Corinna Putnam Jacobi), Curtis assisted in the publication of many classic American authors including Washington Irving, William Cullen Bryant, James Fenimore Cooper, and Edgar Allan Poe.
In 1853 Curtis lectured alongside Wendell Phillips and also Samuel J. May, Robert Purvis, Parker Pillsbury, Stephen S. Foster, Thomas Wentworth Higginson, Horace Greeley, William Lloyd Garrison, Gerrit Smith, Theodore Tilton, Fredrick Douglass, and the brothers Samuel and Henry Blackwell (who was married to homeopath Lucy Stone).
Curtis was also part of the intelligentsia who gathered around James T Fields, one of America's most famous publisher of American writers, and a partner in Ticknor and Fields, had a bookstore known as Parnassus Corner on Old Corner.
His literary salon was packed with the influential people of the time, including Louisa May Alcott, John Greenleaf Whittier, Thomas Bailey Aldrich, James Russell Lowell, Henry David Thoreau, Nathaniel Hawthorne, Julia Ward Howe, Ralph Waldo Emerson, Mark Twain, Margaret Fuller, William Makepeace Thackeray, Charles Dickens, Matthew Arnold, Robert Browning, Henry Wadsworth Longfellow, Alfred Lord Tennyson, Bret Harte, Bayard Taylor, Harriet Beecher Stowe, Edwin Booth, and Nathaniel Parker Willis, who described Parnassus Corner as 'the hub in which every spoke of the radiating wheel of Boston intellect had a socket.. '
The "Curtained Corner" of James T. Fields in the back part of the old book shop has been much discoursed upon. George William Curtis in "The Easy Chair" called it
"the exchange of wit, the Rialto of current good things, the hub of the hub. It was a very remarkable group of men, — indeed it was the first group of really great American authors which familiarly frequented the corner as guests of Fields."
Curtis would also have known all of the homeopaths and homeopathic supporters who frequented Elizabeth Palmer Peabody's Foreign Library: Wendell Phillips, Henry Ward Beecher, Susan B Anthony, Julia Ward Howe, Josephine S Griffing, Theodore Dwight Weld and the Grimke Sisters, William Lloyd Garrison, Parker Pillsbury, Theodore Parker, Clemence Lozier, Charlotte Denman Lozier, Gerrit Smith, Wendell Phillips, Frederick Douglass, Julia Ward Howe, William Lloyd Garrison, Hamilton Wilcox, Emily Howard Jennings Stowe, Susan B Anthony, Clara Barton, Phoebe Ann (Coffin) Hanaford, Moncure Daniel Conway, Elizabeth Peabody, Sarah Orne Jewett, the Houghtons, George Palmer Putnam, William Cullen Bryant, William Ellery Channing, Ellery Channing, George and Sophia Ripley, Orestes Brownson, James Freeman Clarke, John Sullivan Dwight, Paulina Kellogg Wright Davis, Ednah Dow Cheney, the Bartlett's, the Wesselhoefts, Thomas Wentworth Higginson, Gerrit Smith, Frederick Douglass, Hamilton Wilcox, Emily Howard Jennings Stowe, and many others.
Curtis remained at Brook Farm for two years, and met many interesting men and women. Then came two years, passed partly in New York, partly in Concord in order mainly to be in the friendly neighbourhood of Ralph Waldo Emerson, and then followed four years spent in Europe, Egypt and Syria.
Curtis returned from Europe in 1850, attractive, accomplished, and ambitious for literary distinction. He settled on Staten Island and instantly plunged into the whirl of life in New York, obtained a post on Horace Greeley's New York Tribune, became a popular lecturer, started work on Nile Notes of a Howadji (1851), and became a favourite in society.
He wrote for Putnam's Magazine, of which he was George Palmer Putnam's associate editor; and a number of volumes, composed of essays written for that publication and for Harper's Monthly, came in rapid succession from his pen.
The chief of these were the Potiphar Papers (1853), a satire on the fashionable society of the day; and Prue and I (1856), a pleasantly sentimental, fancifully tender and humorous study of life.
In 1855 he married Anna Shaw, daughter of abolitionist Francis Shaw and brother of Robert Gould Shaw of the famed 54th Massachusetts.
Not long afterwards he became, through no fault of his own, deeply involved in debt owing to the failure of Putnam's Magazine; and his sense of honour compelled him to spend the greater part of his earnings for many years on discharging the obligations for which he had become responsible, and from which he might have freed himself by legal process.
In the period just preceding the Civil War, other interests became subordinate to those of national concern. He was involved in the founding of the Republican Party, and made his first important speech on the questions of the day at Wesleyan University in 1856; he engaged actively in John C. Fremont's presidential campaign of that year (the Republican campaign headquarters were located not far from his Staten Island home), and was soon recognized not only as an effective public speaker, but also as one of the ablest, most high-minded, and most trustworthy leaders of public opinion.
In 1863 he became the political editor of Harper's Weekly, which was highly influential in shaping public opinion. Curtis's writing was always clear and direct, displaying fairness of mind and good temper. He had high moral standards.
From month to month he contributed to Harper's Monthly, under the title of "The Easy Chair," brief essays on topics of social and literary interest, charming in style, touched with delicate humour and instinct with generous spirit.
His service to the Republican party was such, that he was offered several nominations to office (under Ulysses S Grant and Chester A Arthur where he was influential in the 1883 Civil Service Reform Act), and might have been sent as minister to England; but he refused all such offers, preferring to serve the country as editor and public speaker.
In 1871 he was appointed, by Ulysses S Grant, to chair the commission on the reform of the civil service. Its report was the foundation of every effort since made for the purification and regulation of the service and for the destruction of political patronage.
From that time Curtis was the leader in this reform, and its progress is mainly due to him. He was President of the National Civil Service Reform League and of the New York Civil Service Reform Association.
In 1884 he refused to support James G Blaine as candidate for the presidency, and thus broke with the Republican party, of which he had been a founder and leader. From that time he stood as the typical independent in politics.
In April 1892 he delivered at Baltimore his eleventh annual address as President of the National Civil Service Reform League, and in May he appeared for the last time in public, to repeat in New York an admirable address on James Russell Lowell, which he had first delivered in Brooklyn on the 22nd of the preceding February, the anniversary of James Russell Lowell's birth.
Curtis was one of the original members of the Board of Education for what would become New York City, and advocated educational reforms. He was a member of and frequent speaker at the Unitarian Church on Staten Island (the congregation still meets in the same building). A high school not far from his home is named for him.
---