Grover Cleveland 1837 - 1908
April 09, 2008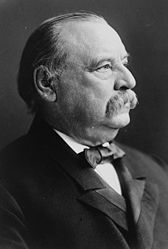 Grover Cleveland 1837 - 1908 was the twenty-second and twenty-fourth President of the United States. Cleveland is the only President to serve two non-consecutive terms (1885–1889 and 1893–1897).
Cleveland was also a supporter of homeopathy and he consulted homeopath and astrologer Luke D Broughton. He was Governor of New York at a time when homeopathy and Eclectic medicine were at their height, and Cleveland was supported by Henry Ward Beecher.
Cleveland appointed homeopath Marshall Orlando Terry as United States Pension Surgeon for the Utica district.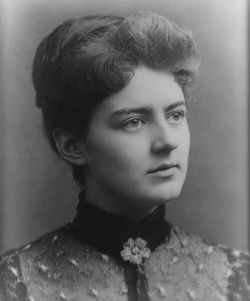 Frances Cornelia Folsom Cleveland-Preston 1864 – 1947
His wife Frances was an activist in support of women becoming doctors and she was a board member with Julia Ward Howe, Sarah Orne Jewett, Mary Putman Jacobi and many others.
Homeopath Robert Newton Tooker gave a copy of his book All About the Baby to Frances Cleveland and inscribed it for her. Tooker was the President of the Illinois Homeopathic Medical Association.
After the death of her husband Grover, Frances and her close friend Thomas Jex Preston Jnr became involved in the National Security League in 1915 to support the war effort. The NSL was funded by George Putnam.
Frances Cleveland and Thomas were married in 1913, and after the war in 1918, Preston resigned from the NSL to become Dean of the New York Homeopathic Medical College and Flower Hospital.
Of interest:
Joseph D Bryant who attended Grover Cleveland in his final battle with oral cancer is mentioned frequently in homeopathic journals, The Denver Journal of Homeopathy in 1895, The Homeopathic Medical Society of the State of New York_ _in 1906, The Homoeopathic Journal of Obstetrics, Gynaecology and Paedology in 1899, The Clinique: A Monthly Abstract in 1926, The Hahnemannian Monthly in 1896, The North American Journal of Homeopathy in 1851 to name a few, and he was replaced as Surgeon-General of the State by Governor-elect Levi Parsons Morton with a homeopathic practitioner in 1883.
---