The Kellogg Surname and Homeopathy
April 05, 2008

The Kellogg surname produced numerous homeopaths and one of them founded the famous cereal company.

Alice Hawkins Kellogg listed in the Iowa Homeopathic Directory of 1907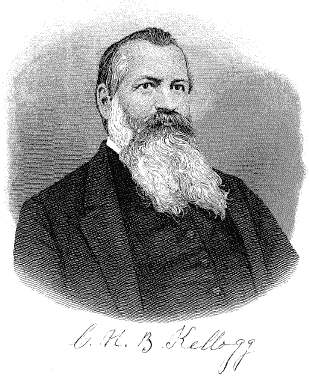 C H B Kellogg 1814 -** **
of Detroit, Mich., was born at Harrisburg, on the 26th of March, 1814. His grandfather, Thomas Kellogg, was a soldier of the American revolution, and lived to the age of one hundred and ten years. His father, Ebenezer Kellogg, served in the war of 1812 ; both were early settlers in Lewis county, N. Y.
He obtained his education by attending the common school for a short period during a few winters. He began the study of medicine at the age of fifteen, with Dr. Asa Shaw, a student of Dr. J. H. Vincent, of Cold Brook, N. Y., and attended lectures at Fairfield.
Then he traveled in South America, Africa and Arabia. Returning home, he remained several years on the farm, occasionally practicing his profession. He was in Canada during, but not participating in, the rebellion of 1837-'38. His mother was a relative of Koskiusco, and a most benevolent woman.
In acts of benevolence the doctor resembles his mother, his charity knowing no limit but his want of means. For several years after the Canadian rebellion he was engaged as a detective. After leaving the ranks of the detectives, he settled down to the practice of medicine at Toulogany, O., about the year 1859. There he remained in an eminently successful and extensive practice some ten years.
During the rebellion many a family whose head was in the army was the recipient of his benevolence in the shape of food, fuel, money, and gratuitous medical advice.
In 1869, poor health compelled him to abandon his practice and seek relief in travel, when he spent a year among his native hills in old Lewis county. In the spring of 1871, he came to his present residence -Detroit- after travelling and lecturing over a large portion of the State ; and since settling there he has married for the second time.
His ability and success caused him to be the recipient of the offer of the Chair of Materia Medica and Therapeutics in the Detroit Homœopathic Medical College, which he concluded to accept. The position he held for two years, He now occupies the chair of Obstetrics.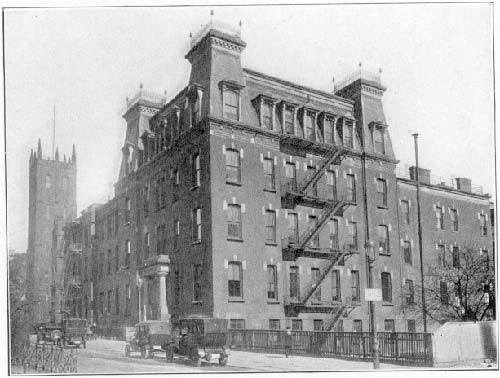 **Edward Wilberforce Kellogg **1840 -1921 was the homeopath of Livy Twain, wife of Mark Twain.
of Santa Fe, West Indies, was born November 29, 1840, at Avon, Connecticut, son of Bela Crocker Kellogg and Mary Bartlett, his wife. His mother was a daughter of Rev. John Bartlett, who descended from twelve of the Mayflower pilgrims, including John Alden, Elder Brewster and John Howland.
His earlier education was acquired at the public schools of Philadelphia and at the high school in Collinsville, Connecticut. He served three years as a hospital steward in the medical department of the United States regular army and studied with army surgeons.
He next took one year's course at the Bellevue Hospital Medical College, then entered the New York Homœopathic Medical College, whence he graduated in 1867.
He first practiced at Southington, Connecticut, continuing there for three years. In 1871 he removed to Hartford, Connecticut, where he practiced for thirty-three years.
Forced by ill health to remove to a milder climate, he bought land in the Isle of Pines, West Indies, and in 1904 undertook the management of a large fruit plantation, assisted by his sons.
He is a member of the New York Homœopathic Medical College alumni association and was its president in 1901. He is also a member of the Army and Navy Club of Connecticut and of the Sons of the Revolution. Dr. Kellogg married, in 1869, Hilah A. Dart of New London, Connecticut. They have three sons, Edward Russell, Arthur Bartlett and Robert Belden Kellogg.

Edwin Merritt (Merrill) Kellogg** **1826
The records of this life assurance company show that homeopaths lost ten patients for every seventeen lost by allopathic practitioners, and by 1880 this company had issued over 11,000 policies.
Edwin Merritt Kellogg sent statistics from this company around the World and they show that for every one hundred deaths by allopathic doctors, homeopaths lost half that number.** **
In that same Philadelphia session, Dr. Pemberton Dudley rose to propose a resolution that a committee be appointed to consider the subject of a proposed International Homeopathic Congress to be held on the serendipitous occasion of the American Centennial Celebration in Philadelphia in 1876.
This resolution was signed by Constantine Hering, M.D., Philadelphia, Carroll Dunham, M.D., New York; Robert J. McClatchey, M.D., Philadelphia; William Tod Helmuth, M.D., New York; Bushrod W. James, M.D., Philadelphia; Israel Tisdale Talbot, M.D., Boston; Walter Williamson, M.D., Philadelphia; Timothy Field Allen, M.D., New York; Tullio Suzzara Verdi, M.D., Washington, D.C.; Reuben Ludlam, M.D., Chicago; Pemberton Dudley, M.D., Philadelphia; E. M. Kellogg, M,D., New York; Henry Newell Guernsey, M.D., Philadelphia; Henry N. Smith, M.D., New York; Seth R. Beckwith, M.D., Cincinnati; and T. C. Duncan, M.D., Chicago. This resolution was adopted and its signers made the Committee.
The Homeopathic Convention adjourned yesterday to meet May 22, 1872, in Washington. Dr. Israel Tisdale Talbot, of New-Jersey, was elected President; Dr. YOULIN, Vice-President; Dr. MCCLATHESY, General Secretary; Dr. E.M. KELLOGG, of New-York, Treasurer.
Carroll Dunham (1828-1877) was a homeopathic physician and dean of faculty at the New York Homeopathic Medical College. He was also president of the American Institute of Homeopathy. In 1853, Carroll married Harriet E. Kellogg (1828-1878), the daughter of Edward (?Edwin) and Esther Kellogg of Brooklyn, New York.
Edwin Merritt Kellogg of New York city, was born in Reading, Pennsylvania, September 20, 1826, son of Frederick and Minerva Warner Kellogg, both of whom were of American birth and ancestry.
His literary education was acquired in private schools in the city of New York, and in Columbia College, where he graduated B. A. in 1846.
For three years after graduation he was private tutor to an American family in Valparaiso, Chili. At the end of that time he returned to this country and entered the College of Physicians and Surgeons of New York. His preceptor in medicine, John F. Whittaker, was appointed professor in the New York Medical College, and consequently he followed him into that institution and there received the degree of M. D. in 1852.
Immediately after graduation he began medical practice in New York city and continued until 1871, when he was made Vice-President of the Homœopathic Mutual Life Insurance Company of New York. In 1878 he was elected president of the company and so continued until 1889, when he was appointed its receiver.
While serving as president of the company he collected and printed a large amount of statistics in regard to hospitals, and also in regard to mortality under the old and new systems of treatment in several of the great cities of this country.
In 1857 he issued the call for the formation of the New York County Homœopathic Medical Society, and was its first secretary. In 1865, in conjunction with Dr. Timothy Field Allen, he founded the New York Medical Club.
He was the first physician of our school to advocate a graded course of study in medicine, and the New York Homœopathic College was the second college in this country to adopt the new plan.
In 1866 he was appointed Professor of Obstetrics and Gynecology in the New York Homœopathic Medical College, and also in the New York Medical College for Women. He was elected a member of the American Institute of Homœopathy in 1858 and became its treasurer in 1866, continuing such until 1899.
He was one of the original trustees of the Homœopathic Insane Asylum at Middletown, New York. He also is a member of the New York State Homœopathic Medical Society, and a Free and Accepted Mason.
Dr. Kellogg has now entirely retired from practice, and has justly earned the rest he seeks from active life. He married, in 1867, Louisa H. Chur, who died in 1868. He married, second, in 1869, Frances A. Bowen, niece of Professor Francis Bowen of Harvard University. His second wife died in 1900.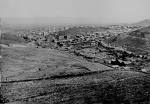 Edwin S Kellogg
Edwin S. Kellogg, a Helena homeopathic physician in the early 1900s, faced back-to-back trials for the abortion deaths of two women. This presentation employs sources such as coroner's inquests, court testimony, newspaper articles and hospital records to review Kellogg's abortion cases and avoidance of conviction.

Edwin Welles Kellogg graduated from the New York Homeopathic Medical College in 1908.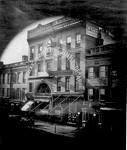 **Fanny H Kellogg **in the New York Directory of Homeopathic Physicians in 1925

Francis Bartlett Kellogg 1855 -
of Los Angeles, California, was born September 20, 1855, in Avon, Connecticut, son of Bela C. Kellogg and Mary Bartlett, his wife. His primary education was received in the public schools of his native town, whence he passed to Williston Seminary, Easthampton, Massachusetts, graduating in 1879, the salutatorian of his class.
He then entered Yale University, from which he received in 1883 the degree of A. B. It was in the medical department of that university that he was trained for the practice of his profession, graduating M. D. in 1886.
In 1887 he graduated from the New York Homœopathic Medical College, and the following year served as interne at the Ward's Island Hospital, for the last six months acting as house surgeon.
In the summer of 1889 he took special courses at the Wills Eye Hospital, Philadelphia, and in the eye, ear, nose and throat department of the Medico-Chirurgical College of that city.
He began practice in New Haven, Connecticut, and in November, 1889, went to Tacoma, Washington, where he confined his practice to diseases of the eye, ear, nose and throat. He remained at Tacoma until April, 1897, when he moved to Los Angeles, where he has since resided.
He was connected with the staff of the Fannie Paddock Hospital of Tacoma and also held an appointment on the staff of the Portland Hospital.
He is assistant editor of the "Pacific Coast Journal of Homœopathy" and collaborator of the "New York Eye, Ear and Throat Journal." He is a member of the American Homœopathic Ophthalmological, Otological and Laryngological Society, the California State Homœopathic Medical Society, and the Southern California Homœopathic Medical Society.
He married, in 1889, Elizabeth Brockett, and they have three children Sanford B., Mary B. and Frances E. Kellogg.

George Kellogg
of New Orleans, La., was born in New York city, March 11th, 181 r. He was the eldest son of J. W. Kellogg, who for twenty years was President of Erasmus Hall, Flatbush, L. I.
At that ancient seat of learning he received his academic education. At the age of seventeen, he commenced the study of his profession under the supervision of Dr. J. Vanderveer, a noted physician of his day. In 1830-'31, young Kellogg was a member of the class at the College of Physicians and Surgeons, but business of a pressing nature calling him west for a couple of years, he received his diploma from the University of Indiana, and the same year, on his return to New York, was admitted to membership by the State Medical Society.
In June, 1833, Dr. Kellogg married the daughter of Mr. John E. Vanantwerp, of New York city, a prominent merchant and well known gentleman. He commenced his professional career in Philadelphia, Pa., and, in 1837, was induced by flattering offers, to remove to Yazoo City, Miss., where he formed a partnership with Dr. Washington Dorsey, one of the most distinguished physicians in the South.
In 1840, while on a visit to New York for the benefit of his health, his attention was attracted to homœopathy by the successful treatment of a member of his family. When under the most able treatment the case seemed hopeless, it was brought to a successful termination by the skill of Dr. Granger, who at that time was regarded by the profession as an arrant empyric.
This led to a renewal of an intimacy with a fellow-student, Dr. Robert Rossman, a successful advocate of homœopathy, in Brooklyn, who aided his friend Kellogg in an investigation of the principle of similia similibus curantur.
Witnessing its successful application to diseases under the intelligent administration of Dr. Rossman, Dr. Kellogg announced himself a convert to the then unpopular theory.
In 1844, he embarked for New Orleans (a terra incognita so far as homœopathy was concerned), but on his arrival, finding it impossible under the then existing stringent law as to license to medical practitioners, to obtain one (holding as he did such heterodox views), he concluded to abandon the field for the time being.
Subsequently Dr. Kellogg accepted a partnership with Dr. F. A. W. Davis, of Natchez, an influential convert to the cause. Here he remained until the offensive and unjust laws had been abrogated in Louisiana, and he then returned to New Orleans.
Here he engaged actively in his profession a co-worker with the lamented Dr. Leon. In 1853, his health compelled him to seek a more northern and less malarious climate, and as the ground was unbroken at Nashville, he received encouragement to inaugurate homœopathy in that city.
His first essay was to publish a hook for local circulation, the title of which told its object "An Answer to the Question : What is Homœopathy ?" It was a plain elucidation of the principle, addressed to non-professional readers. It was favorably received, and assisted in establishing the practice on a firm basis.
The health of Dr. Kellogg did not recuperate as was hoped for, and he concluded to fall back upon his normal latitude, and, returning to the State of New York, located in Troy, where he remained actively engaged in his profession until the occupation of New Orleans by General Butler, when he received a most flattering invitation from him to return to that city, as an expert in climatic diseases.
Actuated by a sense of duty and patriotism, he accepted the proposition, and on reporting to the commanding general, was immediately commissioned Surgeon of the 2nd Regiment Louisiana Volunteers. This was the second white regiment raised in the State, and he was ordered to Jackson Barracks, New Orleans, as Post Surgeon.
On the troops taking the field, he was appointed Brigade Surgeon on General Dudley's staff, and so remained during the organization of the campaign against Port Hudson.
When the advance was made, Dr. Kellogg was ordered to assume the duties of Medical Director on the staff of the Division Commander Major-General C. C. Augur, and acted as such at the Battle of Plains Store.
He served during the whole of that severe campaign until the capitulation of Port Hudson. He was then detached and sent to New York in charge of the wounded on board of the steamer Mantanzas. He was fortunate in turning over his charge in good condition to the Medical Director at New York.
On his return to his department, he was detailed for duty at the St. Louis and University Hospitals, acting in the mean time as the medical adviser of the family of General Banks, and when the general was superseded, he tendered through him his resignation, which was accepted, and the appointment of Pension Surgeon conferred upon him. This position he has held up to the present time.
During the military occupation of New Orleans, he held several special military appointments, one of which was his appointment by Major-General Hancock, on the, reorganization of the City Government, as Alderman, which position he held for some time. A veteran of forty years, he is still actively engaged in the daily routine of his profession.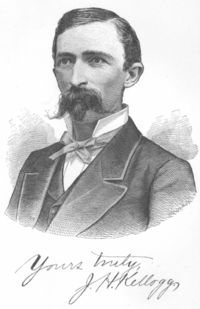 John Harvey Kellogg** **1855 - 1946 graduated from the New York Medical College (this institution was originally a homeopathic college founded by William Cullen Bryant in 1860) and Bellevue Hospital. He never had any children but together with his wife, they raised over forty children, adopting several of them including several American Black children.
However, with Irving Fisher and Charles Davenport—the Race Betterment Foundation, which became a major center of the new eugenics movement in America. Kellogg was in favor of racial segregation and believed that immigrants and non-whites would damage the gene pool.
He was a vegetarian and he founded the Battle Creek Sanitorium which combined homeopathy, natropathy, water cure, phototherapy, diet, exercise, massage and electrotherapy.
With his brother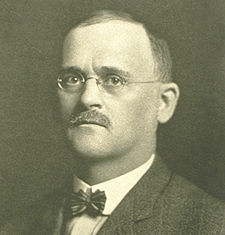 William Keith Kellogg, founded the modern day cereal company.
The book and film of John Harvey Kellogg's life, called The Road to Wellville, in which Anthony Hopkins plays Dr John Harvey Kellogg, the man who changed the way we have breakfast.
At the time, Battle Creek was the world headquarters for Seventh Day Adventists, a fundamentalist "society of the faithful." Convinced vegetarians, the Adventists followed Genesis literally where it says "Behold, I have given you every herb bearing seed…to you it shall be meat."
Known later as the Kellogg Sanitarium or just The San, the Institute was to play a key roll in revolutionizing the American breakfast, making Battle Creek the international Cereal City…
John Harvey Kellogg, took over daily operations. Kellogg, another Graham disciple, was highly regarded in Adventists circles for his hard-hitting medical journalism. Unlike Graham, he openly embraced medical science and was constantly experimenting with whole-grain foods.
After two years on the job, he came up with the first Battle Creek health treat — a mixture of oatmeal and corn meal, baked into biscuits, then ground to bits. He called his discovery Granula, a peculiar decision considering the only other cereal then was called Granula. Once they finished suing, Kellogg re-named his product Granola.
Granola was only one of several delicacies the doctor designed for patients at The San. Other house specialties included Caramel Cereal Coffee, Bulgarian yogurt (Kellogg was big on yogurt) and meat substitutes Protose (like beefsteak) and Nuttose (like veal). At one point, Kellogg concentrated solely on nuts.
He wrote a paper, "Nuts May Save the Race," supposedly invented peanut butter, several other nut spreads and Malted Nuts. Though low on flavor, the ambitious menu helped turn the hospital around financially…
Whatever the reason for Dr. Kellogg's various beliefs, they had a lasting effect. The San became more and more famous while Dr. Kellogg became something of a demagogue. Gradually, his medical training and unwavering belief in the power of wholegrain foods started to win out over his fundamentalist faith.
A major step in this direction took place when a patient showed him little wheat mattresses a friend had sent her for digestive trouble. The wheat cakes were being peddled by a man in Denver, Henry Perky, who called his creation "Shredded Wheat."
Dr. Kellogg experimented with the wheaty filaments and concluded that they were "like eating a whisk broom." Still, his curiosity was raised. Shredded Wheat, it should be pointed out, was not yet considered a breakfast food. Originally the biscuits were intended as a main course, a "natural food" in the Grahamite tradition.
There was cheese-and-Shredded Wheat toast, creamed peas in "biscuit baskets," fried mushrooms on split biscuits, banana croquettes with Shredded Wheat and more. Perky even founded a domestic science institute, Oread Institute, to train demonstrators to educate housewives in how to use the product. But in the wheat biscuits the doctor saw potential for a ready-to-eat breakfast food and went about creating his own.
After much trial-and-error, he came up with Granose, the first flaked wheat cereal. Shortly thereafter, he set up commercial production in a barn behind the Sanitarium and went to work securing patents to protect himself from copy-cats. The efforts, however, were to no avail …
The whole town of Battle Creek exploded with flake fever; cereal and "health food" manufacturers appeared over night and Battle Creek became Cereal Central…The break-through came when William Keith Kellogg convinced his brother that they should form a new company to manufacture corn flakes.
The Battle Creek Toasted Corn Flake Company was incorporated in 1906 and placed under W.K.'s management. Dr. Kellogg was the majority stockholder, but he distributed part of this stock among the Sanitarium doctors.
Later, while Dr. Kellogg was away in Europe visiting Pavlov (Ivan Petrovich Pavlov was a Russian physiologist, psychologist, and physician. He was awarded the Nobel Prize in Physiology or Medicine in 1904 for research pertaining to the digestive system), William Keith Kellogg went around and bought up the stock until he personally owned a majority. The new president, W.K., promptly put his signature on the box and renamed the company that was ultimately to become Kellogg Co.
While the medical men and medical hospitals were losing 33% of their flu cases, the non-medical hospitals such as BATTLE CREEK, KELLOGG and MACFADDEN'S HEALTH-RESTORIUM were getting almost 100% healings with their water cure, baths, enemas, etc., fasting and certain other simple healing methods, followed by carefully worked-out diets of natural foods. One health doctor didn't lose a patient in eight years…
Dr Sylvester Graham (1794-1851) and the aforementioned William Andrus Alcott, editor of the Moral Reformer and the Library of Health. Both became presidents of the American Vegetarian Society.
Metcalfe converted Graham, inventor of graham bread and graham crackers, to vegetarianism. Graham was an enormous influence on John Harvey Kellogg. Kellogg was already a vegetarian but Graham's views on diet turned Kellogg's mind to food reform.
And the result of that concern is on most breakfast tables every day. William Andrus Alcott converted his cousin, Bronson Alcott, to vegetarianism in 1835 and it was Bronson Alcott whose ideas inspired the Concordium community in Richmond. Influential in his day, Bronson Alcott's fame was superseded by that of his daughter, Louisa May Alcott, who wrote Little Women.
For advertising to be effective, it needs a quickly identifiable symbol. Few things better symbolized The Cure at the turn of the century than Battle Creek, Michigan.
In 1875… John Harvey Kellogg became the superintendent of the Western Health Reform Institute, changing its name to the Battle Creek Sanitarium. Under Kellogg's directorship, the sanitarium began experimenting with "health foods," closely paralleling the Lebens reform movement in Germany. Lebens reform sanitariums promoted a back-to-nature ideology that espoused health foods, vegetarianism, abstention from alcohol and tobacco, and homeopathy. Kellogg would remain at Battle Creek as director until 1943, a span of sixty-seven years.
Between 1889 and 1901, Warren Harding paid five "protracted" visits to the J. P. Kellogg (John Harvey Kellogg) sanitarium in Battle Creek, Michigan "to recover from fatigue, overstrain, and nervous illnesses."
John Harvey Kellogg wrote Rational Hydrotherapy: A Manual of the Physiological and Therapeutic Effects … , Rational Hydrotherapy Part 2, Notes on Practical Hydrotherapy in Use by the Battle Creek Sanitarium and …_ , The Stomach: Its Disorders and how to Cure Them, The Household Monitor of Health, What is the matter with the American stomach?, The New Dietetics, what to Eat and how: A Guide to Scientific Feeding in … , Autointoxication Or Intestinal Toxemia, The Living Temple, Dr. Kellogg's lectures on practical health topics, The Itinerary of a Breakfast, The Art of Massage: A Practical Manual for the Nurse, the Student and the… , The Body in Health _with Michael Vincent O'Shea, Keeping the Body in Health with Michael Vincent O'Shea, The Home Book of Modern Medicine: A Family Guide in Health and Disease Part 1, Second Book in Physiology and Hygiene, Health Habits with Michael Vincent O'Shea, Colon Hygiene: Comprising New and Important Facts Concerning the Physiology … , The Battle Creek Sanitarium System: History, Organization, Methods, Plain Facts for Old and Young, Practical Manual of Health and Temperance: Embracing the Treatment of Common … with Ella Ervilla Kellogg, Methods of precision in the investigation of disorders of digestion, Making the Most of Life with Michael Vincent O'Shea, Ladies Guide in Health and Disease, The Natural Diet of Man, Light Therapeutics, Tobaccoism Or How Tobacco Kills, The Household Manual of Domestic Hygiene, Foods and Drinks, Common Diseases … with R T Trall, Neurasthenia: or, Nervous exhaustion, The Crippled Colon: Causes, Consequences, Remedies, First Book in Physiology and Hygiene, The Truth about alcohol as a medicine, The Uses of Water in Health and Disease: A Practical Treatise on the Bath.
Note: there were several other Kelloggs writing about the stomach and the colon at this time:
Day Otis Kellogg
The edibility of the stomach in the farm of tripe is well known. … Even the undigested food found in the stomach of the ox is utilized, one purpose to …
James Lawrence Kellogg
stomach, so to overcome the difficulty, nature has made it possible for the stomach to go to the food. The greater part of this sack-like organ is made of a …
Louise Phelps Kellogg
.. my bloody flux has left me, and all that remains is a, weakness of the stomach. I am beginning to feel much better, and to regain my strength. …
Remington Kellogg
In ruminants, the first chamber of the stomach constitutes a reservoir, since no digestive fluids reach the food stored there, while in the case of …
Theodore H Kellogg
In gastric dilatations and fermentation, and for other reasons, it may become desirable or necessary to wash out the stomach before the introduction of food …
Vernon Lyman Kellogg
and many more books on health and the stomach and many others.
Theodore H Kellogg
In gastric dilatations and fermentation, and for other reasons, it may become desirable or necessary to wash out the stomach before the introduction of food …

**John Leonard Kellogg **grandson (?son) of William Keith Kellogg, a doctor of homeopathic medicine, he contributed to Homeopathic Pamphlets 1901 and the Transactions of the … Session of the American Institute of Homœopathy 1900.
John L. Kellogg was the son (grandson?) of the Kellogg Company's founder and worked for the family firm for many years, ultimately becoming its president. He subsequently left the firm and settled in Chicago, where he became a successful entrepreneur in the food industry. He died in 1950 at the age of 67. In 1979, the John L. and Helen Kellogg Foundation gave $10 million to Northwestern, and the school was named the Kellogg Graduate School of Management.

Kate Starr Kellogg lived with Cornelia De Bey
1948 homeopath, politician, suffragist, educator - Cornelia was an irrepressible force in Chicago, working alongside homeopaths and homeopathic supporters, she pushed America forward into a new age.
Active with the Women's Trade Union League, she served on the Chicago Board of Education in 1905…. Cornelia De Bey and Kate Starr Kellogg lived together, the former a physician and prominent reformer, the latter an educator and administrator in the Chicago public schools…

Merritt Gardner Kellogg 1832 - 1922 was John Harvey Kellogg's half brother and also a hydrotherapist who worked at the Battle Creek Sanitorium.
Merritt Gardner Kellogg wrote The Hygienic Family Physician: A Complete Guide for the Preservation of …

Paulina Kellogg Wright Davis 1813-1876 Paulina was a supporter of homeopathy and a close friend of homeopaths and their supporters, including Ernestine Rose, Elizabeth Cady Stanton, Susan B Anthony, Angelina Grimke Weld, Antionette Brown Blackwell and Lucy Stone, Bronson Alcott, Ralph Waldo Emerson, Theodore Parker, Margaret Fuller, Elizabeth Palmer Peabody and Caroline Wells Healey Dall.
Paulina lectured widely on anatomy and physiology, hygeine and dress reform, and she was a disciple of Sylvester Graham's Hydropathic movement alongside Mary Gove Nichols. They both advocated birth control. Paulina published the magazine The Una. continue reading:

Warren F Kellogg The New England Magazine (homeopathic) with the current issue for July passes into the hands of Warren F. Kellogg, who has purchased the assets of the old company

Kellogg AME & Co homeopathic bottles discovered in a well on an archaeological dig...
---
---