The Aldrich Surname and Homeopathy
April 03, 2008

**The Aldrich surname **provides one homeopathic Hospital Consultant, five jobbing homeopaths and one famous American author.

Henry Clay Aldrich 1857 - ** **
of Minneapolis, Minnesota, ex-president of the Minnesota State Homœopathic Institute, ex-registrar of the American Institute of Homœopathy, is a native of Minneapolis, born April 13, 1857, son of Cyrus Aldrich and Clara Adelia Heaton, his wife.
Dr. Aldrich acquired his early education in the public and high schools of his native city, and his higher education in the University of Minnesota. He then took up the study of dentistry in the dental department of the University of Pennsylvania, and graduated there, D. D. S. in 1879.
He was educated in medicine in Hahnemann Medical College and Hospital of Philadelphia, and came to his degree in 1881. In that year he began practice in Charles City, Iowa, and removed thence to Nashua in that state in 1882, remaining in that place until September 1, 1887, when he took up his residence in Minneapolis.
In the year last mentioned he took a course of post-graduate study in Boston, and further supplemented his professional training with special studies in London, 1890, and in the various hospitals of Chicago in each of eight subsequent years between 1894 and 1904.
Indeed, Dr. Aldrich always has been a student in some special department of medicine or surgery since he graduated from old Hahnemann of Philadelphia, hence his success in general practice and his splendid equipment for the professor's chair.
Since 1899 he has been surgeon to the Minneapolis City Hospital, and prior to that time in connection with the teaching corps of the College of Homœopathic Medicine and Surgery, University of Minnesota, has served in various capacities, first as adjunct to the Chair of Materia Medica and subsequently as Professor of Skin Diseases and also as Clinical Professor of Diseases of Women.
He is a member, ex-secretary (ten years in office) and ex-president of the Minnesota Homœopathic Institute, member, ex-secretary and ex-president of the Minneapolis Homœopathic Medical Society, member and ex-secretary of the Hahnemann Medical Society of Hennepin County, member, ex-secretary and ex-president of the American Association of Orificial Surgeons, member and ex-registrar of the American Institute of Homœopathy.
Dr. Aldrich was for twelve years editor of the Minneapolis "Homœopathic Magazine." Besides these, he is a member of the Wisconsin State Homœopathic Medical Society, the Cedar Valley Homœopathic Medical Society, the Sons of the American Revolution, the Ancient Free and Accepted Masons, Knights of Pythias, and the Royal Arcanum (medical examiner).
Dr. Aldrich married (1st) September 24, 1879, Mary B. Whitney ; married (2nd) September 5, 1903, Grace M. Reade. He has one son, Harry L. Aldrich, born January 21, 1884.
Henry Clay Aldrich wrote Some of the Diseases Preventing and Complicating Pregnancy, and Albuminaria in Children. He also edited the Minneapolis Homeopathic Magazine.

Herbert Eugene Aldrich 1856 - 1917 was a school teacher until he graduated from the Hahnemann Medical College in Philadelphia, and worked in the College dispensary before establishing his own homeopathic practice.

H S Aldrich contributed a case of a girl who was very fond of nutmeg to the Text-book of Homeopathic Materia Medica.

L C Aldrich wrote the chapter on The New York Homeopathic Medical College and Hospital in Harvey King's A History of Homeopathy and its Institutions.

Stewart W Aldrich - 1917 graduate of the Cleveland Homeopathic Hospital College in 1874 … a practitioner since 1875 in Des Moines and vicinity..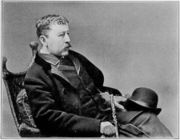 **Thomas Bailey Aldrich **1836- 1907
Thomas Bailey Aldrich was editor for ten years for Ticknor and Fields, and editor of the Atlantic Monthly. His "Story of a Bad Boy" (1869) is still in print and inspired his friend Mark Twain's mischevious Tom Sawyer.
James T Fields, one of America's most famous publisher of American writers, and a partner in Ticknor and Fields, had a bookstore known as Parnassus Corner on Old Corner.
His literary salon was packed with the influential people of the time, including Louisa May Alcott, John Greenleaf Whittier, Thomas Bailey Aldrich, James Russell Lowell, Henry David Thoreau, Nathaniel Hawthorne, Julia Ward Howe, Ralph Waldo Emerson, Margaret Fuller, William Makepeace Thackeray, Charles Dickens, Matthew Arnold, Robert Browning, Henry Wadsworth Longfellow, Alfred Lord Tennyson, Bret Harte, Bayard Taylor, Harriet Beecher Stowe, Edwin Booth, and Nathaniel Parker Willis who described Parnassus Corner as 'the hub in which every spoke of the radiating wheel of Boston intellect had a socket.. '.
The authors who partied at the home of James T. Fields, Boston's most respected publisher, are often the same as those who visited Celia Thaxter's summer salon on Appledore Island, here at the Isles of Shoals.
Fields grew up in Portsmouth and married writer Annie Fields, who, after her husband's death, lived with South Berwick author Sarah Orne Jewett. They were close to William Dean Howells, who preceded Thomas Bailey Aldrich at the Atlantic Monthly…
After his father's death when he was only 16, Aldrich went off to New York to work at his uncle's bank. At 19, he launched his career as a poet, critic and as editor of magazines like Home Journal, Illustrated News, and Saturday Press.
After a hitch as a correspondent in the Civil War, Aldrich returned to the "bohemian" New York literary scene. In 1865, Aldrich moved permanently to the more "proper"literary capital of Boston and permanently married Lillian Woodman.
In her chatty book of their 42 years together, Crowded Memories, she uses the name Mrs. Thomas Bailey Aldrich. The relatively unknown editor and poet kept the company of eminent Boston writers like John Greenleaf Whittier, Nathaniel Hawthorne, James Russell Lowell and Holmes.
By 1870 the Aldriches were popular socially, had twin sons and were feeling the early success of the newly published Story of a Bad Boy, written while they summered in Portsmouth.
In returning to his pastoral childhood home after a horrible war, contemplating his father on the eve of his own fatherhood, Aldrich had broken through a psychological barrier. He wrote, not about the proper upbringing of a young man, but about the real and mischievous actions of a real boy.
William Dean Howells, editor of the respected literary journal Atlantic Monthly, hailed it as the first truly American novel.
Aldrich then began a prolific period of writing novels, poetry and short stories.The family traveled frequently to Europe and beyond. During the 1880s, he became himself editor, after James Russell Lowell and William Dean Howells, of the Atlantic Monthly.
Aldrich referred to homeopathy in his letters, consulted homeopaths and used homeopathic hospitals, and he had a forty year friendship with Israel Tisdale Talbot (the first Dean of the homeopathic Boston University's Medical School). Talbot was the homeopath of Thomas Bailey Aldrich, who named his youngest son Talbot Bailey Aldrich in honor of the doctor's friendship and service to the family.
Aldrich also knew Helen Hunt Jackson, Walt Whitman and Oliver Wendell Holmes (though Aldrich had the wit to see through Holmes).
Aldrich was published by the Houghtons, alongside Nathaniel Hawthorne, Henry Wadsworth Longfellow, John Greenleaf Whittier, Ralph Waldo Emerson, Henry David Thoreau and Oliver Wendell Holmes - all except Holmes were supporters of homeopathy.
Aldrich's wife supported the homeopathic hospitals locally and Aldrich donated poems to assist the Illinois Homeopathic Medical Association and published material for his homeopathic friends.
Aldrich was a homeopathic patient and he experimented with hashish (as most everybody did at this time) but was warned off this by homeopaths:
In 1874, hashish was once again the subject of a poem. This time the poet was Thomas Bailey Aldrich.
In "Hascheesh", a short poem which appeared in Cloth and Gold and Other Poems, Bailey first describes the beautiful visions he dreamt while under the influence of the drug. In the midst of all this beauty, he suddenly is seized with a sense of terror. Ugly creatures begin appearing from a black hole and start crawling toward him.
"Away, vile drug! I will avoid thy spell," he cries, "Honey of Paradise, black dew of Hell!"
… As these magazine and newspaper articles and books on the drug circulated around the country, more and more Americans began experimenting with commercial cannabis preparations which were easily obtained from local pharmacies.
The extent of these personal experiences is more than evident from the many reports of "cannabis poisonings" that began to fill the nation's medical journals and the "provings" that filled the homeopathic medical journals such as American Prover's Union, American Journal of Homeopathy and the American Homeopathic Review.
In fact, the sheer bulk of these reports was enough to persuade many doctors that cannabis was a dangerous drug.
Thomas Bailey Aldrich edited The Pellet. A Record of the Massachusetts Homeopathic Hospital Fair.
---