The Hunt Surname and Homeopathy
April 01, 2008

The Hunt surname has contributed many homeopaths, five orthodox doctors and Professors who converted to homeopathy, three eclectic homeopathic practitioners and two homeopathic Professors of Obstetrics and Gynaecology

**Deforest Hunt 1842 - **
of Grand Rapids, Mich., was born in Maine, Broome county, N. Y., August 15th, 1842. He comes of a line of distinguished medical men. His great-grandfather, Dr. Japhet Hunt, was a surgeon in both the Canadian French and the American revolutionary armies, and died in 1808, at the advanced age of ninety-seven years.
His father, Dr. Samuel M. Hunt, of Marathon, N. Y., was long and favorably known in western New York as an allopathic physician, writer and politician.
Several of the sons have attained to high positions, no pains having been spared in their education ; Dr. J. Warren Hunt, of Wisconsin, and Hon. Charles H Hunt, of New York city, author of the "Life of Edward Livingstone" (both now dead), having been well known in literary and political circles.
De Forest Hunt was the youngest of the family. He received his early education in the academies of Maine, Binghamton and Homer, and afterward received instruction in the University of Wisconsin.
He was intended by his father for the legal profession, and to that end studied for two years with his brother Charles in New York, but discovering no taste for law, abandoned it to fit himself for the practice of medicine, for which he had early in life manifested a preference.
He graduated with high honor at the University Medical College of New York, receiving an autograph certificate from the late Professor Valentine Mott, for passing a superior examination in surgery.
He was married in 1864 to Miss Jennie M. Weston a direct descendant of Major-General Lincoln of revolutionary fame, and in 1865 commenced the practice of medicine in Marathon, N. Y. Having become impressed favorably with the system of homœopathy, he at once commenced to test it practically, and becoming convinced of its superior merits, finally adopted it altogether.
In 1869, he removed to his present home in Grand Rapids, Mich., and becoming at once interested in the legal rights of the homœopathists to at least one chair in the State University, entered warmly into the subject, taking strong grounds for the appointment of a full faculty, to be located either within or as a branch of that noble institution.
Toward effecting this object he accepted the chair of Diseases of Women and Children, in the Michigan State College, entering upon his duties as a lecturer during its first session. He has an extensive medical and surgical practice, superior qualities of head and heart, and a large circle of warm personal friends ; and being a thorough homœopathist according to the teachings of Hahnemann, has no sympathy with anything like mongrelism or compromise with these well-defined principles of the healing art.
De Forest Hunt wrote Homeopathic Treatment of Diphtheria.

Florence Hunt was a medical writer specialising in mental illness and she was also a founder member of the Woman's Christian Temperance Movement, alongside Alice Bunker Stockham, Sarah Hackett Stevenson, Mary Weeks Burnett and Odelia Blinn.
Hunt participated in the Woman's Building, World's Columbian Exposition, Chicago 1893 alongside Mary Cassatt, Susan B. Anthony, Julia Ward Howe, Lucy Stone, Henrietta Szold, Jane Addams, Harriet Monroe, Frances Willard, Sarah Bernhardt, Clara Barton, Queen Victoria, Helena Modjeska, the African explorer May French Sheldon, the sculptors Vinnie Ream Hoxie and Harriet Hosmer, and the architect Sophia Hayden.

**Franklin W Hunt 1810 - ** 1873?
of New York, was born November 10th, 1810, in Wayne county, Ind. Ter. His great-grandfather was Jonathan Hunt of New Jersey, a colonel in the army of General Wolfe, and with him at the capture of Quebec.
His farm in North Carolina was occupied and devastated by Lord Cornwallis in 1781, before the battle of Guilford Court House. His father was General George Hunt, a pioneer of the White Water Valley, Ind. Ter. He was appointed by Governor Harrison the first Clerk of the Circuit Court of Wayne county in 1810. Two years later he was appointed Lieutenant-Colonel, and then Colonel, of the 8th Regiment, and afterwards Brigadier-General. He died in 1842.
Dr. Franklin W. Hunt, the subject of this article, after some years spent in teaching himself and others, was forced by the importunities of his friends into practice during the cholera seasons of 1833-'34, at Richmond, Ind.
He graduated at the Indiana Medical College, and subsequently occupied the chairs of Materia Medica, Medical Jurisprudence, Medical Botany, etc., successively from January, 1841, to May, 1844.
From 1846 to 1852, he represented Laporte county, Ind., participating in all the important legislation of that day-on public schools, colleges, etc., in the settlement of the old internal improvement State debt, and serving as Chairman of the Committee on Benevolent and Scientific Institutions.
He took also an active part in building and bringing into use the Asylums for the Blind and for the Deaf and Dumb, and also the State Asylum for the Insane, and wrote the law which made them free to all.
In the first Legislature after the formation of the Constitution of 1850, he participated in amending the laws of the State as they appear in the Revised Statutes of Indiana of 1852.
During much of this period he was engaged in investigating the merits of homœopathy, to which his attention had been drawn, and about the year 1852 gave them his full approval ; and in 1857 began new tests of the powers of its remedies in dispensary practice in the city of New York, which he has pursued in other dispensaries and in the Hahnemann Hospital.
In 1859, he lent his efforts to the establishment of the New York Homœopathic College, and occupied one chair or another for about five years, between 1859 and 1869.
He was also a member of the Hahnemann Academy and of the County Society (Homœopathic), and in 1863 of the State Society, and in 1867 of the American Institute of Homœopathy.
In 1859, he was also associated with Erastus Edgerton Marcy, M. D., in the editorial management of the new quarterly called the United States Journal of Homœopathy.
At the end of two years the North American Journal of Homœopathy came under the same management, and the two quarterlies were united under the latter name.
He continued to supervise the literary and mechanical work of this journal for several years, finally resigning his connection with it in April, 1871 ; he had also edited for one year the Homœopathic Sun, as well as some literary, historical and educational works.
In 1864, he was united with Dr. Erastus Edgerton Marcy in bringing out the "Homœopathic Theory and Practice of Medicine," in two volumes, 8vo., and afterward passed two winters with patients at Nassau, N. Y.
In addition to his numerous editorials, reviews, etc., his contributions to homœopathic literature have been very numerous. A few of the more extended articles may be found as follows Transactions of the Homœopathic State Medical Society," vol. vi., p. 417 ; "Transactions of the Hahnemann Academy," vol. iii., P. 237 ; "Transactions of the New York Homœopathic Medical College," vol. ix., p. 127 ; "North American Journal of Homœopathy," vol. x., p. 500.

Harriet Kezia Hunt 1805-1875 and her sister Sarah Hunt were self taught eclectic physicians.
Harriet strove throughout her life to change the rigid face of orthodox medicine, with its ugly prejudices against women and its dangerous therapeutic methods. Barred from Harvard by male doctors, including Oliver Wendell Holmes, Harriet was trained by Homeopath Lucteria Mott and awarded a honorary medical degree by the homeopathic Female Medical College of Pennsylvania.
Harriet and Sarah were raised in a liberal family and privately educated. Harriet opened a school of her own in her parents house in 1827. Harriet had very strong opinions on young women being 'sedulously trained' for the marriage 'market'.
She noted with sadness the 'chasm of caste' occurring between her and her own school friends 'because I was at work and they were at play'.
During the 1830's Sarah became desperately ill, and no orthodox doctor could cure her, so the two sisters began studying with an (English?) couple called Mott who did finally manage to cure her. Harriet recalls the prejudice they suffered 'employing a quack' but reports how tired she was of suffering under 'regulars', orthodox doctors and 'how useless it would be to die because of medical etiquette'.
Ms. and Mr. Mott (Lucretia Mott) soon diagnosed 'consumption' (a tubercular illness) in Sarah and set about her cure. Harriet and Sarah began to practice medicine under the supervision of the Motts, rejecting the harsh and dangerous orthodox treatments and prejudiced medical doctrine which argued that women were deficient and inferior, in favour of eclectic medicine, based on good food, hygiene and a sizeable dose of common sense.
When Sarah got married in 1840, Harriet continued practicing alone, and in 1843 she formed the Ladies Physiological Society and began to lecture on physiology and hygiene.
Harriet Kezia Hunt of Boston began treating women and children in 1835 and remained active for over forty years. The Female Medical College of Pennsylvania awarded her an honorary M.D. in 1852.
After Harvard Medical School denied her application in the early 1850s, Dr. Hunt visited Cleveland and helped establish several women's groups in the region dedicated to providing financial and morale support to women medical students.
Harriot Kezia Hunt was able to practice medicine openly in Massachusetts beginning in 1835. In 1847 she unsuccessfully petitioned Dr. Oliver Wendell Holmes to be allowed to attend medical lectures at Harvard. She petitioned again three years later and this time the faculty agreed to admit her.
Before she attended her first lecture, the students met to protest her admission and that of three black students. She then conferred with "leading members of the faculty" and was persuaded not to attend.
In 1853 she received an honorary degree from the Woman's Medical College of Pennsylvania. Harriet later wrote about her attempt to enroll at Harvard:
"When civilization is further advanced, and the great doctrine of human rights is acknowledged, this act will be recalled and wondering eyes will stare, and wondering ears will be opened, at the semi-barbarism of the middle of the nineteenth century."
Hunt grew up on the waterfront at the foot of Hanover Street, became a doctor through self-study after being refused permission to attend lectures at Harvard Medical School. A women's rights advocate and social reformer, Hunt advocated health education for women.
Harriet continued to give lectures and in 1850 she attended the National Women's Rights Convention in Worcester where she met the leaders and immediately joined the campaign. Harriet lectured for many years on suffrage and abolitionism. The New England Women's Club with Julia Ward Howe as president was held at her home.
Harriet wrote Glances and Glimpses, or fifty years including twenty years_ _and she continued to practice medicine and support suffrage and human rights until she died.
Harriot Kezia Hunt, who commissioned a life-size statue of Hygieia for her future grave in Mt. Auburn Cemetery in Cambridge, Massachusetts from Mary Edmonia Lewis.

Henry Francis Hunt 1838 - 1895 was an orthodox medical doctor who converted to homeopathy after he witnessed a severe epidemic of diphtheria and the successful results of homeopathic treatment.
Hunt… was born in Cranston, Rhode Island on March 23, 1838. After completing his regular education in Providence in 1857, he pursued a variety of paths before embarking on a medical career. While working as a teacher in Aurora IL, he began his of medical education with Dr. Howell, an local allopathic physician. Henry Hunt remained there two years, then returned east and took two courses of lectures at Bellevue Hospital Medical College, New York.
While at Aurora he had seen in a severe epidemic of diphtheria the successful results of homeopathic treatment, and he resolved to investigate its methods. He entered the office of Dr. Abraham H Okie in Providence, and attended two courses of lectures at the Homeopathic Medical College of Pennsylvania, where he graduated in 1864.
After graduating from Hahnemann, Dr, Henry F. Hunt was asked to take over the practice of Dr. J.R. Andrews, a well known Camden medical man. He became a successful, well known, and much respected practitioner.
The Western District New Jersey Homeopathic Medical Society was organized in Camden, May 19, 1869, at which time also a constitution was adopted and officers elected, as follows : Dr. Richard Gardiner of Woodbury, president ; Dr. R. M. Wilkinson of Trenton, vice-president ; Dr. Wallace McGeorge of Hightstown, secretary ; Dr. J. G. Streets of Bridgton, treasurer ; Drs. W. H. Maline, Henry F. Hunt and Isaac Cooper, censors.
In November, 1869, the name of the society was changed to West Jersey Homeopathic Medical Society, and under that name was incorporated in May, 1872. Dr. Hunt served as President of that group at one time. Dr. Henry F. Hunt was also a founding member and one time President (1876) of the New Jersey Homeopathic Society, and was a member as well of the American Institute of Homeopathy.
The practice of homeopathic medicine would grow in Camden, and in 1875 besides Dr. Hunt eleven other homeopathic doctors, Purnell W. Andrews, James H. Austin, Thomas R. Blackwood, Jackson Kemper Bryant, Samuel Carels, C. J. Cooper, William. H. Crow, Melbourne F. Middleton Sr., George S. F. Pfeiffer, Silas H. Quint, and H. K. Stewart were active in the city.
Through his practice and professional associations he was much involved with the founding of what became West Jersey Hospital.
By 1870 Dr. Hunt had married, and his wife Theresa bore him a son, Herbert Hunt, around 1871. Their neighbors in these years included grain merchant Caleb Parry, his daughter Alice Parry, would marry noted local architect Arthur Truscott. Dr. Hunt and his family would make their home during the 1870s at 315 Market Street, a few doors away from the Parry home and business.
Dr. Hunt's younger brother Dr. Willis H. Hunt came to Camden and commenced the practice of medicine in locally 1878. At the time of the 1880 census the Hunt family lived at 315 Market Street. Dr. Henry Hunt moved to 511 Cooper Street after 1887, where he made his home and office until his passing. Dr. Willis H. Hunt would remain in residence and would practice medicine at 315 Market Street.
Dr. Henry Francis Hunt passed away on October 3, 1895, while visiting Providence RI. He was brought home and was buried at Harleigh Cemetery in Camden. He was survived by his wife Theresa, who joined him on June 5, 1904.
Henry Francis Hunt of Camden, N. J., was born in Cranston, Providence county, R. I., March 28th, 1838. He is the eldest son of Joshua Hunt, who for many years was a well-known manufacturer. His ancestors were among the earliest settlers of that State.
He received his preliminary education in the public schools of Providence, and at Smithwell Seminary. In 1854, he entered Providence Conference Seminary, where he commenced a collegiate course of study. Here he remained three years, when his father's business suffering from the financial crisis of that period, he abandoned the idea of college.
Entering his father's business house, he assisted in conducting affairs with the intention of preparing for commercial life. During the two years he remained here, he pursued his studies privately, endeavoring to supply whatever was lacking in his education by self-culture.
Finding commercial life not suited to his tastes, he resolved to enter upon the study of medicine. This he commenced in the office of a distinguished allopathic physician, where he continued for two years.
At the end of this period his attention was called to the system of homœopathy, which he had seen practiced with the most successful results during an epidemic of diphtheria. Giving the principles a thorough examination, he became convinced of the superiority of the new school over the old, and entered at once upon the study in the office of Dr. Abraham H Okie.
He attended two courses of lectures at the Homeopathic Medical College of Pennsylvania, where he graduated with the class of 1864. The decease of G. R. Andrews, M. D., of Camden, leaving a vacancy in the field there, Dr. Hunt immediately assumed charge of the extensive practice already established. Dr. Andrews was the pioneer of homœopathy in Camden, where he had labored faithfully and successfully for over twenty years.
Here Dr. Hunt found his duties very arduous. From the first day he assumed them, they demanded his closest attention, and most faithfully has he discharged them. He has allowed himself but little time for recreation since the commencement of his professional life. He is always regular in his attendance at the meetings of the several medical societies of which he is a member.
He was one of the founders of the New Jersey State Medical Society, of which he is Vice-President, and aided in securing a liberal charter for the same, conferring all the privileges upon the homœopathic physicians that are enjoyed by the allopathic. He also aided in establishing the West Jersey Homœopathic Medical Society, of which he is Corresponding Secretary.
He has been a delegate to the American Institute of Homœopathy every year since he joined that body. He has always taken a deep interest in those who have a desire to study medicine, and has already had five students, who are now successfully practicing their profession.
He has filled satisfactorily to his numerous patients the position left vacant by the death of one, whose ministry had secured him the most enviable reputation. He has succeeded in winning the confidence and esteem of the entire community by his Christian character and professional ability.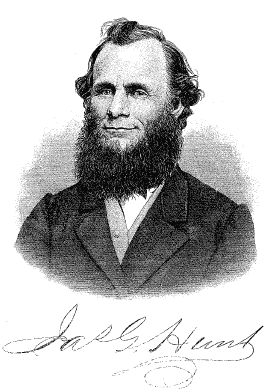 **James George Hunt 1821 - 1892? **
was born in Cincinnati, Ohio, June 12, 1821. He received a good literary education at Woodward College, of that city, and graduated in medicine from the Eclectic Medical Institute of Cincinnati, in March, 1848.
He entered into partnership in practice with Prof. P. L. Hill. In 1852 they issued jointly a work upon homeopathic surgery. In 1853 he retired from the profession for a short time, but such were its attractions to him that he soon returned again, and continues in it to the present time. He enjoys good health, and a fair practice mostly limited to chronic diseases.
of Cincinnati, O., was born there Sept. 2d, 1822. On his father's side he is descended from one of the pioneer settlers of Cincinnati, and on his mother's side, he traces his genealogy to a branch of the family of General Washington.
His early education was received in Middletown, O., and the Woodward College, Cincinnati. From there he proceeded to Yale College. His recall home by the extreme illness of his mother hindering his graduation with his class, he did not return, but immediately commenced the study of medicine with Dr. F. V. Morrow, the founder of the Eclectic Medical College in Cincinnati, and its Professor of Theory and Practice.
Upon his graduation, Dr. Hunt was offered the Professorship of Chemistry in a medical school recently established in Memphis ; and the position of Demonstrator of Anatomy in the Eclectic College at which he had graduated. But those positions he declined, and entered into partnership with Dr. Morrow, in the spring of 1849.
In the same year he was married to Miss Sarah E. Palmer. In that year the cholera broke out in great severity, overwhelming the physicians with the pressure of labor. Drs. Hunt and Morrow called to their aid Dr. E. A. Looze, now of Detroit, who rendered them valuable help.
During the prevalence of the cholera in 1850, Dr. Hunt made his first tests of the value of homœopathy in the treatment of his patients. His success was so marked, that he gradually introduced homœopathy into his practice in all diseases.
Indefatigable in his professional duties, he secured for himself an extensive practice, and the reputation of a successful and skilful physician. This reputation he has continued to maintain. He has won great renown in the successful treatment of many cases in which older and more experienced allopathic physicians had signally failed. In these he has gained for homœopathy some of its most brilliant trophies.
In 1855, Dr. Hunt, in connection with the late Professor B. L. Hill, edited and published his first work on "The Homœopathic Practice of Surgery." This work had a rapid sale, soon exhausting the edition.
In that year he was elected to the chair of Surgery in the Western Homœopathic College, in Cleveland, O., but resigned in the year following.
In 1866, the publishers of The Homœopathist, a publication started by Dr. Charles Cropper, at Cincinnati, deciding to continue it, Dr. Hunt was invited to its editorial charge, and for a time performed the duties incident to it. But this additional burden to a large practice, compelled him to retire from the editorial chair, though against the remonstrances and entreaties of his professional brethren, and notwithstanding the unanimous vote of the Homœopathic Society in Cincinnati, that he would continue as its sole editor.
On his suggestion the Homœopathic Society assumed the control of the journal. Dr. Hunt has published several valuable essays, which have been extensively circulated, and widely copied. One of these, "On Cancer," has attracted marked attention for its ability.
His "Address to the Sanitary Commission," in which he vindicates with great force the superiority of homœopathic practice, and urges the establishment of a homœopathic hospital in each department, has received high commendation for its strong arguments proving the superiority of homœopathy over allopathy.
During the Cholera season of 1866, an article from his pen on "The Prevention and Domestic Treatment of Cholera" was published in all the daily papers of Cincinnati, and extensively copied.
His health, never robust, has compelled him to use great caution in his devotion to literary labors. Possessing considerable inventive genius, he has made and perfected several valuable inventions.
In 1872, in connection with Dr. Alonson Bishop, of Ithaca, N. Y., Dr. Hunt commenced a new enterprise in the refitting and refurnishing of the White Sulphur and Tar Springs property, near Cloverport, Breckinridge county, Ky., with the design of making it a model sanitarium.
Dr. Hunt was engaged during three previous years in testing the value of these medicinal waters. He has effected by their use important cures of bronchitis, tetter, syphilis, and varicose ulcers. Some of these have been reported in the homœopathic journals, especially in the Proceedings of the Homœopathic Society of Ohio in 1870.
In this beautiful spot Drs. Hunt and Bishop are laboring to build up a sanitarium which shall be an honor to homœopathy, and a blessing to suffering humanity. For the success of this enterprise they will have the good wishes of the profession.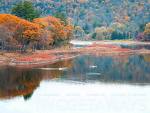 **Maurice Patterson Hunt 1853 - **
of Columbus, Ohio, was born in Delaware county, Ohio, February 28, 1853, son of John Bingham and Angeline (Patterson) Hunt. His father in the maternal line was directly descended from Miles Standish, while the mother represents an old New England family.
Dr. Hunt attended private and public schools, and acquired his professional education in the Cleveland Homœopathic Hospital College, graduating with the class of 1879. He practiced in Selma, Ohio, 1879-83 ; Delaware, Ohio, 1883-93 ; Ann Arbor, Michigan, 1893-95, and in Columbus since 1895.
He pursued a post-graduate course in the New York Polyclinic in 1885. He had charge of Good Samaritan Dispensary, Cleveland, Ohio, 1878-79 ; Huron Street Hospital, Cleveland, 1878-79 ; was Professor of Gynecology in Cleveland Medical College, 1892-93 ; Professor of Obstetrics and Diseases of Women in the University of Michigan, 1893-95, and has been surgeon to the Sixth Avenue' Private Hospital, Columbus, since 1896.
He is a member of the American Institute of Homœopathy, the Ohio State Homœopathic Medical Society (president in 1897), the Miami Valley Homœopathic Medical Society, the Northwestern Ohio Homœopathic Medical Society, the Round Table of Columbus, and of. Magnolia Lodge, A. F. & A. M., of Columbus.
While practicing in Delaware he was a member of the city council from 1888 to 1892. Dr. Hunt married Luella Kitchen, of Selma, Ohio, in 1881.

**Samuel Pierre Hunt 1826 - **
of Augusta, Ga., was born in Pensacola, Fla., July 17th, 1826. His grandfather was Samuel Hunt, Congregational minister during the Revolution, afterward "Master" Hunt of School House, corner of Milk and School Streets. His father was W. Hasell Hunt, of Boston, Mass., for some time editor of the Pensacola Gazette and afterward of Northville Banner. His mother was Miss Martha R. Tardiff, from the island of Guernsey.
The family, a large one, being left with but little means by the death of the father, in Nashville, he was taken at the age of sixteen years to South Carolina, by his cousin, now wife of Dr. A. M. Forster, of Georgetown, S. C., to be educated.
He was a student of the late S. H. Dickson, M. D., and of Eli Giddings, M. D., graduating March, 1846, at the Medical College of South Carolina, at Charleston. He went to Baton Rouge, and shortly after to New Orleans.
Here he was appointed by Colonel, afterward Governor Tronsdale, of Tennessee, Assistant Surgeon of the Tenth Regiment, a part of the United States Army then en route for Mexico ; but the appointment being irregular he could not take advantage of it ; he was induced to accept the position of Hospital Steward at Vera Cruz.
He had commendatory letters from Surgeon R. A. Wood of United States Army, and others ; was placed in charge of the sick on the voyage, and afterward of the Surgical Ward in General Hospital in Vera Cruz. A severe attack of yellow fever, followed by diarrhœa, caused him to resign, and he went to Nashville, where, in 1850, he married Miss Eliza P. Crosby, of Maury county. Tenn., to which place he moved during the summer of that year.
In 1856, after having much sickness in his family, during which he lost his two sons, he became dissatisfied with the practice of medicine, and concluded to abandon it. At this juncture he met with Dr. H. Shiffield, of Nashville, who explained to him the system of Hahnemann, and he became a convert to the great "Law of Cure."
In 1858, after investigating thoroughly its principles, he entered into partnership with Dr. A. R. Burnett, of Huntsville, Ala., and in 1861, upon invitation of the Secretary of War of the Confederate States of America, he was examined by the Board of Medical Directors, and commissioned as Surgeon of the Provisional Army, C. S. A.
It is believed that he was the only homœopathic surgeon holding such commission. In this difficult position, having to deal with bigotry and opposition, with want of proper facilities for the care of the sick, and lack of necessary medicines, he won for himself the approval of his associates.
Being taunted with having the largest sick list in the army, he was enabled to show also the smallest mortuary list. Having but few homœopathic medicines, his knowledge of the drug system enabled him to improvise the proper remedies.
Once he had the misfortune to lose all his homœopathic remedies. With patience in treating the sick, deference to superior officers, and civility to all, opposition was disarmed and he remained in his position until the depreciation of Confederate money, and the wants of his family induced him to resign, which he did in April, 1863.
His first assignment to duty was with the 23d Alabama regiment, afterward with the 18th Alabama, near Corinth. At Tupelo he found himself Senior Surgeon of the Third Brigade (General John K. Jackson's), and afterwards Acting Chief Surgeon. For services in this position he was commended by General John K. Jackson to General Bragg.
He was afterward Post Surgeon at Mumfordsville, and at Bardstown, and was for some time stationed at Bridgeport, Ala. Finally, he officiated as Inspector of Hospitals of the District of Tennessee River, his supervision extending from the Cumberland mountains to Atlanta, Ga.
At this time he removed his family, who had heretofore been living in middle Tennessee, to Agusta, Ga, Leaving the army with property and practice gone, he commenced life anew in Augusta, as a physician of the cotton factory, and was afterward appointed one of the physicians to the poor of the city, and soon found himself again in a large and active practice.
By the close of the war, the depreciation of Confederate money and of all securities, the poverty of the people, the frequent removals and the impossibility of their rendering any remuneration for services, decided him to temporarily relinquish his practice and accept a position in the Georgia Railroad office.
But to use his own language to a friend, he hopes "yet to be able to resume his practice, to which he is devoted, and particularly to diseases of women and children, and thereby to be accounted when he has passed from this life, as having done some good in his generation."
---