Horace Mann 1796 - 1859
March 26, 2008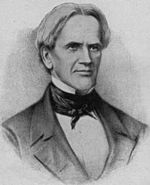 Horace Mann 1796 – 1859 was an American education reformer and abolitionist. He was also a member of the U.S. House of Representatives (Republican).
He was a brother-in-law to author Nathaniel Hawthorne, since their wives were sisters. Horace and his wife Mary Tyler Peabody Mann (1806-1887) were friends of James John Garth Wilkinson (Mary Tyler Peabody Mann, "My dear sir": Mary Mann's letters to Sarmiento (1865-1881), (ICANA, 2001). Page 307).
Horace Mann was close friends with homeopaths Lucretia Mott and Hannah Myers Longshore. Mann also influenced Elizabeth Palmer Peabody:
Together Mary and Elizabeth Peabody published Moral Culture of Infancy and Kindergaten Guide 1863, explaining some of the new ideas.
Further influenced by Horace Mann's belief that public education could create citizens who would celebrate democracy and work to eradicate social injustices, and William Ellery Channing's belief that evil could only be transmitted to innocent children through an evil and unjust environment, Elizabeth became especially interested in the possibilities of a free public kindergarten in disadvantaged neighborhoods.
The Peabody sisters were very influential in the social intelligentsia at the time and knew and supported many homeopaths. Sophia Peabody Hawthorne's sister Elizabeth Palmer Peabody was a close friend of homeopathic supporters Caroline Wells Healey Dall and Mary Baker Eddy and also homeopath Elizabeth Cady Stanton. Elizabeth Palmer Peabody wrote a biography of homeopath Robert Wesselhoeft.
Horace Mann would also have known all of the homeopaths and homeopathic supporters who frequented Elizabeth Palmer Peabody's Foreign Library: Wendell Phillips, Henry Ward Beecher, Susan B Anthony, Julia Ward Howe, Josephine S Griffing, Theodore Dwight Weld and the Grimke Sisters, William Lloyd Garrison, Parker Pillsbury, Theodore Parker, Clemence Lozier, Charlotte Denman Lozier, Gerrit Smith, Wendell Phillips, Frederick Douglass, Julia Ward Howe, William Lloyd Garrison, Hamilton Wilcox, Emily Howard Jennings Stowe, Susan B Anthony, Clara Barton, Phoebe Ann (Coffin) Hanaford, Moncure Daniel Conway, Elizabeth Peabody, Margaret Fuller, William Ellery Channing, Ellery Channing, George and Sophia Ripley, Orestes Brownson, James Freeman Clarke, John Sullivan Dwight, Paulina Kellogg Wright Davis, Ednah Dow Cheney, the Bartlett's, the Wesselhoefts, Thomas Wentworth Higginson, Gerrit Smith, Frederick Douglass, Hamilton Wilcox, Emily Howard Jennings Stowe, Henry David Thoreau, and many others.
Most of these people were either homeopaths or supporters of homeopathy, and all circulated through Elizabeth Peabody's Foreign Library and Ticknor and Fields' Parnassus Corner.
Elizabeth Palmer Peabody had recently moved to Boston from New Bedford, where she'd been a volunteer under the charismatic William Henry Channing.
Elizabeth's sister Mary, later Mrs. Horace Mann, had left the family home in Salem to join Elizabeth in Boston. Their sister Sophia, later Mrs. Nathaniel Hawthorne, had remained in Salem….
Homeopaths Elizabeth Wright Hubbard and Henry Clarke Houghton were educated at Horace Mann's school, as was Olympia Brown.
Mann's reforms included the establishment of a single school system throughout the state instead of separate local school districts.
He urged separate classrooms for students at different levels of learning, and discouraged learning by rote and flogging as punishment.
Most importantly, he worked effectively for more and better equipped school houses, longer school years (until 16 years old), higher pay for teachers, and a wider curriculum.
From 1853 until his death in 1859, he was president of the newly established Antioch College at Yellow Springs, Ohio, where he taught political economy, intellectual and moral philosophy, and natural theology.
The college received insufficient financial support due to sectarian infighting; he himself was charged with nonadherence to sectarianism because, previously a Calvinist by upbringing, he joined the Unitarian Church.
The college was founded by the Christian Connexion, who later withdrew their funding, but he earned the love of his students and by his many addresses exerted a beneficial influence upon education in the Midwest.
Horace Mann also employed the first female faculty member to be paid on an equal basis with her male colleagues, Rebecca Pennell (Horace Mann's niece).
His commencement message to the class of 1859 to
"be ashamed to die until you have won some victory for humanity" is repeated to the graduating class at each commencement.
Antioch College continues to operate in accordance with the egalitarian and humanitarian values of Horace Mann.
Antioch College - The associated preparatory school admitted two African American girls during the mid-1850s, an action one trustee responded to by resigning and removing his own children from the school. His opinion was apparently the minority one, though, as the African American students were not withdrawn.
In 1863, Antioch trustee John Phillips proposed a resolution stating
"the Trustees of Antioch College cannot, according to the Charter, reject persons on account of color."
The resolution passed with nine trustees in favor and four opposed.
---