William Henry Seward 1801 - 1872
March 23, 2008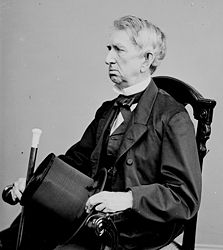 William Henry Seward Sr. 1801 – 1872 was a Governor of New York, United States Senator and the United States Secretary of State under Abraham Lincoln and Andrew Johnson.
Seward also supported homeopathy as did his wife Fanny Seward, their usual homeopathic physician was Tullio Suzzara Verdi. Seward was one of a number of influential people who supported the homeopathic Boston Female Medical College in 1848, and the Sewards knew Louisa May Alcott, Susan B Antony, William Cullen Bryant, Dorothea Dix, William Lloyd Garrison, Horace Greeley, Samuel Gregory, Phoebe Hanaford, Nathaniel Hawthorne, William James, Henry Wadsworth Longfellow, Lucretia Mott, Elizabeth Cady Stanton, Harriet Beecher Stowe, Israel Tisdale Talbot, Daniel Webster, Martha Coffin Wright, and many others.
Seward and his wife Fanny were both active in the Underground Railroad.
As a state senator and governor, Seward promoted progressive political policies including prison reform and increased spending on education.
He supported state funding for schools for immigrants using their own languages and operated by their own clergy - such as Catholic parochial schools…
Seward became a radical opponent of slavery. His views — and the even stronger anti-slavery feelings of his wife — were formed in part by their observations of the conditions of slavery while traveling in the South with their children in 1835.
He opposed the expansion of slavery and resisted attempts by Southern states to extradite those who enabled fugitive slaves to escape…
Seward believed that slavery was morally wrong, and said so many times, outraging Southerners. He acknowledged that slavery was legal under the Constitution, but denied that the Constitution recognized or protected slavery.
He famously remarked in 1850 that "there is a higher law than the Constitution". He continued to argue this point of view over the next ten years.
He presented himself as the leading enemy of the Slave Power — that is, the perceived conspiracy of southern slaveowners to seize the government and defeat the progress of liberty.
Seward was an opponent of the Fugitive Slave Act, and he defended runaway slaves in court. He supported personal liberty laws…
On April 14, 1865, Lewis Powell, an associate of John Wilkes Booth, attempted to assassinate Seward, the same night and at the same moment Abraham Lincoln was shot.
Powell gained access to Seward's home by telling a servant, William Bell, that he was delivering medicine for Seward, who was recovering from a recent near-fatal carriage accident on April 5, 1865.
Powell started up the stairs when then confronted by one of Seward's sons, Frederick. He told the intruder that his father was asleep and Powell began to start down the stairs, but suddenly swung around and pointed a gun at Frederick's head.
After the gun misfired, Powell panicked, then repeatedly struck Frederick over the head with the pistol, leaving Frederick in critical condition on the floor.
Powell then burst into William Seward's bedroom with a bowie knife and stabbed him several times in the face and neck. Powell also attacked and injured another son (Augustus), a soldier (Private George Robinson), who had been assigned to stay with Seward, and a messenger (Emerick Hansell), who arrived just as Powell was escaping.
During the attack Seward was wearing a jaw splint (often incorrectly reported as a 'neck brace') as a result of a carriage accident, and it is said that this saved his life. However, he carried the facial scars from the attack for the remainder of his life.
The events of that night took their toll on his wife, Frances, who died June 1865. His daughter Fanny died of tuberculosis in October 1866.
Tullio Suzzara Verdi, his usual homeopathic physician was the first on the scene moments after the attack. Tullio Suzzara Verdi described the scene to homeopath William Todd Helmuth in his letter of 21.4.1865, and he also details his treatment of Frederick William Seward and Augustus Seward, and to the soldier detailed to protect the Seward home, and also one other wounded man that night, possibly the male nurse.
Tullio Suzzara Verdi also reported that General Surgeon Joseph K Barnes and Drs. Norris and Wilson also assisted at the scene without 'descent into petty professional pique or ill conceived pride… in reference to associating with a medical gentleman of a different school of therapeutics'.
General Surgeon Joseph K Barnes was afterwards censured by the American Medical Association for attending to Seward after this assasination attempt, and for working alongside a homeopath.
At a time in American medicine when physicians would very rarely, if ever, be reprimanded by fellow physicians, the ethical code on consorting with homeopaths was regularly enforced.
One Connecticut physician was expelled from his local medical society for consulting with a homeopath—his wife. A New York doctor was expelled for purchasing milk sugar from a homeopathic pharmacy. General Surgeon Joseph K Barnes, the Surgeon General of the United States, was denounced for aiding in the treatment of Secretary of State William Seward on the night he was stabbed and Lincoln was shot, simply because Seward's personal physician was a homeopath.
Seward was one of a number of influential people who supported the homeopathic Boston Female Medical College in 1848, alongside Samuel Gregory, Israel Tisdale Talbot, William Cullen Bryant, Horace Greeley, Louisa May Alcott, Nathaniel Hawthorne, Henry Wadsworth Longfellow, Daniel Webster, William James and Harriet Beecher Stowe.
Seward also knew Dorothea Dix and Lucretia Mott. Seward's wife Fanny Seward and her sister Lazette Miller Worden passed information on to Elizabeth Cady Stanton and Susan B Antony through their friend Martha Coffin Wright, sister of Lucretia Mott. Fanny was also a friend of Washington Irving.
Martha Coffin Wright was a cousin of Phoebe Hanaford who was married to homeopath Joseph Hanaford. Martha Coffin Wright has been described as 'A very Dangerous Woman'. Martha Coffin Wright's husband David was also a strong advocate of homeopathy, and they both wanted to send their daughter Eliza to train as a homeopath. Her son William married into the family of homeopath Elizabeth Cady Stanton, her daughter Ellen married William Lloyd Garrison editor of the Liberator, abolitionist and advocate of homeopathy
Martha Coffin Wright was one of five visionary women who organized the first women's rights convention in Seneca Falls, New York in 1848, forever changing the course of American history… She was elected President of the National Woman Suffrage Association in 1874, serving until her death in 1875.
Lazette Worden, Frances Seward, and Martha Wright were close friends… While they were in Auburn, they formed a mutually supportive friendship that strengthened their radical abolitionist and woman's rights views.
It may have been this group, connected to Philadelphia abolitionists through Martha Coffin Wright's sister, Lucretia Mott, that encouraged Harriet Tubman to come to Auburn in the late 1850s. Certainly, all three of them used their homes as safe houses on the Underground Railroad…
Lazette Maria Miller… spent many weeks of every year, however, visiting her sister and brother-in-law, William Henry Seward, in Auburn… In Auburn, her closest friends were Frances Seward and Martha Coffin Wright. The Wrights lived on Genesee Street, around the corner from the Sewards.
Martha Coffin Wright's husband, David, was a lawyer who had worked in 1846 as a partner with William Henry Seward on one of his most famous cases, defending William Freeman, an African American accused of murder, on a plea of insanity.
Beginning in 1827, Martha Coffin Wright, raised a Quaker, taught at the Aurora school attended earlier by Frances Seward and Lazette Worden, and the three women shared a strong commitment to abolitionism and women's rights.
Lazette Worden's abolitionist and Underground Railroad sympathies extended throughout her life. Clearly, she was the radical abolitionist in her household, although he husband supported her efforts.
As their daughter, Frances Worden Chesbro, remembered, Alvah Worden was "law abiding citizen and not an Abolitionist" but he was "' a just man and one that favored God.'"
When he served in the New York State legislature in 1841, he supported two bills that his brother-in-law, William Henry Seward, then Governor, also supported, one giving African American men the right to vote and a second giving freedom to anyone brought in slavery from another state into New York State.
After her death, Lazette Worden's daughter, Frances Worden Chesbro, wrote a 27-page handwritten reminiscence about her mother's Underground Railroad activity. This included reminiscences of several specific freedom seekers affiliated in some way with the Worden household…
In Auburn after 1856, Lazette Worden continued to spend a great deal of time with her sister and brother-in-law, Frances and William Henry Seward. She also met regularly for tea and social occasions with Martha Coffin Wright.
It was this group who offered sustenance to Harriet Tubman, after she purchased land from William Henry Seward in 1857 and began gradually to move her family to Auburn, beginning in 1859.In 1861, Harriet Tubman brought Margaret Stewart, most likely a niece but possibly her own daughter, to Auburn, to live with Lazette Worden.
As Martha Coffin Wright reported in May, "Mrs. Worden was just here—she has taken a contraband 10 yrs. old to live with her, a niece of Harriet Tubman."
Lazette Worden stayed for long periods at the Seward home, and she brought Margaret Stewart with her there to live, where Frances Seward helped raise her.
After the death of her sister, Frances, in 1865, Lazette Worden often acted as hostess for her brother-in-law, William Henry Seward, both in Auburn and Washington. She was at William Henry Seward's side when he died after a brief illness.
William and Fanny Seward supported the Underground Railroad and used their personal money to support the Abolitionists, to back Frederick Douglass' North Star newspaper in Rochester (Gerritt Smith also supported him financially), and to support Harriet Tubman. Elizabeth Cady Stanton was a frequent visitor at the Seward's home.
William Henry Seward's son Frederick William Seward 1830 – 1915 was the Assistant Secretary of State during the American Civil War, serving in Abraham Lincoln's administration as well as under Andrew Johnson during Reconstruction and for over two years under Rutherford B. Hayes.
---