Tullio Suzzara Verdi 1829 - 1902
March 23, 2008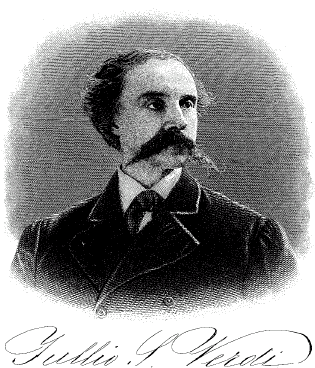 **Tullio S Verdi **1829 - 1902 was a native Italian and homeopath to William Henry Seward, an abolitionist, Professor of Modern Languages at Brown University, a specialist in Obstetrics and Gynaecology, President of the Washington Homeopathic Medical Society, President of the District of Columbia Board of Health (Verdi was the first Italian American school graduate and the first homeopath appointed to Municipal Office) and one of the founders of the Homeopathic Hospital in Washington.
When the Washington Medical Society rejected three American Black physicians who had served in the Union army when they applied for positions after the American Civil War (Harris Coulter, Divided Legacy, Volume III: Science and Ethics in American Medicine, (North Atlantic Books, 27 Jan 1993). Pages 290-297), Verdi immediately applied to Congress for a Charter for Homeopathy, which was passed in 1870, and it stated that 'any persons without exception on account of colour' could become members of the Washington Homeopathic Medical Society. Verdi became the first President of that Society.
Peevishly, the Washington Medical Society struck back by excluding homeopaths from becoming pension examiners for the Federal Government, a move strongly supported by all the allopathic medical societies.
Many newspapers came out in support of the homeopaths, and Verdi pointed out that nearly all the expelled homeopaths and their patients were Republicans, and as a result the government speedily removed the allopathic physician, Dr. Van Aernam from office and the expelled homeopaths were rapidly reinstated to office.
The next move in this struggle was a suggestion from rebel allopathic physicians to suggest that American Blacks should receive medical education. Verdi immediately asked to be included as one of the incorporators of this initiative, and he was instantly rejected by the other medical sponsors of the University.
Verdi responded by raising petitions and sending them into Congress and the opponents of homeopathy rapidly backed away from their objections.
Verdi was elected to the District of Columbia Board of Health by Ulysses S Grant and Rutherford B Hayes, the first homeopath appointed to Municipal Office. In 1873, Verdi travelled abroad to study sanitation laws and regulations in Europe, and in 1875 he was elected as President of the District of Columbia Board of Health and re-elected in 1876.
The Yellow Fever epidemic that followed in 1878 saw Verdi as a member of the American Institute of Homeopathy's Yellow Fever Commission. Many homeopaths were subsequently appointed to State positions following Verdi's exemplary example and the American Medical Association was forced to change its attitudes towards homeopaths.
Tullio Suzzara Verdi came to Washington in 1857 to practice medicine. He went on to serve on the District of Columbia Board of Health and to participate in founding both the Homeopathic Hospital in Washington and the Washington Homeopathic Medical Society.
As Italian immigration increased it became more of a challenge to provide migrant Catholics with pastoral care in the language they knew and customs they loved.
1860 saw the first Republican administration in Washington, D.C. and its first homeopathic nomination. Dr. Tullio Verdi, an 1856 graduate of The Homeopathic Medical College of Pennsylvania, was appointed to the Bureau of Health.
Member of the Monument Committee of the American Institute of Homeopathy (Washington) Doctor of the Abraham Lincoln's Secretary of State, William Henry Seward.
VERDI, Tullio Suzzara, physician, born in Mantua, Italy, 10 February,

He is of a noble family, was educated in the College of art, literature, and sciences of Mantua, and in 1847 entered the Sardinian army.
After its defeat at Novara in 1849 he was exiled from Italy by the Austrians, came to the United States, and in 1852 became Professor of Modern Languages in Brown University.
He was graduated at Hahnemann Medical College at Philadelphia in 1856, and in 1857 removed to Washington, D.C. (Verdi was the first Italian American school graduate).
In 1871 he was appointed a member of the District of Columbia Board of Health by (Ulysses S Grant and Rutherford B Hayes), of which in 1876 he was elected president, and he was appointed in 1879 a member of the National Board of Health.
Dr. Verdi became President of the medical staff of the National Homoeopathic hospital in June, 1887. He was appointed in 1873 Special Sanitary Commissioner to the principal cities of Europe from the District of Columbia.
He was physician to William Henry Seward while the latter was secretary of state, and the assassin that nearly killed William Henry Seward gained admission to the secretary by the pretence that he was the bearer of a professional message from Dr. Verdi.
He has published "_Maternity: A Popular Treatise for Young Wives and Mothers_" (New York, 1869) ; "Mothers and Daughters: Practical Studies for the Conservation of the Health of Girls" (1877) ; and "The Infant Philosopher" (1886) and _Special Diagnosis and Homoeopathic Treatment of Disease, for Popular Use … _
… the Nineteenth Session of the American Institute of Homeopathy was held in Pittsburgh, Pennsylvania, June 6 and 7, 1866. The pertinent event at that congregation of the members of the AIH was a Resolution offered by Dr. T. S. Verdi of Washington, D.C…
"Resolved, that the [American Institute of Homeopathy](http://www.homeopathyusa.org/) invites the homeopathic physicians of Europe to form, in each respective country a national institute similar to the American Institute; and that these institutes may communicate with each other, and exchange, as far as possible, homeopathic publications.
"Also that once in five or ten years, these various Institutes shall assemble by delegates in some large city, to hold a general congress to promote the interests of homeopathy.
In support of this, Dr. Verdi said,
'This resolution, gentlemen, if carried according to my intent, will be of great value to our profession.
'The forces which these institutes would concentrate at the General Homeopathic Institute would radiate again far and wide; and would, in one mode or another, impart to every member of the profession, however remote, whether in a hamlet or in a metropolis, that moral strength and courage, that fearfulness and self-respect, which would render him respectable and respected even by that great majority, the autocratic members of the old school.
"It would disseminate knowledge quickly. The publications would be constantly interchanged among the several institutes, each of which should have a committee of courses, to whom these works would be referred for approval or condemnation.
"This interchange of publications would not necessitate expenses; for every author would willingly present a number of copies of his work for distributions among the various institutes.
"Useful extracts from books, pamphlets, or magazines, could be recommended to the medical press for publication. In this way, the physicians of the remotest village would be put in contact with the best medical literature in the world.
"In this way also a great deal of medical chaff would be winnowed out, the better authors protected, and the student supplied with works that could discipline his mind, and add to his usefulness.
"Each institute might even publish a journal with advantage to itself and the profession.
'The idea of holding a general congress every five or ten years, to be composed of the ablest physicians of America, England, France, Italy, Germany, Russia, etc., is so grand that it requires no advocacy.
'What an amount of information we should gain! The ambition of eminent physicians would be stimulated by the honor which every one would concede to the delegates to the great congress.
"Thus can we elevate our science and our profession beyond derision, cavil, or contempt. In such ways we must aim to make the institute useful, and trust to success to give the homeopath that prestige which venerable institutions of past centuries have long made the monopoly of that which glories in the name of the 'old school'."
The resolution was adopted, and all necessary correspondence on this subject was referred to the General Secretary.
Apparently, nothing concrete came of this Resolution for the next twelve months, for, when we review the Proceedings of the Twentieth Session of the American Institute of Homeopathy which was held in New York City in June 4, 5, 6, and 7, 1867, we find the following entry.
T. S. Verdi, M.D., of Washington moved that the subject of establishing institutes in other countries similar to, and to be in correspondence with, the American Institute, which was presented at the last session, be referred to a special committee.
The motion was carried, and Drs. Carroll Dunham, T. S. Verdi, Israel Tisdale Talbot, and B. De Gersdorff were appointed as the committee.
Tullio Suzzara Verdi, M.D., was practicing in Washington, D.C., at the time that he offered his resolution in 1866 at the Nineteenth Session of the American Institute of Homeopathy.
A native of Italy, he was born in 1829 in Mantua. Having been educated at the Mantuan Gymnasium of Science and Literature, he joined the Sardinian Army in 1848.
At that time, King Charles Albert was advancing into Lombardy against the Austrians. However, in 1849, the Italian army suffered a disastrous defeat at Novara and T. S. Verdi fled to Switzerland and then to France to avoid imprisonment.
From there he was forced to go on to England as the President of the French Republic Louis Napoleon would not allow political exiles asylum. Throughout this journey of escape, vigilance of the Austrian government precluded any communication with his family.
Having resolved to become an American citizen from the writings of his countryman Botta, he paid his passage out of his last thirty dollars and sailed for New York with five dollars in his pocket.
After arriving in the US, he met Giuseppe Garibaldi in 1850 who gave him letters of introduction to George Washington Green, Professor of Modern Languages at Brown University in Rhode Island.
Thus, he was received well in Providence, there supporting himself by the teaching of French and Italian, learning English along the way. After only two years, he had learned English well enough to lecture on the Italian revolution.
In 1853, Professor Greene, having resigned, Verdi was offered the post which made him comfortable enough to send for his two exiled brothers.
Throughout his professorship, he studied medicine in his leisure hours under Dr. Okie, an eminent Providence homeopath. In 1854, he attended medical lectures in Philadelphia from which he received diplomas from both the allopathic and the homeopathic schools.
While he practiced successfully first in Newport, R. I., in 1857, he moved to Washington, D.C., to seek a larger stage.
In 1860, he *married Miss Dewey of Pittsburgh, (sister of Nelson Dewey) the granddaughter of Major Ebenezer Dewey of General Washington's staff and the grand-niece of the Honorable Judge Williams, who had served as Secretary of War, Minister to Russia, and Judge of the Supreme Court of Pennsylvania.
*[NB: This information may not be accurate as I believe Tullio married Rebecca Adele DENNY  daughter of William Denny and Sophie du Barry. The link to Nelson Dewey may be a confusion, as Nelson Dewey's father was an Ebenezer, and William Denny was also descended from an Ebenezer (John W. Jordan, Colonial And Revolutionary Families Of Pennsylvania, (Genealogical Publishing Com, 30 May 2004). Page 986)]. [See also '… Miss Sophie W. de Suzzara-Verdi. Born in District of Columbia. Descendant of Ebenezer Denny, of Pennsylvania, __born 1861. Daughter of Gullio de Suzzara-Verdi and Rebecca Adele Denny, his wife. Granddaughter of William Denny and Sophie Du Barry, his wife. Great-granddaughter of Ebenezer Denny and Nancy Wilkins, his wife. Ebenezer Denny, as ensign in Lieut. Col. Butler's regiment, planted the first American flag on the redoubts of Yorktown after the surrender…' (Anon, Lineage Book of the Charter Members of the Daughters of the American Revolution,Daughters Of The American Revolution, Volume I, Membership Roll 39, (General Books, 2010))]
Dr. Verdi's office was located at 14th and H Streets.
Dr. T. S. Verdi was elected to the staff of the National Homeopathic Hospital after it was created in 1881. As well as being a member of the American Institute of Homeopathy and of the American Union Academy of Literature, Science and Art, in March, 1871, he was given a Presidential appointment as a member of the first and only District of Columbia Board of Health created by Congress.
That Board elected him Secretary, Health Officer of the District and Chairman of the Sanitary Commission. It was his energy that led to the obtaining from Congress of the Charter for the Washington Homeopathic Medical Society, for which he served two years as president, which granted it all of the rights and privileges of the older societies, plus the unique power to grant licenses.
He also orchestrated the dismissal of Dr. Van Aernam from the office of Pension Surgeon and the admission of homeopathic physicians as examining surgeons for pensions. He was Mr. Seward's physician in April, 1865…
The American Institute of Homeopathy initial Committee on Foreign Correspondence named in 1867 included the aforementioned T. S. Verdi, who originally made the proposal, and Carroll Dunham, as well as Israel Tisdale Talbot of Boston, M.D., and B. De Gersdorff, Salem, MA.
Their report was made to the Twenty-First Session of the AIH, St. Louis, June 2-5, 1868. It indicated that soon after the close of the previous year's session, they had devised a circular letter to be sent to officers of homeopathic societies and individual homeopathic physicians around the world.
This circular letter was translated into French and into German, as well. Dr. T. S. Verdi was to write to the French and Italian associations and physicians; Dr. B. De Gersdorff was to correspond with the German ones and Drs. Israel Tisdale Talbot and Carroll Dunham were to address those in Great Britain, Spain, South America, Australia, and the West Indies.
Carroll Dunham and Israel Tisdale Talbot reported sending the circular letter to the Homeopathic Society of Brazil, Dr. Muralles, Secretary; to 24 physicians at Valparaiso, Buenos Aires, Pernambuco, Bahia, Santiago, Montevideo, Maranham, Rio Grande, and Rio De Janeiro; to the homeopathic society at Madrid, Dr. Nuñez, President, and to 43 physicians in Spain; to 13 physicians is the Spanish and the British West Indies, 3 physicians in Australia, 1 physician at Cape of Good Hope; and to 7 homeopathic societies and 178 physicians in Great Britain.
Replies were received only from England in the form of letters from several physicians acknowledging the circular letter and extending expressions of good will and sympathy for the cause.
Several of the British journals republished the circular with their approval and willingness to cooperate. Dr. Moore of Liverpool who was dispatched as a delegate to this Institute meeting brings the charge of the Liverpool Society to unite with the American Institute, but express doubt that there is sufficient strength now to form a national association in the U.K.
Dr. T. S. Verdi received a lengthy letter from a Dr. Guiseppe Bruni of Milan enthusiastically detailing the institution of a plan beginning in Milan, then Venice, then Turin, Genoa, and Florence, as well as Rome, to organize Italian homeopathic physicians in associations in the manner delineated in the circular letter.
It seemed to spark a renewal for a dormant homeopathy at the time in Italy. They named the Rivista Omiopathica published by Dr. Pompili as the official publication of their societies and Rome as the seat of their "National Institute." continue reading:
After Giuseppe Garibaldi's death in 1882, a group of Washington, D.C., residents of Italian descent formed the Society for a Monument to Giuseppe Garibaldi. They commissioned Giuseppe Martegana, an Italian artist living in Paris, to create a bust to commemorate the patriot.
In a letter to the president of the Senate dated December 14, 1887, Dr. Tullio de Suzzara-Verdi offered the Garibaldi bust, executed in Italian marble, to the United States.
He asked on behalf of the society that it be accepted "as a link in the chain of sympathy that all free men feel for the champions of liberty and popular government." The work also was presented as an expression of Italian achievement in sculpture.
On August 23, 1888, the Senate approved the acquisition, resolving that "the Senate of the United States expresses its sense of the patriotism and liberality which prompted this noble gift from these adopted citizens of Italian birth, and extends to them, the countrymen of the great champion of Italian liberty, the assurance of the admiration of the people of this land for his noble life and distinguished deeds."
17.6.1891 his daughter's marriage
Tullio Suzzara Verdi, a native of Italy, who had been in the Sardinian army in 1848, and in consequence had been proscribed by the Austrians, came to New York in 1857, landing in that city with but five dollars in his pocket. He there met Giuseppe Garibaldi, who introduced him to George Washington Greene, professor of modern languages in Brown University, in Providence.
He was soon able to support himself by teaching French and Italian, and he soon gained such knowledge of English that he was able to lecture in that language upon the Italian revolution. Two years later Professor Greene resigned his office and it was tendered to Verdi.
He then sent for his two brothers…
Dr. Verdi lived for many years in Washington, but in 1895, on account of failing health, decided to retire from practice and return to Italy.
Ciro Suzzara Verdi (?a brother) graduated from the New York Homœopathic College in 1861, and then located in Georgetown. He died in 1887.
---