Henry David Thoreau 1817 - 1862
March 22, 2008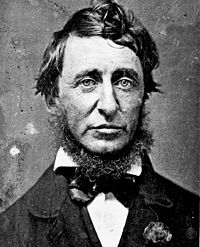 Henry David Thoreau 1817 – 1862 was an American author, naturalist, transcendentalist, tax resister, development critic, philosopher, and abolitionist.
Above all, he was an admirer of homeopaths and of homeopathy.
Thoreau was an advocate of homeopathy and it is thanks to homeopathic physician and transcendentalist Samuel A Jones, editor of the American Homeopathic Observer, that Thoreau's fame became widely known at all. Samuel A Jones corresponded with Thoreau's boyhood friend Horace Hosmer* to create his Reminiscences.
Thoreau was huge admirer of homeopath James John Garth Wilkinson, writing that James John Garth Wilkinson's book The Human Body and its Connection to Man, illustrated by the Principle Organs was 'an artistic precursor of Walden' and "to some extent realises what I have dreamed of.." and that James John Garth Wilkinson's importance as an influence on Thoreau's thought has been neglected… and that James John Garth Wilkinson represented to Thoreau a 'home for the imagination' (Michael West, Transcendental Wordplay: __America's Romantic Punsters and the Search for the Language of Nature, (Ohio University Press, 2000). Page 469).
Henry David Thoreau also advocated vegetarianism and social justice, and he lectured at the Boston Lyceum alongside Wendell Phillips, Ralph Waldo Emerson, Horace Greeley, George Bancroft, Theodore Parker, Orestes Brownson, Charles Thomas Jackson, James Freeman Clarke, Charles Lane, and Ephraim W. Bull.
James T Fields, one of America's most famous publisher of American writers, and a partner in Ticknor and Fields, had a bookstore known as Parnassus Corner on Old Corner.
His literary salon was packed with the influential people of the time, including Louisa May Alcott, John Greenleaf Whittier, Thomas Bailey Aldrich, James Russell Lowell, Henry David Thoreau, Nathaniel Hawthorne, Julia Ward Howe, Ralph Waldo Emerson, Margaret Fuller, William Makepeace Thackeray, Charles Dickens, Matthew Arnold, Robert Browning, Henry Wadsworth Longfellow, Alfred Lord Tennyson, Bret Harte, Bayard Taylor, Harriet Beecher Stowe, Edwin Booth, and Nathaniel Parker Willis, who described Parnassus Corner as 'the hub in which every spoke of the radiating wheel of Boston intellect had a socket.. '
Thoreau also knew Henry James Snr who was a stern critic of the "gross materiality" of American society, and found in Fourier's thought a useful critique. Henry James Snr held most of the leading writers of his day in low regard, with the possible exception of Walt Whitman, though he met and cultivated many of them, including Ralph Waldo Emerson, Bronson Alcott, Henry David Thoreau and William Makepeace Thackeray.
Walt Whitman received praise and support from the Transcendentalism movement and from Ralph Waldo Emerson, Henry David Thoreau and Bronson Alcott, though his overt sexual themes in his book of poems Leaves of Grass outraged others.
Thoreau also knew homeopathic supporter William Cullen Bryant and the homeopathic Houghton family who published some of his writings, and he also knew the homeopathic Putnam family who also published him.
Thoreau would also of known about Elizabeth Peabody's Foreign Library:
Peabody's Foreign Library quickly became a kind of salon for the New England Transcendentalists.
Margaret Fuller's famous "conversations" were held at West Street in late 1839 and the early 1840s. William Ellery Channing, the "father of Unitarianism" and Elizabeth Palmer Peabody's mentor, came to read the newspaper. George and Sophia Ripley, Orestes Brownson, Theodore Parker, James Freeman Clarke, John Sullivan Dwight, and others talked over the reform of society and planned the Brook Farm community there.
And as a result it is likely that he also knew the Ripley's, Paulina Kellogg Wright Davis, Ednah Dow Cheney, Caroline Wells Healey Dall, the Bartlett's, the Wesselhoefts, Mary Baker Eddy, Elizabeth Cady Stanton, Thomas Wentworth Higginson and many others (Clemence Lozier, Charlotte Denman Lozier, Gerrit Smith, Frederick Douglass, Lucretia Mott, William Lloyd Garrison, Hamilton Wilcox, Emily Howard Jennings Stowe, Susan B Anthony, Parker Pillsbury, Clara Barton, Phoebe Ann (Coffin) Hanaford, Theodore Dwight Weld and the Grimke Sisters and Moncure Daniel Conway and Abraham Lincoln)
Thoreau knew Annie Sawyer Downs, the daughter of homeopath Dr Benjamin Edwards Sawyer who treated Nathaniel Hawthorne's wife, as she was a fellow botanist. (Nathaniel Hawthorne was married to Sophia Peabody, Elizabeth Peabody's sister).
The Transcendentalists were especially interested in what they called "ethical scriptures" and they read widely among the world's religions, including Hinduism, Buddhism, and Sufi poetry. Thoreau produced the first English translation of the Bhagavad-Gita
Thoreau taught school in Canton, Massachusetts. After graduating in 1837, he joined the faculty of Concord Academy, but he refused to administer corporal punishment and the school board soon dismissed him.
He and his brother John then opened a grammar school in Concord in

They introduced several progressive concepts, including nature walks and visits to local shops and businesses. The school ended when John became fatally ill from tetanus in 1842.
Upon graduation Thoreau returned home to Concord, where he befriended Ralph Waldo Emerson. Ralph Waldo Emerson took a paternal and at times patronizing interest in Thoreau, advising the young man and introducing him to a circle of local writers and thinkers, including Ellery Channing, Margaret Fuller, Bronson Alcott, Nathaniel Hawthorne…
Ralph Waldo Emerson constantly urged Thoreau to contribute essays and poems to a quarterly periodical, The Dial, and Ralph Waldo Emerson lobbied with editor Margaret Fuller to publish those writings. Thoreau's first essay published there was Natural History of Massachusetts; half book review, half natural history essay…
Thoreau was a philosopher of nature and its relation to the human condition. In his early years he followed Transcendentalism, a loose and eclectic idealist philosophy advocated by Ralph Waldo Emerson, Margaret Fuller, and Bronson Alcott.
They held that an ideal spiritual state transcends, or goes beyond, the physical and empirical, and that one achieves that insight via personal intuition rather than religious doctrine.
In their view, Nature is the outward sign of inward spirit, expressing the "radical correspondence of visible things and human thoughts," as Ralph Waldo Emerson wrote in Nature …
On 18 April 1841, Thoreau moved into the Emerson House. There, from 1841-1844, he served as the children's tutor, editorial assistant, and repair man/gardener. For a few months in 1843, he moved to the home of William Emerson on Staten Island, tutoring the family sons while writing for New York periodicals, aided in part by his future literary representative Horace Greeley…
Thoreau embarked on a two-year experiment in simple living on 4 July 1845, when he moved to a small self-built house on land owned by Ralph Waldo Emerson in a second-growth forest around the shores of Walden Pond… Thoreau revised his lecture ("The Rights and Duties of the Individual in relation to Government") into an essay entitled Resistance to Civil Government (also known as Civil Disobedience).
In May 1849 it was published by Elizabeth Peabody in the Aesthetic Papers…
In 1851, Thoreau became increasingly fascinated with natural history and travel/expedition narratives. He read avidly on botany and often wrote observations on this topic into his Journal. He greatly admired William Bartram and Charles Darwin's Voyage of the Beagle.
He kept detailed observations on Concord's nature lore, recording everything from how the fruit ripened over time to the fluctuating depths of Walden Pond and the days certain birds migrated. The point of this task was to "anticipate" the seasons of nature, in his words…
Until the 1970s, Thoreau's late pursuits were dismissed by literary critics as amateur science and philosophy. With the rise of environmental history and ecocriticism, several new readings of this matter began to emerge, showing Thoreau to be both a philosopher and an analyst of ecological patterns in fields and woodlots.
For instance, his late essay, "The Succession of Forest Trees," shows that he used experimentation and analysis to explain how forests regenerate after fire or human destruction, through dispersal by seed-bearing winds or animals…
After John Brown's raid at Harpers Ferry, many prominent voices in the abolitionist movement distanced themselves from Brown, or damned him with faint praise. Thoreau was disgusted by this, and composed a speech 'A Plea for Captain John Brown' which was uncompromising in its defense of Brown and his actions.
Thoreau's speech proved persuasive: first the abolitionist movement began to accept Brown as a martyr, and by the time of the American Civil War entire armies of the North would literally be singing Brown's praises…
Ralph Waldo Emerson wrote the eulogy spoken at his funeral. Thoreau's friend Ellery Channing published his first biography, Thoreau the Poet-Naturalist, in 1873…
Thoreau's writings had far reaching influences on many public figures. Political leaders and reformers like Mohandas Karamchand Gandhi, President John F Kennedy, Civil rights activist Martin Luther King, Jr., Supreme Court Justice William O. Douglas, and Russian author Leo Tolstoy all spoke of being strongly affected by Thoreau's work, particularly _Civil Disobedience___.
So did many artists and authors including Edward Abbey, Willa Cather, Marcel Proust, William Butler Yeats, Sinclair Lewis, Ernest Hemingway, E. B. White, and Frank Lloyd Wright and naturalists like John Burroughs, John Muir, E.O. Wilson, Edwin Way Teale, Joseph Wood Krutch , B.F Skinner, and David Brower. Anarchist and feminist Emma Goldman also appreciated Thoreau, and referred to him as "the greatest American anarchist".
In Walden, Thoreau wrote:
Every day or two I strolled to the village to hear some of the gossip which is incessantly going on there, circulating either from mouth to mouth, or from newspaper to newspaper, and which, taken in homeopathic doses, was really as refreshing in its way as the rustle of leaves and the peeping of frogs.
"A man may esteem himself happy when that which is his food is also his medicine."
*(Bronson Alcott was attended in this last illness by his homeopathic physicians Batlou (?impossible to trace - the only homeopathic Ballou found is Harry Ballou Bryson) and Hosmer… (?Alfred Hosmer of Watertown, ?George Hughes Hosmer, ?Frederick Lucien Hosmer
---