Evangeline Smith Adams 1868 - 1932
March 15, 2008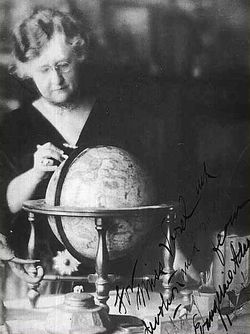 Evangeline Smith Adams 1868 - 1932 was a famous astrologer who made astrology legal in New York. She learnt her astrology from homeopaths, and she read for some of the most famous people of her time, and she was famed for her accuracy, her gentleness and her greatness.
Adams was born on 8 February 1868 at 8:30 am in Jersey City, New Jersey, to a conservative family. Her father died when she was 15 months old.
Before Adams began working as an astrologer full time, she became engaged to a Mr. Lord, who was believed to be her employer. Although she claims she was initially in love with him, she lost any feelings that she had for him and subsequently broke the engagement.
In 19th century Boston, breaking an engagement was tantamount to divorce, and it was seen as a grave scandal.
Related to two United States presidents, Evangeline Adams capitalised on an upscale image to serve such clients as J.P. Morgan, Charles Schwab, Tallulah Bankhead and Joseph Campbell.
Beginning her astrological studies in Boston in 1887, she was practicing professionally by the time of her first Saturn return. She claimed to have successfully predicted the Windsor Hotel fire in New York City in 1899, and moved there in 1905…
Adams worked on a book with Aleister Crowley in the teens; gossip has it that they were also personally involved. After they separated, however, Crowley published an attack of Evangeline's astrological skills and business methods, calling her "a grey-haired old woman of exceedingly shrewd expression"…
Astrology: Your Place Among The Stars (1930), Adams most ambitious book, had been co-written in parts with Crowley, and addressed the influence of planets in signs.
Time Magazine 1928: Of all the astrologists, no one is nearer to the stars than Evangeline Adams (Mrs. George E. Jordan Jr.), hardy and cultured Yankee, descendant of the famed Adams family (John Adams (2nd President of America), John Quincy Adams 6th President of America, Henry Adams).
To her office in Carnegie Hall, Manhattan, have flocked bigwigs and humble folk. She seats them in a chair facing her across her desk, takes out her charts, asks them a few simple questions on dates, and in several minutes tells them what they are and what would be well for them to do.
She has been consulted by Mary Garden, Geraldine Farrar, Eva Le Gallienne, the late John Pierpont Morgan, Cardinal James Gibbons, John Burroughs, Lillian Russell, Tallulah Bankhead, Seymour Cromwell (onetime president of the New York Stock Exchange), many a Wall Street man and Tammany Hall politician, Philip Payne (onetime editor of the New York Daily Mirror, whom Evangeline Adams warned against flying in the ill-fated Old Glory).
Senators, high U. S. executives and business potentates, whose names she keeps secret, have sat facing her.
Her outstanding predictions include the deaths of Edward VII and Enrico Caruso, the Windsor Hotel of Manhattan fire (her first big one), the World War, the outcome of both Tunney Dempsey fights.
Because the stars pointed to great publicity, she advised the father of Lois Delander of Joliet, Ill., to send his daughter to the Atlantic City beauty contest. Miss Delander became Miss America.
Against the objections of her family, Evangeline Adams began studying astrology when she was 18. She has read widely in all fields of the occult and in the classics of all ages.
Today, in her late fifties, she writes and talks (usually out of the right side of her mouth) with a vigorous punch. In her new book, Astrology: Your Place in the Sun* she says:
"The wise man cooperates with the stars, the fool thinks he rules them." [continue reading](http://www.time.com/time/magazine/article/0,9171,737154-5,00.html):
Adams' 1930-31 radio show was said to be one of the most popular of its time…
Adams' books, however, were not published until after her marriage at the age of 50 to promoter George E. Jordan, Jr., a man over 20 years her junior. The Bowl Heaven (1926) was a charming autobiography, but others were simple introductory texts…
When homeopathic physician and medical astrologer Dr. Luke D. Broughton had arrived in the United States from Leeds in the 1850s, he counted only 20 people in the country who could calculate a birth chart, none of them American.
By the twenties, after Adams had popularised it, thousands were familiar with and interested in astrology.
Adams was arrested twice in New York for fortune telling, in 1911 and

Although practicing astrology was not legalized at that time, Adams was acquitted and set a precedent for the non-criminality of professional astrology.
The famous American astrologer Evangeline Adams served a wide clientele from 1899 until her death in 1932. Although often referred to as one of the first modern psychological astrologers, she nevertheless came from a more traditional astrological background.
Her first astrology teacher, Dr. Heber Smith, was a homeopathic physician who used astrology in his medical diagnoses. Adams' apprenticeship consisted of erecting horoscopes for Smith's patients and she talked about the importance of medical elections in her autobiography, _The Bowl Heaven_.
Evangeline later studied with Dr. George Adams, another homeopath and director of an insane asylum in Westborough, Massachusetts, who used astrology as an aid in treating patients.
---