Ralph Waldo Emerson 1803 - 1882
March 09, 2008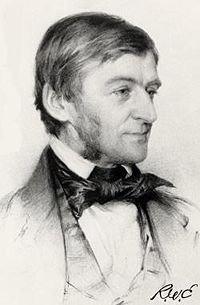 Ralph Waldo Emerson 1803 – 1882, Boston Brahmin, was an American essayist, philosopher, poet, and leader of the Transcendentalist movement. A supporter of homeopathy (Ralph Waldo Emerson, Ronald A. Bosco, Joel Myerson (Eds.), The Later Lectures of Ralph Waldo Emerson, 1843-1871: 1855-1871,  (University of Georgia Press, 2001). Page 157), abolitionism and spiritualism, Emerson was a devout follower of Emanuel Swedenborg and considered to be one of the greatest orators of his time.
Ralph Waldo Emerson was a friend of  James John Garth Wilkinson*. Emerson's British publisher was John Chapman. It was through John Chapman that Emerson's work was first introduced to British readers. Emerson also knew William Francis Cowper Temple 1st Baron Mount Temple (1811-1888) (met at Broadlands in 1848 (James Gregory, Reformers, Patrons and Philanthropists, (Taurus Academic Studies, 2010). Page 52)),
'…piety is an essential condition of science, that great thoughts come from the heart…' Ralph Waldo Emerson, The works of Ralph Waldo Emerson, Volume 1, (Taylor & Francis, 1913). Page 478. From Emerson's address Progress of Culture given in Cambridge in 1867. (See also Stephen McNeilly, In search of the absolute: essays on Swedenborg and literature, (The Swedenborg Society, 2004). Page 16).
Emerson made his living as a schoolmaster several years, then went to Harvard Divinity School, and emerged as a Unitarian minister in 1829 only to resign in 1832.
Emerson toured Europe in 1832 (where he met his British publisher John Chapman) and later wrote of his travels in English Traits (1856). During this trip, he met William Wordsworth, Samuel TaylorColeridge, John Stuart Mill, and Thomas Carlyle.
Emerson maintained contact with Thomas Carlyle until the latter's death in 1881. He also served as Carlyle's agent in the U.S. His travels abroad brought him to England, France (in 1848), Italy, and the Middle East…
In 1845, Emerson's Journal records that he was reading the Bhagavad Gita and Henry Thomas Colebrooke's Essays on the Vedas. Emerson was strongly influenced by the Vedas, and much of his writing has strong shades of nondualism.
Emerson's second wife Lydian Jackson was homeopath Mercy Bisbee Jackson's husband's cousin.
James T Fields, one of America's most famous publisher of American writers, and a partner in Ticknor and Fields, had a bookstore known as Parnassus Corner on Old Corner.
His literary salon was packed with the influential people of the time, including Louisa May Alcott, John Greenleaf Whittier, Thomas Bailey Aldrich, James Russell Lowell, Henry David Thoreau, Nathaniel Hawthorne, Julia Ward Howe, Ralph Waldo Emerson, Margaret Fuller, William Makepeace Thackeray, Charles Dickens, Matthew Arnold, Robert Browning, Henry Wadsworth Longfellow, Alfred Lord Tennyson, Bret Harte, Bayard Taylor, Harriet Beecher Stowe, Edwin Booth, and Nathaniel Parker Willis, who described Parnassus Corner as 'the hub in which every spoke of the radiating wheel of Boston intellect had a socket.. '
Emmerson also attended Transcendentalist meetings at Elizabeth Palmer Peabody's home. Peabody enlisted the help of Ralph Waldo Emerson and she received donations from her contributers to advertise her shop and they responded with enthusiasm.:
Elizabeth Peabody's Foreign Library quickly became a kind of salon for the New England Transcendentalists… Margaret Fuller's famous "conversations" were held at West Street in late 1839 and the early 1840s.
William Ellery Channing, the "father of Unitarianism" and Elizabeth Palmer Peabody's mentor, came to read the newspaper. George and Sophia Ripley (Emerson's uncle and aunt), Orestes Brownson, Theodore Parker, James Freeman Clarke, John Sullivan Dwight and others talked over the reform of society and planned the Brook Farm community there. Charles Anderson Dana, Horace Greeley and many other homeopathic supporters were also regular visitors.
Ralph Waldo Emerson was a close friend of Theodore Parker, whose social circle glittered with homeopaths and their supporters Moncure Daniel Conway, Mary Gove Nichols (who wrote one thousand professional letters a year), Mercy Bisbee Jackson, Carolina Maria Seymour Severance, Caroline Wells Healey Dall, the Peabody sisters, Frederick Douglass, Margaret Fuller, Elizabeth Peabody and Paulina Kellogg Wright Davis, the Wesselhoeft family, Bronson Alcott and Louisa May Alcott, Lucretia Coffin Mott, Henry David Thoraeu, and many others were supporters of homeopathy and a friend of homeopathic supporters, and Charles Thomas Jackson who was homeopath Mercy Bisbee Jackson's cousin and the brother in law of Ralph Waldo Emerson, and Ednah Dow Cheney, Paulina Kellogg Wright Davis, Ernestine Rose, Elizabeth Cady Stanton, Susan B Anthony, Angelina Grimke Weld, Antionette Brown Blackwell and Lucy Stone, Bronson Alcott, Margaret Fuller, William Wesselhoeft and Caroline Wells Healey Dall.
It would be safe to say the Ralph Waldo Emerson knew anybody who was anybody! Emerson wrote in support of homeopathic supporter John Murray Forbes and he influenced Harriet Emilie Cady.
The Boston Female Medical College was designed by homeopathic supporter and architect William Ralph Emerson (cousin of Ralph Waldo Emerson), who also designed the Massachusetts Homeopathic Hospital. Ralph Waldo Emerson was distantly related to Charles Wesley Emerson, after whom Emerson College is named.
James Russell Lowell was responsible for publishing Ralph Waldo Emerson, Nathaniel Hawthorne, Edgar Allan Poe, Story and Parsons, John Greenleaf Whittier and thus making them famous.
Dana Ullman writes: Ralph Waldo Emerson was also an appreciator of both homeopathic medicine and Swedenborgian philosophy, and he held great admiration for (orthodox doctor turned homeopath) James John Garth Wilkinson…
Emerson characterized James John Garth Wilkinson's style of speaking and writing as being "like the armory of the invincible knights of old." He asserted that James John Garth Wilkinson "has brought to metaphysics and to physiology a native vigor" and that James John Garth Wilkinson is an important "champion of Hahnemann."
Emerson went an eloquent step further in the following statement about the Greek mythological god, Tantalus. According to Greek mythology, Tantalus, a son of Zeus and the nymph Plouto (who was the personification of wealth), was known for having been welcomed to Zeus's table in Olympus, from which he stole nectar and ambrosia to take back to his people, and revealed to them the secrets of the gods. Emerson's reference to 'T is a reference to Tantalus:
"One of the illusions is that the present hour is not the critical, decisive hour. Write it on your heart that every day is the best day in the year. No man has learned anything rightly until he knows that every day is Doomsday. 'T is the old secret of the gods that they come in low disguises.
'T is the vulgar great who come dizened with gold and jewels. Real kings hide away their crowns in their wardrobes, and affect a plain and poor exterior.…
"So, in our history, Jesus is born in a barn, and his twelve peers are fishermen. 'T is the very principle of science that Nature shows herself best in leasts; it was the maxim of Aristotle and Lucretius; and, in modern times, of Emanuel Swedenborg and of Hahnemann.
"The order of changes in the egg determines the age of fossil strata. So it was the rule of our poets, in the legends of fairy lore, that the fairies largest in power were the least in size."
One of the main agents of Emanuel Swedenborg´s diffusion was John James Garth Wilkinson. A clinician, he authored the first biography of Emanuel Swedenborg and translated, also for the first time in English, some of his foremost writings.
Later he converted to Homeopathy. These translations arose the attention of Henry James, who became the key-factor in the transmission of these concepts to influential writers such as William Blake, Alfred Lord Tennyson and Ralph W. Emerson. The latter not only upheld this philosophy but disseminated it in America and Britain.
Thomas Wentworth Higginson invited Theodore Parker, Ralph Waldo Emerson and fugitive slave William Wells Brown to speak at the church; in sermons he condemned northern apathy towards slavery…
Ellery Channing and William Henry Channing were was also colleagues:
Ellery Channing was befriended by Henry David Thoreau, and praised and often published in The Dial by Ralph Waldo Emerson.
William Henry Channing, along with the younger Ellery Channing, was a Transcendentalist. He was a prolific writer, contributing to the North American Review, the Dial, the Christian Examiner, and other serials, a member of the Transcendental Club, and corresponded with Ralph Waldo Emerson.
The most noteworthy of the early conventions were those held in Massachusetts, in which such men as William Lloyd Garrison, Wendell Phillips, William Henry Channing, Theodore Parker, and Ralph Waldo Emerson took part.
The Dialwhich subsequently became The Harbinger and Nathaniel Hawthorne, Ralph Waldo Emerson, William Henry Channing, Margaret Fuller, and Horace Greeley, George William Curtis, Theodore Parker, John Sullivan Dwight all became contributors.
Ralph Waldo Emerson also advocated vegetarianism and social justice, and he lectured at the Boston Lyceum alongside Wendell Phillips, Henry David Thoreau, Horace Greeley, George Bancroft, Theodore Parker, Orestes Brownson, Charles Thomas Jackson, James Freeman Clarke, Charles Lane, and Ephraim W. Bull.
The circle Emerson inhabited lived very closely with each other:
In 1842 the Hawthorne's moved into The Old Manse… The Old Manse had been built in 1765 (by Ralph Waldo Emerson's grandfather). In 1776, it had been passed on to William Emerson's widow, who two years later married Ezra Ripley.The course of the highway was changed, the old North Bridge was removed, and the abandoned road became a field belonging to the Manse. Dr. Ripley had felt pride in his possessing the legendary ground. In 1836, however, he had given back the ancient roadway to the town for the dedication of a monument, the occasion for which his Ralph Waldo Emerson, Dr. Ripley's step-grandson, wrote the verse inscribed at the base of the Minuteman statue.
*On 17th April 1848, James John Garth Wilkinson dined out with Ralph Waldo Emerson and Henry Crabb Robinson. Clement John Wilkinson quotes from one of James John Garth Wilkinson's letters to his wife Emma about this meeting '… Crabb Robinson is one of the most entertaining and interesting old gentlemen I ever met. He is one of the Council of University College, an old friend of Mr. Tulk's (Charles Augustus Tulk) and one of the executors of Flaxman (John Flaxman 1755 - 1826) . He knew Blake (William Blake) well… it was he who gave Blake 5 guineas for the Songs of Innocence. He warmly invited me to call upon him, when he will show me several of Blake's Originals, both poems and pictures…'  Clement John Wilkinson, James John Garth Wilkinson; A Memoir of His Life, with a Selection of His Letters. (Kegan Paul, Trench, Trubner & Co, 1911). Page 22.
Also in 1849, Ralph Waldo Emerson was able to introduce James John Garth Wilkinson to London society via his publisher John Chapman who Ralph Waldo Emerson had known since 1832 (on 25th April 1848 (Swedenborg Archive K125, letter 25th April 1848), James John Garth Wilkinson invited Ralph Waldo Emerson to his house along with Mr. and Mrs. John Chapman- though we do not know whether this was the publisher John Chapman or the homeopath John Chapman, who James John Garth Wilkinson would have known very well from his student days at The Hahnemann Hospital at 39 Bloomsbury Square).
---