Henry Wadsworth Longfellow 1807 - 1882
March 03, 2008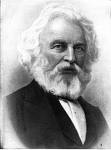 Henry Wadsworth Longfellow 1807 - 1882 is a famous American poet and he was a supporter and patron of homeopathy. His classmate and lifelong friend Nathaniel Hawthorne was married to Sophia Peabody, the daughter of a homeopath.
His mentor Washington Irving was a supporter of homeopathy and he was surrounded by homeopaths, activists, intellectuals, poets, publishers and authors at a vibrant time in American history.
In England, Longfellow visited Charles Darwin, and James John Garth Wilkinson (Henry Wadsworth Longfellow, Andrew Hilen (Ed.), The Letters of Henry Wadsworth Longfellow, (Harvard University Press, 1982). Page 291).
Longfellow was inclined to homeopathy as early as 1841 when he urged homeopathy on his father (Edward Wagenknecht, Henry Wadsworth Longfellow: portrait of an American humanist. (Oxford University Press, 1966). Page 18), and he became an outspoken advocate of homeopathy throughout his life, such that he was mentioned in several homeopathic journals, as was his wife. His friend Frederika Bremer was a homeopathic supporter and a regular visitor. Longfellow was also a close friend of homeopath Harriet Clisby.
Boston hostesses came to feel it was wise to keep Longfellow out of Oliver Wendell Holmes way, lest the doctor read his fellow poet a lecture on the medical errors by which he was deluded… Holmes was surprised that Longfellow could believe in homeopathic infinitesimals…
Longfellow was mentored by Washington Irving who recommended homeopathy to his friends, including John Pendleton Kennedy. Irving assisted homeopathic supporter William Cullen Bryant in his career and Bryant won recognition as America's leading poet. Irving also mentored homeopathic supporters Nathaniel Hawthorne and Edgar Allan Poe.
James T Fields, one of America's most famous publisher of American writers, and a partner in Ticknor and Fields, had a bookstore known as Parnassus Corner on Old Corner.
His literary salon was packed with the influential people of the time, including Louisa May Alcott, John Greenleaf Whittier, Thomas Bailey Aldrich, James Russell Lowell, Henry David Thoreau, Nathaniel Hawthorne, Julia Ward Howe, Ralph Waldo Emerson, Margaret Fuller, William Makepeace Thackeray, Charles Dickens, Matthew Arnold, Robert Browning, Henry Wadsworth Longfellow, Alfred Lord Tennyson, Bret Harte, Bayard Taylor, Harriet Beecher Stowe, Edwin Booth, and Nathaniel Parker Willis who described Parnassus Corner as 'the hub in which every spoke of the radiating wheel of Boston intellect had a socket.. '.
This whirling mix of homeopaths, intellectuals and transcendentalists was to transform American society, but it was a mixed blessing for homeopathy. When a New York Commission rejected homeopath's request to control some of the wards in Bellevue Hospital in 1858, the Commission argued that homeopathy was based on 'wild transcendental theory' (Naomi Rogers, An alternative path: the making and remaking of Hahnemann Medical College and Hospital of Philadelphia, (Rutgers University Press, 1 May 1998). Page 8).
In 1815, George Ticknor and Edward Everett went to Europe to study. They traveled extensively, studied at Goettingen, and returned to America to take up academic positions at Harvard, where Ralph Waldo Emerson was one of their pupils. Both also brought back large numbers of books, Ticknor for his personal library, Everett for Harvard.
In 1817 George Ticknor became Smith Professor of French and Spanish languages and literatures (a chair founded in 1816), and Professor of Belles Lettres at Harvard University, and began teaching in 1819, after travel and study in France, Spain and Portugal.
During his professorship Ticknor advocated the creation of departments, the grouping of students in divisions according to proficiency, and the establishment of the elective system, and reorganized his own department.
In 1835 he resigned his chair, in which he was succeeded in 1836 by Henry Wadsworth Longfellow; and he returned to Europe in 1835-1838.
George Ticknor founded Boston Library and his book _Prescott's Life _was published by Ticknor and Fields in 1864, as were most of his writings. His close friend Jacob Bigelow was a supporter of homeopathy.
In 1839, Transcendentalist, activist, and reformer Elizabeth Palmer Peabody leased a building at 13 West Street in Boston, where, at the end of July, 1840, she opened a circulating library and bookstore.
Circulating libraries—privately owned collections of books and periodicals lent out for profit at fixed rates—had their heyday in America between 1800 and 1850, just before the rise of the public library movement. Miss Peabody, eager to meet a demand by her Transcendental associates for difficult-to-obtain foreign literature and mindful of the need to support herself, created in her Foreign Library a means of accomplishing both ends.
America was a ferment of new ideas at this time:
In 1852, Walt Whitman wrote,
"[At this moment, New York is the most radical city in America](http://www.lgbtran.org/Profile.aspx?ID=113)."
Brooklyn was at various times home to Fourierist reformers such as William Henry Channing, Longfellow, Isaac Hopper's dear friend Lydia Maria Child, and the Quaker philanthropist Marcus Spring. It was also a hotbed for mystical movements such as phrenology, mesmerism, homeopathy, free love, and spiritualism.
At this time in America, waves of immigrants were arriving, from the Cajun war, from the fall out of the Napoleonic wars, bringing with them new ideas:
Most people today are unaware that Talleyrand lived here, and La Rochefoucauld. The Duke of Orleans, future king of France, lived at 4th and Locust Streets, proposed to a (rich) Philadelphia lady, and was rejected by her father ("Sir, if you do not become king of France, you will be no match for her, and if you do become king, she will be no match for you.")
Napoleon's brother Joseph lived at 9th and Spruce, and one of his marshals lived at 6th and Spruce. Really. Tallyrand had a deformed foot, and this somehow made him pals with Governor Morris who had a wooden leg.
William Dean Howells wrote:
If one names over the men who gave Boston her supremacy in literature during that Unitarian harvest-time of the old Puritanic seed-time which was her Augustan age, one names the people who were and who had been socially first in the city ever since the self-exile of the Tories at the time of the Revolution…
Boston was small, but these were of her first citizens, and their primacy, in its way, was of the same quality as that, say, of the chief families of Venice…
The most famous, if not the greatest of all the literary men of Boston, I have not mentioned with them, for Longfellow was not of the place, though by his sympathies and relations he became of it…
It is well known how fervent, I cannot say devout, a spiritualist Longfellow's brother in law, Thomas Gold Appleton, was; and when he was at the table too, it took all the poet's delicate skill to keep him and the Autocrat from involving themselves in a cataclysmal controversy upon the matter of manifestations…
Of Longfellow himself he (Oliver Wendell Holmes) said that day, when I told him I had been writing about him, and he seemed to me a man without error, that he could think of but one error in him, and that was an error of taste, of almost merely literary taste…
On April 7, 1847, the first obstetric anesthetic in the United States was administered to Fanny Appleton Longfellow in childbirth. This followed homeopath Josiah F Flagg in 1838 who practiced in Boston and became involved in the legal disputes concerning the discovery and patenting of ether, and Friederich Kraft 1811-1854 magister in surgery, licensed in 1837 in Wien. He practised surgery in Brasov, being the first to use ether for narcosis in 1847. He practiced homeopathy since 1838. Ether was proved by homeopaths and reported on widely, as in the Quarterly Homeopathic Journal in 1853.
Henry's biography was written by his brother Samuel Longfellow 1819 - 1892 who was also a transcendentalist and school mate of Samuel Johnson and Thomas Wentworth Higginson. Samuel wrote a Book of Hymns with Samuel Johnson which Theodore Parker referred to as 'The Sam Book'.
---