The Ripley Surname and Homeopathy
February 28, 2008

The Ripley surname contributed two great homeopaths, George Henry who was President of his local medical associations and state medical societies. Martha was a suffragist and activist, a Professor of Children's Diseases, Obstetrics and Paediatrics and the founder of a maternity hospital. The other Ripley to mention here was a great friend of James John Garth Wilkinson.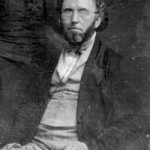 George Rip**ley **1802 - 1880 was an American social reformer, Unitarian minister, and journalist associated with Transcendentalism. He was the founder of the short-lived Utopian community Brook Farm in West Roxbury, Massachusetts. After Brook Farm's failure, George Ripley was hired by Horace Greeley at The New York Tribune. George Ripley also published the New American Cyclopaedia, which made him financially successful.
George Ripley was a lifelong friend of  James John Garth Wilkinson, published James John Garth Wilkinson's articles in New York in The Harbinger (1), and James John Garth Wilkinson soon also had a weekly English correspondent column in Horace Greeley's The New York Tribune. It would be Henry James Senior and George Ripley who introduced James John Garth Wilkinson's writing and his translations of the works of Emanuel Swedenborg to Ralph Waldo Emerson, Henry Wadsworth Longfellow, Nathaniel Hawthorne, and many others, thus ensuring that his name and fame were well respected by the Swedenborgian New Church in America ((1) James John Garth Wilkinson; A Memoir of His Life, with a Selection of His Letters by Clement John Wilkinson, Kegan Paul, Trench, Trubner & Co 1911. page 17 - 18).
George Ripley was a close friend of  Amos Bronson Alcott, James Freeman Clarke, Ralph Waldo Emerson, Convers Francis, Margaret Fuller, Frederick Henry Hedge,
George Ripley was born in Greenfield, Massachusetts, October 3, 1802. He graduated at Harvard in 1823, spent three years at the Divinity School, and was settled over the Purchase Street Church in Boston, November 8, 1826. He was an acceptable preacher—simple, direct, clear, systematic, and thoughtful. His manner in the pulpit was quiet, his thought spiritual, his attitude one of mental freedom.
Ripley was from the first deeply influenced by the intuitive conception of religion. Transcendentalism was native to his mind, and formed the substance and spirit of his preaching. In one of his sermons he said: "We can have no doubt that religion will always be perpetuated by the same causes which first gave it existence. We regard it as an emanation from the Eternal Mind."
In the autumn of 1836 Ripley joined with Ralph Waldo Emerson and Frederick Henry Hedge in forming what has been known as the Transcendental Club, a purely informal gathering of Transcendentalists for discussion and conference. The first meeting was held at Ripley's house on September 18, and there were present Ripley, Ralph Waldo Emerson, Frederick Henry Hedge, Amos Bronson Alcott, James Freeman Clarke, Convers Francis, and one or two theological students. This club resulted in the publication of The Dial, the first number of which appeared for July, 1840, with Margaret Fuller as editor and Ripley as her assistant. Ripley's connection with this publication lasted only for a year, or perhaps even a shorter time.
Ripley was one of the first students in this country to master the German language and the teachings of the great German leaders in philosophy. He wrote frequently for The Christian Examiner on subjects growing out of these studies. During the first six months of 1835 he edited The Boston Observer and Religious Intelligencer, an exponent of the more advanced religious thinking of the time. This weekly journal was absorbed by The Christian Register, which adopted its motto, "Liberty, Holiness, Love."
In 1836 Ripley published six sermons in exposition of the intuitive conception of religion, under the title of Discourses on the Philosophy of Religion Addressed to Doubters who Wish to Believe. In 1838 he began the publication of an extended series of translations from the German and French idealists, designed to include works by Johann Gottfried von Herder, Friedrich Wilhelm Joseph Schelling, Richter, Friedrich Daniel Ernst Schleiermacher, and others. About a dozen works were published, the translations being made by Margaret Fuller, Cornelius Conway Felton, Ripley, John Sullivan Dwight, James R. Osgood, James Freeman Clarke, and William Henry Channing. In 1839, in a controversy with Andrews Norton, Ripley made a vigorous defense of Transcendentalism as applied to religion.
In the spring of 1841 Ripley withdrew from the Purchase Street pulpit, and in an extended review of the religious situation gave a noble interpretation of the spiritual philosophy which he accepted. Influenced by William Henry Channing, he undertook to organize a social community that should be a true exponent of Christianity as applied to practical life. The Brook Farm Association began at that time in the town of West Roxbury, and continued for six years. Ripley was its guiding spirit, and the editor of The Harbinger, which was published by the Association during the last three years of its existence.
The Brook Farm experiment was nobly conceived, and it was almost idyllic in the unity and harmony which existed among the members. Those who lived there found it friendly and helpful, and they looked back upon it to the end of their lives with the unwavering conviction that it was attractive and beautiful beyond anything they had elsewhere known. In 1844 the community adopted the principles of Francois Marie Charles Fourier, and added to its farming and its school a variety of occupations and industries. Its weekly journal was of a high literary character and an able exponent of socialism, with many of the best writers in the country on the list of its contributors. Brook Farm came to an end in the autumn of 1847 because it was not able to overcome the conditions imposed upon it by the commercial spirit of the time.
Ripley went to New York and continued as the editor of The Harbinger until the spring of 1849, when it was compelled to suspend publication. The associationist movement, which had been widespread and drawn to its support many able men and women, culminated at this time, and gradually died. In 1849 Ripley connected himself with The New York Tribune, and soon became one of its leading editors. Beginning in a very modest way, on a mere pittance, he gained not only a leading place on the paper, but made himself known as the chief American critic. He was the literary editor of The Tribune until his death, and helped to give that journal a wide reputation for intellectual ability and critical judgment.
The work done by Ripley was not confined to The Tribune, for he wrote extensively for other newspapers and for the best magazines and on a great variety of topics. His chief work was done in editing The New American Cyclopedia, with the assistance of Charles Anderson Dana—a work begun in 1857, and to which he devoted many years of faithful labor. It was the first competent work of the kind published in this country, and has been surpassed by no other in critical ability and scholarly insight.
His editorial labors demanded all his time, and he produced no work of original merit, such as he was capable of writing. Consequently, his fame as a critic has already become a tradition, and is not sufficient to give him a permanent place in American literature. He is chiefly remembered as the founder of Brook Farm, and as one of the prominent members of the group of Transcendentalists who gave a great impetus to American thinking and poetry.
George Ripley died in New York, July 4, 1880…
George Ripley married Sophia Willard Dana, of Cambridge, in 1827. She was a woman of fine education and much intellectual ability, one of the women who gathered about Margaret Fuller and listened to her remarkable conversations. Two or three contributions to The Dial showed her insight, wit, and intellectual strength. At Brook Farm she wisely managed the culinary department and the social life. Much of the work of instruction came under her oversight, and she proved her large and generous capacity in this direction. Born into the most aristocratic society of New England, she humbly devoted herself to the severest tasks, and toiled with great courage for the success of Brook Farm. During the years of poverty that followed she was a teacher. But her hopes had been disappointed. She joined the Roman Catholic Church, and died in 1861. In 1865 Ripley was married again to an accomplished woman, who added much to the happiness of his later years…

George Henry Ripley 1860 - 1926
of Kenosha, Wisconsin, was born at Oakfield, Fond du Lac county, Wisconsin, October 22, 1860, son of Charles Terrence and Lucy A. (Holton) Ripley.
He was educated in the district schools of Fond du Lac county and Lawrence University, Appleton, Wisconsin. He began the study of medicine under the preceptorship of Dr. A. W. Kanouse of Appleton, Wisconsin, and graduated from the Hahnemann Medical College, Chicago, in 1891.
Since his graduation he has been engaged in the active practice of his profession in Kenosha. He is the medical examiner for the I. O. O. F., the Royal League, M. W. A., and the Equitable Fraternal Union, and holds membership in the Homœopathic Medical Society of the State of Wisconsin, the American Institute of Homœopathy, and the Kenosha County Medical Association, of which he is president.
Dr. Ripley married, December 8, 1886, Florence M. Fellows.
George Ripley, raised by his widowed mother, Lucy, became a very influential person in the community… a renowned doctor.
I have pictures of him and pictures of the Doctor Ripley house which became a Retirement home. George's father died when George was young, he was raised by his mother. His two older brothers left for South Dakota when George was still in school.
He left family history records which were used by Emma Ripley Cornog… George H. RIPLEY, Kenosha, Kenosha County, Wisconsin, one of the distinguished homeopathic practitioners of Kenosha, was born 22 October 1860 in the town of Oakfield [Oakfield Township], Fond du Lac County, Wisconsin, a son of Charles T. and Lucy A. (HOLTON) RIPLEY.
Charles T. RIPLEY was born in Bennington, Chittenden County, Vermont, a son of Allen and Laura RIPLEY, who were also born in Vermont. Lucy A. (nee HOLTON) RIPLEY was born in Northfield, Franklin County, Massachusetts, and her ancestry is traced back to William HOLTON, who was born in 1611 in England, and on coming to America in 1634, established his home in Massachusetts, where he [William HOLTON] passed away 12 August 1691; his wife, Mary, died 16 November 1691…
George H. RIPLEY spent the days of his boyhood and youth on his father's farm and acquired his early education in the district schools. Later he became a student in Lawrence University at Appleton [Outagamie County], Wisconsin.
Determining upon the practice of medicine as a life work, he afterward entered Hahnemann Medical College of Chicago [Cook County, Illinois] and is numbered among its alumni of 1891.
For a brief period he engaged in practice in Chicago, but soon returned to Kenosha, and has since followed his profession in this city. His ability form the first has been recognized and, moreover, it is known that he is an earnest and discriminating student of his profession, at all times keeping in touch with modern thought, research and investigation.
Dr. George H. RIPLEY belongs to the Kenosha County Medical Society, the Wisconsin State Homeopathic Society, the American Institute of Homeopathy, and the American Medical Association.
He is also a member of the State Board of Medical Examiners, and his high standing with the profession and especially in regard to his colleagues and contemporaries is indicated in his having served as President of the [Kenosha] county and [Wisconsin] state medical societies, and of the state board of examiners.
On 08 December 1886 Dr. [George H.] RIPLEY was married to Miss Florence M. FELLOWS of Kenosha, a daughter of Henry and Matilda (STANNARD) FELLOWS. They hold membership in the Methodist church, in the work of which Mrs. RIPLEY takes most active part. In politics the Doctor is a Republican, but the active duties of his profession leave him no time for participation in political work.

Martha Rogers Ripley 1843 - 1912 Homeopathic Physician and Professor of Children's Diseases Minneapolis Homeopathic Hospital.
When Ripley saw the plight of the mill girls in Lawrence Massachusetts, Ripley decided to study medicine. Her sister had already graduated from the Boston University Medical School.
Ripley's father was an abolitionist, and the family ran an underground railroad at the family home.
Ripley joined the Women's Rights movement and she was close friends with Lucy Stone, Julia Ward Howe and Henry Blackwell as Boston became a hotbed of the women's rights movement.
Ripley was on the executive committee of the New England Woman Suffrage Association with Mercy Bisbee Jackson and Marie Zakrewska.
Ripley studied homeopathic medicine with Anna Howard Shaw, and she was deeply impressed by Mary Safford Blake.
When Ripley's husband was seriously injured in a mill accident, she became the main wage earner for her family, which she moved to Minnesota, and she became president of the Minnesota Women's Suffrage Association for the next six years, where she campaigned for women's property rights and for improved sanitation and cremation and for women's police matrons.
Ripley was a member of the Women's Rescue League (ably assisted by women on bicycles) which rehabilitated local prostitutes and 'conducted a war' on filth and dirty water, food adulteration.
Ripley specialised in children's diseases and she opened a maternity hospital, and she was Professor of Children's Diseases at the Minneapolis Homeopathic Medical College, under the care and control of women homeopaths.
Ripley was determined to admit unmarried mothers to her maternity hospital. She also looked after destitute children and established a social service department. Frances Willard and Carrie Chapman Catt were regular visitors.
Ripley died in 1912 when plans were underway for a new maternity home. Her ashes were buried under the cornerstone of the new Ripley Memorial Building.
One of the first female doctors in the United States, Dr. Martha Ripley helped to transform both the field of obstetrics and the role of women in early Minnesota.
Ripley, born in 1843, decided to study medicine when, as a volunteer nurse, an infant in her care died of the croup. She obtained her degree in Massachusetts and then moved with her husband and three daughters to Minnesota, where she established Maternity Hospital.
The hospital opened in 1886 in a small house on Fifteenth Street in Minneapolis with only three patients. From the beginning, the hospital doors were open to everyone, regardless of financial means, marital status, age, or ethnicity. Unwed women, who in the 1880s were seen as undeserving of medical care, found compassionate care at Ripley's hospital.
Ripley's zeal was directed toward reducing the deaths of both women and infants in childbirth. The practices she employed to that end often caused a stir. Hospital deliveries themselves were a rarity in the United States until the 1910s.
Ripley also caused a scandal for hemming her skirts above the floor for better sanitation. In other "firsts," the hospital was the first to allow mothers and infants to room together and among the first to offer natural childbirth options.
Maternity Hospital's statistics were enviable, with the maternal death rate a quarter of the average. As her reputation grew, Ripley was called on to lecture in obstetrics and pediatrics in medical colleges in Wisconsin, Michigan, and Iowa.
With a steadily increasing demand for its services, the hospital repeatedly moved to larger locations. In 1896, the hospital was moved for the fourth time, relocating to the corner of Glenwood and Penn avenues.
Over the following two decades, three more buildings were added, a temporary home for infants, a cottage for nursing staff, and a bungalow for infants requiring special care.
In addition to her pioneering medical work, Ripley was a vocal social reformer. She served as President of the Minnesota State Suffrage Association and petitioned the State Legislature on the right to vote for women, as well as raising the age of consent from 10 to 16.
Ripley also fought for the inclusion of matrons on the Minneapolis police force and women on the Board of Education.
But her primary focus remained the hospital. In 1911, at its 25th anniversary celebration, Ripley made a plea for $50,000 to erect a new hospital building, citing the hospital's longstanding mission to serving all in need and its essential role in the community.
The funding was raised, but Ripley would not live to see the new building completed. She died in 1912 of a respiratory infection.
Her last words were, "Is everything alright at the hospital?"
The building was completed in 1915 and named the Martha G. Ripley Memorial Building in her honor. Ripley's ashes were laid in the cornerstone.
The Maternity Hospital closed in 1956 due to lack of funding and became the Queen Care Nursing Home. The nursing home closed in 2000.
Today, three of the original buildings remain on the site: Ripley Memorial Hospital, Emily Paddock Cottage, and the Babies' Bungalow. continue reading:
Her biography was written by Winston U Solberg and she was included in Frances Willard and Mary A Livermore's American Women: Fifteen Hundred Biographies with Over 1,400 Portraits
Ripley's legacy continues today with the establishment of Ripley Gardens, one of the first multi-family projects for Habitat for Humanity. Eight town homes will be built on the grounds and through a partnership with the Central Community Housing Trust.
The red brick buildings that once housed the Martha Ripley Maternity Hospital in north Minneapolis are steeped in local history, but at least five years of inactivity and neglect have left the 1915-era structures in a state of disrepair.
Though her accomplishments have largely faded into obscurity, Dr. Martha Ripley played a crucial role in helping to turn a rough-and-tumble Minnesota milling center into a civilized city.
The renovation project Aeon (formerly Central Community Housing Trust) was established more than 20 years ago to address the loss of 350 units of housing demolished to build the Minneapolis Convention Center. Since then, Aeon has evolved into an award-winning nonprofit provider of quality affordable homes across the Twin Cities. We work to ensure that people with low and moderate incomes have access to decent and safe affordable homes.
Aeon currently provides homes to more than 2,500 people throughout the Twin Cities Metropolitan Area. Aeon plans to continue to grow and serve people and communities seeking high-quality, affordable places to call home.
Also of note:
1841 Brook Farm. In April 1841, George and Sophia Ripley (uncle and aunt of Ralph Waldo Emerson), a former Unitarian minister and his wife, arranged to rent a farm in West Roxbury where they'd spent several summers, planning now to start a utopian community there.
They meant to form a community based on individual freedom and egalitarian relationships, regarding commerce as evil and planning to make their communal farm self-supporting and independent of outside markets. All members of the community were to share equally in the work and the rewards.
There would be no "wage slavery." Cooperation and mutual support would replace the competitive spirit of the marketplace, and work would be mixed with opportunities for intellectual discussion, education, and socializing.
Calling the idyllic place Brook Farm, they would transform the buildings into communal housing, kitchens, classrooms, eating, and social spaces. Over the course of the summer, many Transcendentalists and other interested people from the Boston area would visit the farm. By autumn, they would be joined by about 15 other Transcendentalists and other interested persons, including Nathaniel Hawthorne, who was in love with one of the Brook Farm women.
Convinced that the experiment would succeed, in October George Ripley committed the fledgling organization's funds to buying the 192-acre farm. Each person who had joined the community purchased at least one $500 share. Mortgages covered the remainder of the sale price…
Elizabeth Palmer Peabody's shop also became a meeting place for the Trancendentalists, and many other influential people and homeopathic supporters met and exchanged ideas at this time.
---