The Myers Family, the Longshore Family and Homeopathy
February 21, 2008

The Myers and Longshore family were Quakers and committed to training women doctors and abolitionism. They graduated from the eclectic tradition and went on to train a whole generation of homeopaths.
There were other homeopaths with the surname Myers, and one member of the Myers family who went onto found one of todays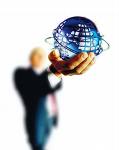 giant pharmaceutical companies, thus adding to our divided legacy today.
…

Anna Mary Longshore was born in Langhorne, Pennsylvania on April 16, 1829. She was a member of the Female Medical College of Pennsylvania's first graduating class, finishing with seven other graduates in December, 1851.
She established a practice in Philadelphia, but health problems forced her to return to Langhorne in 1857. There she met and married businessman Lambert Potts. Within a few years Dr. Longshore-Potts, as she called herself, had moved to Adrian, Michigan, and developed a lucrative practice.
Since she felt that preventing disease was an important part of a physician's duty, she began to give talks on health topics to private groups of her patients.
By 1876 Dr. Longshore-Potts had moved her talks to public venues.
These efforts were so successful that she took her lectures on women's health topics on the road, appearing to great acclaim in San Francisco in 1881, followed by other west coast cities.
In May, 1883, Dr. Longshore-Potts sailed to New Zealand to begin a lecture tour there. She did not return to the United States until October,

In those years she lectured to large crowds not only in New Zealand, but Australia and Great Britain as well.
Her lectures continued in the United States, and she also self-published at least two books on related topics. Anna wrote Love Courtship and Marriage and The logic of a lifetime.
She finally settled in San Diego, where she owned some property and had built a house. Dr. Longshore-Potts helped found the Paradise Valley Sanitarium in that city. She died of "senile debility" on October 24, 1912.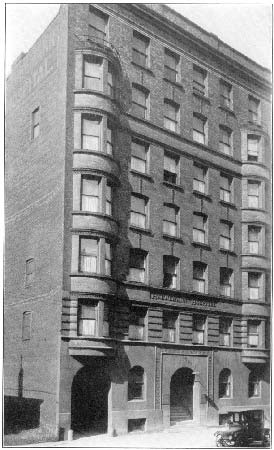 Cornelius Myers 1853 -
of South Bend, Indiana, was born in Wayne county, Ohio, October 29, 1853, son of Enos and Mary A. (Funk) Myers. He attended district schools in Elkhart county, Indiana, pursued a normal course in Goshen and in Bristol, Indiana, and for three terms engaged in teaching school.
He began preparation for his profession under the preceptorship of Dr. W. A. Whippy of Goshen, Indiana, in 1875, and attended Hahnemann Medical College of Chicago, from 1875 until 1877, receiving his degree in the latter year.
Since his graduation he has practiced in South Bend, Indiana, supplementing his former medical course by post-graduate work in Hahnemann Medical College of Chicago, in 1879, and in the New York Homœopathic Medical College and Hospital in 1903.
He is a member of the staff of Epworth Hospital, South Bend, lecturer to the Nurses' Training School on homœopathic materia medica, and member of the American Institute of Homœopathy, and the Northern Indiana and Southern Michigan Homœopathic Medical Society, of which he was the first president.
Dr. Myers served as coroner of St. Joseph county, Indiana, two terms. He is supreme medical director of the Knights and Ladies of Columbia Insurance Order.
He married Gertrude W. Harris, March 19, 1870, and their children are Frederick C., Edgar H., George H., Jeanette, Gertrude and Margaret Myers, the second son being a student in Hahnemann Medical College of Chicago, Illinois.

D Myers was a colleague of Augustus P Biegler and in 1837, they introduced homeopathy into Albany County.

Dean Wentworth Myers **1874 - **
of Grand Rapids, Michigan, was born in Ionia county, Michigan, April 27, 1874, son of David Wallace and Rebecca Jane (Macomber) Myers.
He attended the district schools near Muir, Michigan, was graduated from the high school of Muir in 1893, and later taught two years in the district and high schools of that locality.
He was a student, 1895-1899, in the homœopathic department of the University of Michigan, being graduated with the M. D. degree in 1899, and from that time to 1903 was assistant to the professor of ophthalmology and otology in the same department of the University of Michigan. In 1899-1900 he was also instructor in pathology in that institution.
Since 1903 he has practiced in Grand Rapids, confining his attention to treatment of the eye, ear, nose and throat. He was medical examiner for the New York Life Insurance Company, 1901-3, the Massachusetts Mutual Life Insurance Company, 1901-3, and has been examiner for the Supreme Tent, K. O. T. M., since 1902.
He is a member of the American Institute of Homœopathy, the American Homœopathic Ophthalmological and Otological Society, the Homœopathic Medical Society of the State of Michigan and the Homœopathic Medical Society of Western Michigan.
He married, August 29, 1900, Cora Louise Owen of St. Albans, Vermont, a great-granddaughter of Dr. Oliver John Eells of West Cornwall, Vermont, who was one of the pioneers of homœopathy in Vermont and who practiced medicine from 1830-1860. She died May 4, 1904, leaving one daughter, Dorothy Louise Myers.

See also Frederick Myers Dearborn
…

George Parcell Myers **1875 - **
of Detroit, Michigan, born Elk Point, So, Dak., December 20, 1875 ; graduated B. A., State University, Vermillion, So. Dak., 1894 ; A. M., 1895 ; M. D., Cleveland Medical College, 1898 ; member of Ustion fraternity.

Hanna Myers Longshore 1819-1901
Because of the Quakers' traditional high view of women's capabilities, Philadelphia had long been a center for female education. The founding of Women's Medical College there in 1850 led to the entrance of women into the medical profession.
Hannah E. Myers Longshore was the first female with a medical degree to establish a successful private practice.
was one of three daughters of a Columbiana County, Ohio family who became doctors in the 1850s. Her sisters, Mary Frame Myers Thomas and Jane Viola Myers, graduated from eclectic medical schools. Hannah was one of the first matriculants of the Woman's Medical School in Philadelphia. She graduated from there in 1852.
After her graduation, Dr. Longshore served as a Demonstrator of Anatomy at several schools and was the first woman doctor to open a private practice in Philadelphia.
Hanna studied at the homeopathic and eclectic Female Medical College of Pennsylvania of which her brother in law Joseph Skelton Longshore (an eclectic physician) was a founder:
Female Medical College of Pennsylvania---the first regular medical school for women in America. The Philadelphia institution was founded by four physicians (Dr. Joseph S. Longshore, of Philadelphia, was one of the founders… first woman faculty member at an American medical school.
(Hanna) Longshore received her medical degree from the Female Medical College of Pennsylvania in

She was Philadelphia's first woman physician.
The following year she was hired by the New England Female Medical College in Boston as the first female instructor of anatomy.

Helen T Myers contributed an article entitled 'Electrical Treatment of Fibroid Tumor of the Uterus ' to the Californian Homeopath Vol. VIII. April, 189O. No. 4 in 1890.

John Ripley Myers
In 1887, William McLaren Bristol and John Ripley Myers invested $5,000 into a failing drug manufacturing firm called Clinton Pharmaceutical Company, located in Clinton, New York. The company was incorporated December 13, 1887 with William Bristol as president and John Myers as vice president.
In May 1898 the company was renamed Bristol, Myers Company (a hyphen replaced the comma after Myers's death in 1899). In 1900 Bristol-Myers became profitable — where it has remained ever since.
The company's first nationally recognized product was a poor man's spa: a laxative mineral salt that, when dissolved in water, reproduced the taste and effects of the natural mineral waters of Bohemia. Named Sal Hepatica, the product initially sold modestly, but from 1903-1905 sales increased tenfold.
Another success was Ipana toothpaste, the first toothpaste to include a disinfectant in its formula and protect against the effects of bleeding gums.
The demand for Sal Hepatica and Ipana transformed Bristol-Myers from a regional into a national and international company. In 1924, gross profits exceeded $1 million for the first time in Bristol-Myers' history, and the company's products were sold in 26 countries.
At this time, the shares held by John Myers's heirs became available for sale, triggering a series of moves that in 1929 turned Bristol-Myers into a publicly held company listed on the New York Stock Exchange.
In 1943, the company acquired Cheplin Laboratories — a Syracuse, New York manufacturer of acidophilus milk - thereby becoming a producer of pharmaceutical products. Cheplin's expertise in fermentation techniques lead it to become a key supplier to the U.S. War Production Board's program to mass-produce penicillin for the Allied armed forces.
By the end of WWII, it was clear that penicillin and other antibiotics represented an immense opportunity for Bristol-Myers. Cheplin was renamed Bristol Laboratories.
In 1957, Frederic N. Schwartz was appointed president and CEO of Bristol-Myers when Henry Bristol, nearing 70, became chairman of the board. Bristol-Myers therafter began acquiring well managed smaller companies.
The first major acquisition was Clairol, a company founded by the husband-and-wife team of Lawrence M. Gelb and Joan Clair, which had turned haircoloring from a difficult-to-use specialty item into a highly successful mainstream consumer product.
With Clairol also came the executive Richard Gelb, elder son of Clairol's founders. In 1976 Richard Gelb was elected chairman of the board. In 1986, the company opened a state-of-the-art research complex in Wallingford, Connecticut, designed to house more than 800 scientists and support staff. (In 1995, this facility would be renamed the Richard L. Gelb Center for Pharmaceutical Research and Development.)
In 1989, Bristol-Myers merged with Squibb creating a global leader in the health care industry. The merger created what was then the world's second-largest pharmaceutical enterprise.
In 1990, the Bristol-Myers Squibb Pharmaceutical Research Institute was established with headquarters in Princeton, New Jersey, and research facilities in Wallingford, Connecticut, and other sites around the world.
Today, Bristol-Myers Squibb is a global leader in the research and development of innovative lifesaving and life-enhancing treatments for cancer, HIV/AIDS and other infectious diseases, cardiovascular diseases, pain, and other conditions.

Joseph Skelton Longshore Homeopath (trained at the University of Pennsylvania), professor of Obstetrics and Diseases of Women enrolled his sister Anna Longshore at the College too.

Mary Frame Myers Thomas 1816-1888
Step sister to Hanna
Mary Frane Myers Thomas, wife of a graduate of the CMC, was dismissed by the faculty from medical lectures at the CMC in 1854. It was learned that she had attended a course at the "Penn University," an eclectic school in Philadelphia where her sister, Dr. Hannah Myers Longshore, had taught.
Mary studied at the Western Reserve College of Medicine and the Female Medical College of Pennsylvania and went into practice with her husband.
Mary went on to become a physician with the Sanitary Commission, a Civil War physician (and surgeon), a member of the Wayne County Medical Society, president of the Indiana State Medical Society and the Indiana State Woman Suffrage Association, president of the American Woman Suffrage Association, president of the Women's Christian Temperance. Mary founded a Home for Friendless Girls.
Mary also operated an Underground Railroad station for escaped slaves:
It is now an established fact that the Aboite Devil's Hollow was a major URR station. Here the Nindes served as "conductors" along with a woman named Dr. Mary Frame Myers…
Mary's father was a strong abolitionist and suffragist, and Mary was greatly influenced by Lucretia Mott.
Her daughter Julia Josephine Thomas became the president of Wellesley College.
The Myers biography The Three Myers Sisters: Pioneer Women Physicians by Frederick Clayton Wait.

Pricilla G. MYERS
an Aurora homeopathist, graduated Hahnemann Medical College, Chicago on February 26, 1885.

Samuel I Myers **1852 - **
homeopath of Bayonne, New Jersey, born Middletown, N. Y., in 1852 ; graduate of College of Physicians and Surgeons, New York city, 1878.
History of the Longshore family.
---