William von Gottschalk Senior and Junior and Homeopathy
January 13, 2008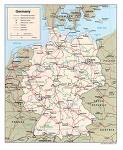 William von Gottschalk Senior was born in Leipsic and immigrated to America in 1850, where he became a homeopath. His son William von Gottschalk Junior also became a homeopath.

William von Gottschalk Senior 1826 - 1888
Gottschalk was born at Wahau, Saxony, near Leipsic, November 12, 1826, and was a graduate of Leipsic University. In 1848 he joined the revolutionary movement in Germany and was obliged to flee. He first sought refuge near Baden Baden, but afterward went to Switzerland, where he lived during the years 1849 and 1850, part of that time acting as a dentist's assistant.
He then came to New York and in connection with the practice of medicine carried on a drug store. While there, through the influence of Dr. Charles Julius Hempel, he became a convert to homœopathy.
In 1854 he went to Paris to perfect himself in medicine. He returned to America in 1855 and settled at Providence. He established a large practice and became one of the best known homœopathic physicians of his time.
He was a leader among his fellow countrymen, and was styled "the father of the German Leiderkranz," and also was forward in other of the German societies. His death occurred on Monday, September 15, 1888.

William Von Gottschalk Junior 1854 -
Mayor of Central Falls in 1896 and 1897, was born in Providence, Dec. 16, 1854, and was the second child of William Von and Elizabeth (Heathcote) Gottschalk.
His father was a homeopathic physician, who located in Providence in 1854, where he practiced his profession successfully for 34 years. William followed in his father's footsteps.
He obtained his education in the Providence public schools, and in the Boston University School of Medicine, from which he was graduated in 1877 with the degree of M. D.
He practiced his profession for a short time in Providence, but in 1877 removed to Central Falls, where he has built up a large and lucrative practice.
He is a Democrat, and has taken an active and prominent part in politics for many years. He represented the town of Lincoln in the lower house of the General Assembly from 1888 to 1890.
In 1895 he received the Democratic and Citizens nomination for mayor of Central Falls, but was defeated by a small majority. The following year, however, he was elected, and thus became the second mayor of Central Falls, and was reelected in November, 1896.
He was a member of the First Light Infantry of Providence for 15 years, during five of which he held a commission as first lieutenant. In 1887 Governor Davis appointed him aid-de-camp attached to his personal staff.
He is a member of the Rhode Island Homeopathic Medical Society; the American Institute of Homeopathy, and the Pawtucket Medical Association.
In society circles Dr. Gottschalk is active, being a Mason, an Odd Fellow, a member of the Knights of Pythias, the Improved Order of Red Men, the First Light Infantry Veteran Association, the Central Falls Veteran Firemen's Association, and is an associate member of Ballou Post, G. A. R. April 24, 1884, he was married to Emma J. Whittle of Saylesville.
---