The Dake Family and Homeopathy
December 28, 2007

The extraordinary Dake family contained any number of doctors and homeopaths, and quite a few orthodox doctors who converted to homeopathy…

CHARLES ALONZO DAKE 1819 - 1905
Charles was born on March 8, 1819 to parents William Dake Jr. and Orpha Miller in Greenfield, Saratoga Co., N.Y. He moved to Portage in western New York with his parents when he was about one year old.
He received high honors at Genessee Weslyan Seminary. He then went to Buffalo Medical School and in 1853 graduated from Cleveland Medical College. He then graduated from the Hahneman Institute in 1856.
He was first located in 1850 at Warsaw, N.Y. where he practiced for many years. He was the first Homeopathic Physician in Wyoming Co., N.Y. He was a Doctor in Rochester, N.Y. for a period of time.
On June 2, 1840 he married Maria Roberts. (He may have moved to the Town of Dement, Ogle Co. and purchased land in 1856.) He retired in 1866 to Irondaquoit, N.Y. He lived on 3000 St. Paul Street, Rochester, N.Y. He died in July 1905 on St. Paul Street, Irondequoit, Rochester, N.Y. and was buried in Warsaw, Wyoming Co., N.Y. Charles A. Dake died Saturday at his home in Irondequoit, aged 86 years.
He was born in Saratoga, March 8, 1819, but when 2 years of age removed with his parents to Portage, his family being among the early settlers of that part of the state… Warsaw, being known as the first homeopathic physician in Wyoming county. In 1866 he made his home in Irondequoit, where he had a successful medical practice.
He married Miss Maria Roberts, last May being the sixty-fifth anniversary of his wedding. Besides his wife, he leaves his son, R. A. Dake, of Irodequoit, and brother Dr. B. Franklin Dake , of Passadena, CA.
Charles Alonzo wrote journal articles for the American Magazine of Homeopathy.

Chauncey Martin Dake
In 1843 Dr. Chauncey M. Dake introduced homœopathy into Livingston county. He was the son of Dr. Jabez Dake, of Nunda, and was born December 1, 1816.
He attended medical lectures at Geneva, but was obliged to discontinue his studies in 1836, and began to practice under a state license. He was converted to homœopathy by his brother-in-law, Dr. H. Hull Cator, in 1841.
While at Rushville he suffered with inflammatory rheumatism, and becoming steadily worse called in Dr. Cator, who relieved and cured him with homœopathic treatment.
When he recovered he procured homœopathic books and medicines and soon accepted the truth of the "little pills."… As soon as he had sufficiently recovered to leave his bed, he procured the few books on homoeopathy then written in the English Language, and studied them so diligently that he soon became convinced of the truths contained in them, and entirely changed his mode of practice.
In 1843 he located at Geneseo. He practiced for a time at Pittsburgh, Pa., but finally retired to a farm near Rochester, N. Y., where he died July 15, 1872.
Chauncey was born on December 1, 1816 in Greenfield, Saratoga County, N.Y. as the second son to parents Jabez P. Dake and Sophia Bowen. His academical studies were pursued at Genesee, and he attended medical lectures at Geneva, but owing to ill health began practice under a state license in 1836.
His first wife was Miss Harriet Cady, by whom he had a son (Dumont Charles Dake) (She died in 1848); his second wife, Miss Eliza Kirby, whom he married in 1848, was the only daughter of Professor S.R. Kirby, of New York. (NB: Stephen Reynolds Kirby was a homeopath)
In 1843, he removed to Genesee, N.Y. and was the first to introduce the new doctrine into that beautiful valley, where he triumphantly battled with ignorance, prejudice and bitter professional opposition. In 1857, he received a special degree from the Homeopathic Medical Society in Philadelphia.
He moved to Pittsburg in 1863 and succeeded his brother, Dr. J.P. Dake, of Pittsburgh, Pa., there continuing a large and flourishing practice until failing health compelled him, in 1866, to retire to his farm, near Rochester, N.Y. (St. Albans, N.Y.), where he resided until his death. He died of paralysis at Springwater, N.Y. on July 15, 1872, while visiting his sister-in-law, Mrs. Wiley.
Dr. Dake was an ardent lover of the Homeopathic principles and a successful and popular practitioner. He was the first President of the Livingston County Homeopathic Medical Society, and delivered an able address at its first meeting.
While initially ridiculed by the Doctors in his family, he was the means of converting his father from the doctrines of the old school; also his brothers, Dr. D.M. Dake, Dr. J.P. Dake, and Dr. William H. Dake.
Chauncey wrote Reply of C.M. Dake, M.D., of Geneseo, to a Letter from Professor J.P. Dake

David Merritt Dake
David was born on April 14, 1814 at Greenfield, Saratoga County, N.Y. to parents Jabez P. Dake and Sophia Bowen. He entered the office of Dr. J.W. Miller, he studied medicine under his guidance, and attended two courses of lectures at the Fairfield Medical College, N.Y. and one at Castleton, Vt..
He graduated in the Spring of 1837 from the Geneva Medical College. Settling in Nunda, Livingston County, N.Y., he practised Allopathy over nine years, with increasing dissatisfaction with that system and its results. He also taught and lectured at Nunda Literary Institute.
He could not persuade himself that his patients at any time owed their recovery to his presciptions, and he found it mortifying to know that the simplest remedies prescribed by those too poor to employ a physician were often more potent for a recovery that his most elaborate prescriptions.
While in this state of mind, his attention was drawn to Homeopathy, and he commenced the study of Hahnemann's "Organon", which he examined with deepest interest. Following this with Jahr's "Manual", and supplying himself with the more useful remedies, he commenced practice.
During the twenty-five years which passed after his adoption of the Homeopathic practice, he experienced a satisfaction which he had never known before. Leaving Nunda, in 1846, the year after his conversion to the new system, he removed to Pittsburg, where he was introduced to (homeopath) Dr. G. Reichhelm, who extended to him a cordial welcome, and with whom he labored with delight until the day of his death.
In an address before the American Institute of Homeopathy, during its session in Washington City, in 1856, his treatment of Homeopathy, as the embodiment of a Complete Medical Doctrine, attracted marked attention, especially in connection with the report of a committee on mechanical aids to medication in the treatment of various diseases. It was clear exhibit of the progress of Homoeopathy, of the position it now occupies in medical science, and of its claims upon the scientific mind of the age.
In his intercourse with his patrons, Dr. Dake sought to enlighten their minds in regards to the true principles of medical practice, as opposed to the fossilized empiricism of the older method of practice.
As the practical demonstration of the efficacy of Homeopathy could be made to comparatively few at the bedside, and as a more efficient channel through which to reach the masses, he wrote and secured the publication of about ninety columns in the Daily Dispatch of Pittsburg, setting forth the claims of Homeopathy upon the confidence of mankind as a system of cure, contrasted with the Allopathic system in the light of notable and unequivocal results of practice, and extending reiterated invitations to the enemies of Homeopathy to disprove the facts or expose the fallacy of the reasoning.
The invitation not being responded to, the people quietly accepted the silence of the Allopaths as proof that no reply could be made, and Homeopathy has been ever since gaining ground steadily and surely.
In 1860 he submitted a report on "Medical Education", which was published in the proceedings of the American Institute of Homeopathy.
A case of prosecution in the criminal courts of a Homeopathic physician for alleged malpractice excited great attention and deep feeling. Dr. Dake felt that Homeopathy itself was on trial, and taking the witness' stand, was subjected to a long, close and searching examination and cross-examination by Edwin M. Stanton, the late War Secretary, and by numerous experts. The disagreement of the jury disposed of the case, and the prosecution was never renewed.
Failing health compelled him to retire from his practice in 1863 and move to Reading, Pa. He married Mary Manule. He died on March 28, 1891 at De Funiak Springs, Fla. He was 77 years of age at the time of his death.
David Merrit wrote journal articles for the American Magazine of Homeopathy.

Dumont Charles Dake
Dumont was born June 11, 1838 at Nunda, Livingston Co., N.Y. to parents Dr. Chauncey M. Dake and Harriet Cady.
His grandfather Dr. Jabez Dake was the first to substitute the bath for the old system of blood-letting and his uncle, Dr. J.P. Dake has a national reputation as a practioner of the new school of Homeopathy. His father, Dr. C.M. Dake, was also an eminent (homeopathic) physician.
Dumont received a thorough academic education, studied medicine with his father and uncle, and was associated for some years with the former in practice. He abandoned his profession for a brief season during the War, and served in the Union Army for three years, being afterward appointed to the Revenue Service under Secretary Chase.
In 1868 he commenced practice in Rochester, N.Y. as an Homeopathist, but gradually enlarged his sphere of action, adopting more advanced, liberal, and in many respects, original ideas, his specialty being Magnetic Therapeutics. (NB: Dumont was closely involved with Andrew Jackson Davis who practiced Magnetic Therapeutics as his first wife Della was a colleague of Andrew Jackson Davis).
In Rochester, New York on April 3, 1870, Delphine E. Markham of New York City married Dumont Charles Dake… a homeopathic and "magnetic" physician… Della matriculated at the United States Medical College in New York, 1882-83 (as "Delphine E. Markham") where Andrew Jackson Davis was studying as well.
Della E. Dake divorced Dr. Dumont C. Dake (listed as a resident of Wayne County, Michigan) on July 25, 1885. Della E. Markham, M. D. (listed as a resident of Detroit, Michigan), and A. J. Davis (of New York City) were married in Boston, August 11, 1885, by spiritualist Allen Putnam, who was also a Justice of the Peace. Jackson and Della Davis moved to Boston, where Jackson practiced medicine for a while and then opened the Progressive Bookstore. He and Della resided in Boston at 46 Clarendon Street; his medical office was at 63 Warren Street.
Dumont traveled extensively for several years, achieving and enviable reputation throughout the West by his peculiar method of diagnosing disease, and his marked success in the cure of "incurables."
A prominent medical journal said of him: "his methods are novel, his analysis clean-cut and convincing, and he is mentioned as a modern evolution of the distinguished Dr. Abernethy; courageous, determined, and an uncompromising foe to all shams and to charlatanism."
Dumont removed to New York in 1879, and was graduated from the United States Medical College in 1882 (NB: The New York Homeopathic Medical College). He rapidly acquired an extensive practice, his peculiar methods receiving due recognition among his professional brethren of the various schools of medicine, by whom he was frequently called in for consultations. Although regularly established in New York City, his practice included patients from Maine to California.
In 1885, Dumont Dake married Florence Nightingale Middleton (born in Brooklyn in 1858), the daughter of William H. Middleton of Brooklyn.

Faber Dake, an allopathic physician who converted to homeopathy in 1843.

[Jabez Philander Dake 1827
Jabez P. Dake, M.D., was born in Johnstown, Fulton County, New York, April 22, 1827, son of Dr. Faber Dake, an allopathic physician who converted to homeopathy in 1843.
Young Dr. Dake graduated from Union College in Schenectady, New York, in 1849 and from the Homeopathic Medical College of Pennsylvania in 1851 where he was professor of materia medica and therapeutics 1855 to 1857 and of pathology and principles and practice 1876-77.
Jabez P. Dake, who agitated for the reform and reproving of the materia medica.
Jabez P was appointed to the Yellow Fever Commission in 1878. He was also president of the American Institute of Homeopathy in 1857 and made frequent trips to Europe and Britain in the service of homeopathy. His colleagues included Edward Bayard, Joseph Hyppolyte Pulte, Walter Williamson, S S Guy and Constantine Hering.
Jabez P wrote the Cyclopedia of Drug Pathogenesy _with English homeopath Richard Hughes, he was against multiple remedies in one pill, but advised charitable and kindly treatment with disagreements. Jabez P also wrote _Acute diseases and their homœopathic treatment_, _The science of therapeutics in outline_, _The Sources of the Materia Medica, The Voter's Path of Duty in 1856, The Yellow Fever and the American Public Health Association, Asiatic Cholera, Therapeutic methods, Pathogenic Therapeutics and several Homeopathic Journals. Google Books has pages and pages of references to Jabez P Dake.
Jabez P's work was greatly valued in his time and it is still referred to and valued by modern homeopaths. His memoir was written by R. A. Halley in 1903.
An account of Jabez P's treatment of diptheria 'JP Dake, in 1861, treated, within the period of four months, one hundred and ninety-three cases, at Pittsburgh, Penn., losing seven of the…' was written by De Forest Hunt Homeopathic Treatment of Diphtheria in 1880. Jabez P's treatment of cholera was extremely successful as he only lost one patient out of sixty two cases in Nashville in 1878._ _
Jabez P was also president of the Dover Bay Grape and Wine Company, and he regularly contributed articles to horticultural magazines about fruit bearing trees.

Jabez William Dake
Dr. Jabez W. Dake located in Albion, Orleans county, in 1863. Several homœopathic physicians had previously tried to practice there, but were compelled to abandon the field, but Dr. Dake bought a house, moved into it, sent word to his allopathic friends that he had paid for his house and had enough to keep him for a year and that he had come to stay. He remained five years and then gave up the place because of his health. At that time Medina alone in the whole county could boast of a homœopathic physician.
Jabez was born to parents William Dake Jr. and Orpha Miller on Sept. 14, 1829 at Hunts Hollow, Portage, N.Y. He became a Physician becoming the first Doctor to locate in the Nunda area. He was a doctor in the Albion, Orleans Co., N.Y., settling there in 1863. He later was a doctor in Warsaw, N.Y. and Rochester, N.Y.
He was a graduate of Western Homoeopathy College, Cleveland, Ohio. He married Mary Anna Ward on Jan. 16, 1851 in the town of Genessee, N.Y. (She was born on Feb. 2, 1831 at Groveland, N.Y. daughter of John Ward) He was a graduate of Genessee Wesleyan Seminary. He first studied medicine at Geneva Medical College where he received a certificate. He graduated in 1860 form Western Homeopathic Hospital, Cleveland, Ohio.
He first practiced in Warsaw, N.Y. for a period of years and later (1863) in Albion, N.Y. After years of practice he was forced to retire due to ill health. He returned to his old home at Nunda. After his health improved he set up an office in Powers Block in Rochester, N.Y. His sons William and Charles owned a Drug company in Rochester. After a few years he was forced once again to retire. He died on Feb. 1, 1886 at Rochester, N.Y.

Walter Marshall Dake
Walter was born Jan. 16, 1855 in Pittsburgh, Pa. as the second son to Dr. Jabez P. and Elizabeth (Church) Dake. His early education was received in the public schools, and later under Dr. Bryce Thompson of Nashville, Tenn., by whom he was prepared to enter upon a course of medical training.
In 1875 he became a student in the Palte Medical College of Cincinnati, Ohio, and in September, 1876, was matriculated in the Hahnemann Medical College of Philadelphia, where he was graduated in 1877. He began the practice of medicine at Jackson, Tenn., but was called to Nashville in 1878, to enter into partnership with his father and brother, Dr. William C. Dake, practicing physicians in that city.
As a member of this prominent firm he attained considerable distinction. he was a member of the American Institute of Homeopathy; the Southern Homeopathic Medical Association, and the Homeopathic Medical Society of Tennessee.
Numerous treatises contributed by him to medical journals assisted the progress of medical science. Dr. W. M. Dake took a prominent part in public measures for the educational advancement of his adopted city; he was a Director of the Howard Library, and had himself collected a private library of several thousand valuable works.
He was married, Nov. 8, 1882 to Fanny G. daughter of Samuel M. Ward of Jefferson, Tex. They had two children, Walter M., Jr., and Woodie Elizabeth.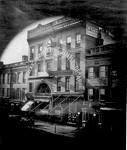 William Irvin Church Dake
William was born Jan. 28.1852 in Pittsburgh, Pa. to parents Jabez P. and Elizabeth (Church) Dake. He was the eldest son. He was educated at Pittsburgh, Pa.; Ypsilanti, Mich., and studied medicine in his father's office.
He was graduated at the Medical Department of the University of Nashville in 1872 and spent the winter of 1872-73 in New York City, attending lectures and clinics in the various hospitals, and was matriculated at the College of Physicians and Surgeons and the New York Homeopathic Medical College.
Returning to Nashville he entered into a partnership with his father. He was a member of the American Institute of Homeopathy since 1872 and was President of the Southern Homeopathic Medical Association of the Homeopathic Medical Society of Tennessee, and of the Homeopathic Medical Society of Middle Tennessee.
His literary labors were chiefly in connection with medical matters. He contributed to various medical journals and proceedings of the societies of which he was a member.
On Aug. 28, 1878 at Janesville, WI he married Miss Adelaide Myra Wiggin, she lived only three months after their marriage. On Aug. 28, 1878, Dr. Dake was married a second time to a sister of his first wife Adelaide Augusta Wiggin, daughter of Richard and Rebekah Wiggin, of Janesville, Wis., and had two children, Richard Wiggin and Elizabeth Church Dake. He died on December 9, 1910 in Pittsburg, Penn.

W D M Dake
Was also a homeopath and he wrote journal articles on Therapeutics and Hygiene for the American Magazine of Homeopathy.

William Ward Dake
William was born to parents Jabez and Anna Ward Dake. He was part owner of the Dake Drug Company of Rochester, N.Y. with his brother Charles Alonzo Dake. He died in 1940 at his home at East Brighton, Rochester, N.Y.
The Dake Family Papers are held at the Tennessee State Library
Dake Family Papers, 1828-1974. 215 items. TSLA. 2 reels. 35 mm. Collection centered on a family of homeopathic physicians in Nashville, Jabez P. Dake (1828-1894), his wife Elizabeth Church Dake (1826-1908), and their five sons, all of whom became doctors. There is genealogical data on the Dakes and related families such as Church, Dudley, Fletcher, Morris, Wiggan, Wilson, and Wyatt, in addition to obituaries, largely unidentified photographs, post cards and biographical sketches. Some of Jabez Dake's writings and sketches shed light on the practices of homeopathic physicians during the middle of the nineteenth century.
Maurice L Dake has thoroughly documented his ancestors on his geneaology home page

The 1940s generation.
---