Moses G Atwood 1795 - 1850
December 21, 2007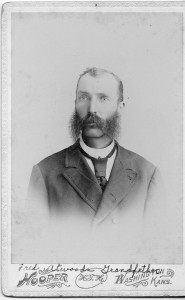 MOSES G ATWOOD 1795? - 1850 New Hampshire's first homeopath (photo curtesy of Sharon Norton, great granddaughter of Moses Atwood).
Atwood came here from Concord [NH]. He began the practice of medicine in North Lyndeborough in 1827; thence removed to Deering and from Deering to Francestown where he had a very extended practice, probably equal to that of any physician in the county.
In 1841 he changed from allopathy to homeopathy, and such was the confidence of his patrons in his skill and judgment that, almost without exception, they continued their patronage. He was the first homeopathic physician in New Hampshire. He died in New Boston, April 28, 1850.
Homeopathy in New Hampshire -the "Old Granite State"- belongs to what is known as the second epoch in the history of the system promulgated by Hahnemann, and dates from the year 1840, when Dr. Moses Atwood, who had been a student of Dr. Samuel Gregg of Boston, located in little Francestown in Hillsborough county and began practice there.
His (Atwood's) stay was short, however, and he afterward carried the doctrine into Nashua, then to Concord, then to Manchester, and finally to New Boston, where his life's work was closed in 1850.
As Dr. Gallinger (NB: Gallinger was also a printer) said : "His name is held in sweet remembrance as the pioneer of homeopathy in the state." Record and tradition both say that Moses Atwood was a capable physician, deeply interested in his work and especially in the welfare of the school of medicine to which he was the direct means of bringing several converts.
He did not live, however, to take part in the organization of the first medical society, although some of those whom he was instrumental in proselyting were among its founders…
Aaron H. Atwood introduced homeopathy into Manchester. He was a nephew of Moses Atwood, the pioneer, and an allopathic graduate.
In 1847 Dr. Emil Custer became his partner. A few years later Dr. Atwood went to Virginia and died there. continue reading:
Atwood married Mary Silsby, and her illness caused him to leave his practice and then return. His history after he left his practice for the last time does become unclear, though there are records of his military service in 1834.
He appears to have started a printing company (NB: Gallinger was also a printer) in 1847, which his son took over, as there are very many 'published by Moses G Atwood' references on google.
The only other homeopathic society of a general character is that known as the Northern New Hampshire Homeopathic Medical Society, which was organized in 1874. These comprise the chief institutions of homeopathy in New Hampshire, and other than as herein mentioned the history of the system is written in the lives of the exemplars who have practiced within the borders of the state during the past three score years.
It cannot be said that the state is non-progressive in homeopathic history, for such is not the case ; the seed sown by Atwood in 1840 became firmly rooted in the soil and has yielded bountifully in later years, although the profession here as elsewhere has recorded little of its own history…
In Weare, twelve miles from Francestown, Dr. James Peterson had been for several years a practitioner of the old school, but was persuaded through the influence of Dr. Atwood to adopt the practice of Hahnemann. Of his conversion Dr. Peterson himself said : "Dr. Moses Atwood was the first practitioner of homeopathy in New Hampshire ; myself the second. I prescribed my first globule in 1843."…
In 1845 Dr. Atwood settled in Concord… A few years later Dr. Atwood went to Virginia and died there. continue reading:
It seems that Atwood became an author and a printer, and he made the first daguerreotypes in town in 1847.
Google books lists a number of books written by Atwood: Collections of the Maine Historical Society, _of which apparently _Israel Tisdale Talbot was also a member, Juvenile stories for the instruction of children,_ Atwood's vegetable medicines : simple remedies for simple diseases_, Catalogue of approved school books, The American definition spelling book, improved, The Youth's natural history of animals, The Youth's natural history of birds, The affecting history of the children in the wood, _Little Sally of the Sabbath school, a version of the Bible, Flowers for the nursery, or, A good child's nosegay, Farmers Mechanics and Gentlemans Almanack _and many more.
Atwood's son, also called Moses, continued the publication business, as in 1864, 14 years after his father's death, Washington, [D.C.], to W[illard] C. Flagg, L[awson] A. Parks and M[oses] G. Atwood, Letter is published, authored by Salmon P Chase, Moses G Atwood, Willard C Flagg and Lawson A Parks (a member of the Presbyterian Church), though I cannot untangle this, nor guess the history here.
Moses Atwood Jnr also seems to have gone into the production of a medicine his father once produced:
Moses Atwood made patent medicines and was best known for his "Atwood's Bitters". A New York City firm bought the Bitters formula and, under another name, sold the medicine nationally until the mid-1900's.
Atwood also made the first daguerreotypes in town in 1847 (or was this his father?). Newspaper publishing began in 1846. All attempts to publish locally were short-lived until the Georgetown Advocate began printing in 1874. It was the first successful Georgetown newspaper, publishing local news for over twenty years.
Atwood's father, also called Moses 1801 - 1848 was a leading Presbyterian Church Elder. His grandfather was also called Moses 1761 - 1808.
I wonder if this Moses Atwood is a relative?

Curiosity:
Dear Sirs, If you could find any info on my bottle I would appreciate it. The bottle still has part of its label on the front, and it says Atwood's Jaundice Bitters vegetable physical. On the side it says formerly made by Moses Atwood, Georgetown, Mass. It still has some of it's contents and partial cork in top. The bottle itself is in good condition. If you know anything about it please send to: Thanks. continue reading:
Atwood Snr began producing his bitters in 1835. His son obviously continued this business.
Atwood Bitters has a long and complicated history:
1860 Moses F. Atwood, the 21-year old son of the senior Moses Atwood, moves back to Georgetown from Iowa. He begins working with the Bateman family to manufacture the Bitters. He lists his occupation in the 1860 Census as "M.D."
1861 Moses F. Atwood sells the recipe for preparing and compounding Atwoods Bitters in the State of Maine to Nathan Wood.
1867-1872 At one point Benjamin Dodge (who manufactured a rheumatic linament and, according to the antique bottle sellers, DODGE BROTHERS - MELANINE - HAIR TONIC", bright purple amethyst, tombstone-shaped rectangle, early smooth base, 7 1/2"H, applied double collar, mint. American, 1865-1875, rare)…
sells his interest in the Bitters to William Dorman; at another point he sells his interest to the firm of Noyes & Manning (For eighteen years Mr. Noyes and F.M. Manning conducted a drug store under the firm name of H.B. Noyes & Co., and they have ever since been associated in other business enterprises).
It appears he sold the same interest to two parties, both which produced the Bitters.
1870 The Federal Census shows the senior (Jnr) Moses Atwood living in New Sharon, with the occupation of "Manufacturer of Medicine." His son Moses F. Atwood is also back in Prairie Township, and his occupation is now carpenter.
1875 The New York firm of Manhattan Medicine Company formally purchases the rights to Atwoods Bitters from: the heirs of L. H. Bateman the firm of Noyes & Manning all the Carter heirs William Dorman Benjamin Dodge
1878 Manhattan Medicine Company sues Nathan Wood for trademark infringement in the Federal Circuit Court of Maine; Wood prevails. History of Prairie Township is printed and states: Moses Atwood was the first Doctor. He was not a physician of any school (NB: Moses Jnr), but manufactured and sold "Atwoods Medicines," and they were found to possess valuable qualities.
1883 Manhattan Medicine Companyappeals the 1878 court decision to the U.S. Supreme Court. Once again, Wood prevails.
1926 American Home Products (AHP) was formed as a holding company for various drug-related companies. One of the companies is Whitehall Pharmaceutical Company, which later changed its name to Whitehall Laboratories. At some point Whitehall Pharmaceutical Company purchases Manhattan Medicine Company, and for a time continued to manufacture Atwoods Bitters.
1931 AHP buys Wyeth from Harvard University. Wyeth was started as a patent medicine company in Philadelphia in 1860 by brothers John and Frank Wyeth. Johns son Stuart inherited the company, which was willed to Harvard University upon his death. In 1930 Wyeth purchased the headache product Anacin.
1984 Whitehall Laboratories begins manufacturing Advil, the first non-prescription ibuprofen product in the United States.
1989 AHP purchases A.H. Robins, the makers of well-known consumer products Chapstick, Dimetapp, and Robitussin. This company started out in 1866 in Richmond, Virginia, as a small drug-making company owned by Albert Hartley Robins.
1994 AHP combines Whitehall Laboratories and A. H. Robins into a consumer products division known as Whitehall-Robins Healthcare.
2002 In a tribute to the companys early drug-making heritage, American Home Products changes its corporate name to Wyeth, with the New York Stock Exchange symbol of WYE. The Whitehall-Robins Healthcare division is renamed Wyeth Consumer Healthcare.
So from its humble beginnings in 1840, the bitters-making endeavor started by former New Sharon resident Moses Atwood is now part of a multi-national pharmaceutical giant. During the mid-1870s, several firms were manufacturing the popular product of "Atwoods Bitters." The bottles used were very distinct, being aqua in color, about six inches high, and containing 12-panels around the bottles. On the panels were raised letters blown into the glass with the inscription: ATWOODS JAUNDICE BITTERS MOSES ATWOOD GEORGETOWN, MASS
In 1875, Manhattan Medicine Co. of New York City had spent considerable time and money purchasing those interests which stemmed back from Moses Atwoods sale of the product over 20 years earlier. This company heavily advertised the Bitters, and was naturally upset to see a Maine company owned by Nathan Wood selling the same product in the same distinctive bottle.
Manhattan Medicine sued Nathan Wood to quit selling the product and to give an accounting of the profits he had fraudulently obtained. Nathan Wood countered that he had been manufacturing the product since 1861, when he bought the product rights from Moses F. Atwood, the son of Moses Atwood.
Since the case involved interstate commerce, the trial was held in Federal court, in the Circuit Court of Maine. The case centered largely on trademark issues. After a long trial, in which "the evidence is voluminous and somewhat conflicting," the judge ruled in favor of Nathan Wood, and dismissed the case in 1878. It appears that Moses F. Atwood did go from New Sharon to Maine to testify in the trial.
This did not satisfy Manhattan Medicine Co., and they appealed the case all the way to the U. S. Supreme Court. But here is where the case took an interesting twist. Instead of looking at trademark issues, the Supreme Court concentrated on the words being used on the bottle, and invoked the famous "clean hands" legal theory. This states in essence that if you are going to sue somebody, you better have "clean hands" yourself. In 1883 the Court wrote these words in its ruling:
A court of equity will extend no aid to sustain a claim to a trade-mark of an article which is put forth with a misrepresentation to the public as to the manufacturer of the article, and as to the place where it is manufactured, both of which particulars were originally circumstances to guide the purchaser of the medicine. It is not honest to state that a medicine is manufactured by Moses Atwood, of Georgetown, Massachusetts, when it is manufactured by the Manhattan Medicine Company in the city of New York.
The lower court decision was therefore affirmed by U. S. Supreme Court. This scolding to Manhattan Medicine Company resulted in a change of advertising tactics by the bottlers. The raised print on the bottles was immediately changed to: ATWOODS JAUNDICE BITTERS FORMERLY MADE BY MOSES ATWOOD GEORGETOWN, MAS continue reading:
Of interest: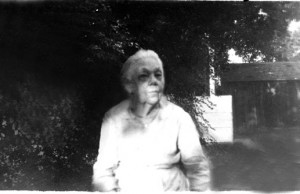 Aroline Hoyt Rogers (photo curtesy of Sharon Norton, great granddaughter of Moses Atwood).
---